If you visit Granville Island any Tuesday until August 28, do take a look for the team from Flavours of Hope. They are there as vendors with the Groundswell Test Market.
Flavours of Hope is a "non-profit social enterprise that supports and empowers newcomer women to earn a living wage and build social connections in communities through cooking and sharing culinary traditions and stories."
This is the way Flavours of Hope organizers describe their Summer Food Market:
Savour this: traditional cultural food, stories and the strength of refugee women. Be part of Vancouver's first summer food market that celebrates diverse food prepared for you by newcomer women earning a living wage. Donate to launch the market and build connections in our community through food!
Your gift toward the $10,000 needed for this summer market pilot gives newcomer refugee women a living wage, work experience and a growing relational network. It's an inspiring way for all of us to say, "You're welcome!" Help increase social connections, provide employment opportunity and empower women to share their stories of migration through selling their diverse traditional culinary cuisine at this summer newcomer food market.
Flavours of Hope vendors will be at the Groundswell Test Market from 11 am – 4 pm each Tuesday.
(The work carried out by Flavours of Hope beautifully illustrates the conclusions of the recent Angus Reid Institute / Cardus report written up in the accompanying story, 'Immigrants rely of faith groups . . .')
Response to event cancellation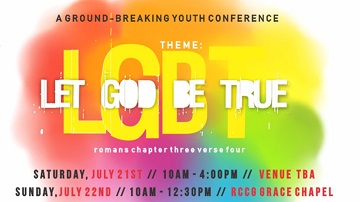 The Justice Centre for Constitutional Freedoms (JCCF) has sent a warning letter to the Anvil Centre in New Westminster, "requesting that it reverse the cancellation of a conference that the City of New Westminster had agreed to allow Grace Chapel to host at the Centre on July 21, 2018."
Grace Chapel, which is part of the Redeemed Christian Church of God based in Nigeria, does not have its own church building, and therefore rents space – sometimes at the city-owned Anvil Centre – for its regular gatherings and special events.
A JCCF release posted July 9 stated:
On May 25, Grace Chapel signed a contract with the  City of New Westminster to rent a portion of the Anvil Centre. The rental was for a religious youth conference called "Get a Grip," which was to be held on July 21, 2018. The theme for the conference is "LGBT: Let God Be True." The focus of the conference, to be attended by youth and young adults aged 13-25 is on Biblical teachings regarding sexuality and identity issues.
On June 21, 2018, Grace Chapel received an email from Anvil Centre Director of Sales & Marketing, Heidi Hughes.
Ms. Hughes stated that the Anvil Centre was reneging on the contract and cancelling the rental. The email stated:
We became aware today, that one of your event speakers / facilitators, Kari Simpson, highlighted for your July 21st, 2018 event, vocally represents views and a perspective that run counter to City of New Westminster and Anvil Centre booking policy.
Specifically [sic] Anvil Centre booking policy restricts or prohibits user groups if they promote racism, hate, violence, censorship, crime or other unethical pursuits. In accordance with our policy we are informing you that we are cancelling your booking and will immediately process a refund for the entirety of your booking fee.
Ms. Hughes did not state how the inclusion of a particular speaker at the conference caused Grace Chapel to "promote racism, hate, violence, censorship, crime or other unethical pursuits," or how it is possible that this speaker's "views" or "perspective" could contravene the Anvil Centre Booking Policy.
The JCCF goes on to argue that the Anvil Centre has infringed on Grace Chapel's Charter rights. Go here for the full letter. The JCCF requested a response from the Anvil Centre no later than the close of business July 11. [I only heard about the letter July 11, and have not heard of any response at the time of my weekly Church for Vancouver posting.]
Some coverage appeared in the secular media right after the Anvil Centre cancelled the contract, though it focused largely on Kari Simpson of Culture Guard and her activism, including her opposition to SOGI 123 material and events in public schools. They also highlighted the fact the Simon Fraser Student Society logo had been wrongly used support the event. They didn't focus on the issues raised by the JCCF. (See coverage by CTV News, Georgia Straight, News 1130 and The Star.)
The Let God Be True event is posted on the Grace Church website for July 21, but the poster says the venue is still to be announced.
A change.org petition was posted July 9 under the banner 'The City of New Westminster & Anvil Centre Should Stop Censorship of Freedom of Speech.' By the evening of July 11 it had 760 signatures.
Can we evangelize?
I'm sure the answer is yes, but I trust Bishop Will Willimon will have some good insights for us at St. Mary's Kerrisdale Anglican Church, next Monday (July 16) when he takes on this topic: After Church History: Can Canadian Christians Evangelize?
Here is how the talk is presented:
Considering the church's sins in mission and evangelism (the residential schools, the connection between imperialism and mission, etc.), should today's Christians evangelize and be in mission? A post-colonial, post-imperialist, unapologetic apology for Christian witness today.
Willimon is Professor of the Practice of Christian Ministry at the Divinity School, Duke University, Durham, North Carolina.. He served eight years as Bishop of the North Alabama Conference of The United Methodist Church. For 20 years prior to the episcopacy, he was Dean of the Chapel and Professor of Christian Ministry at Duke University.
I almost hesitate to point to Willimon's talk because it runs at exactly the same time as my friend Rikk Watts' presentation at Regent College. Watts, who taught at Regent for many years before moving on to Alphacrusis College in Sydney, Australia, will speak on Doing Theology as 'Design': As God Originally Intended? He is back in town to teach two summer school courses at Regent.
The bottom line is that you can't go wrong if you decide to attend either lecture.
Jul 2018
Festival of Sacred Music (Sunday mornings)
– July 8, 2018 - August 19, 2018 at 10:30 am - 11:30 am
Jim Forest: One Foot in the Wilderness, One Foot in the World
– July 12, 2018 at 6:00 pm - 9:00 pm
Radiance: 2018 Summer Glory Conference
– July 12, 2018 - July 15, 2018 at 7:00 pm - 9:30 pm
Uncommon Devotion: Reflections on Puritan Texts
– July 13, 2018 - July 14, 2018 at 12:30 pm - 5:00 pm
Kingdom Come Conference
– July 13, 2018 - July 15, 2018 at 6:00 pm - 9:00 pm
Faith & Film Evening: Murder in the Cathedral
– July 13, 2018 at 7:00 pm - 9:30 pm
Love My City Week (Tri-Cities)
– July 14, 2018 at All Day
Raising Godly Children in an Ungodly World
– July 14, 2018 at 11:00 am - 5:00 pm
Union Gospel Mission Summer BBQ
– July 14, 2018 at 11:00 am - 4:00 pm
Parish Collective: Neighbourhood Stories
– July 14, 2018 at 6:30 pm - 9:00 pm
Jazz Vespers: The Gabriel Palatchi Band
– July 15, 2018 at 4:00 pm - 5:00 pm
St. Stephen's College Choir: Alumni concert
– July 15, 2018 at 6:00 pm - 8:00 pm
Richmond Chinese MB Church Soccer Camp
– July 16, 2018 at 9:00 am - 3:00 pm
Bishop Will Willimon: After Church History – Can Canadian Christians Evangelize?
– July 16, 2018 at 7:00 pm - 9:00 pm
Rikk Watts: Doing 'Theology' as Design – as God Originally Intended?
– July 16, 2018 at 7:30 pm - 9:00 pm
Film Screening: After Spring
– July 17, 2018 at 6:45 pm - 9:30 pm
Rikk Watts & Nijay Gupta: Two Perspectives on the New Perspective – Exploring the Theology of Paul
– July 18, 2018 at 12:00 pm - 12:45 pm
Regen: Ale Policar & Regen Band
– July 18, 2018 at 7:00 pm - 9:00 pm
Sarah Williams: The Spirituality of Time
– July 18, 2018 at 7:30 pm - 9:00 pm
BC Sacred Music Symposium
– July 20, 2018 - July 22, 2018 at All Day
Vancouver Urban Ministries Garden Party
– July 20, 2018 at 6:30 pm - 8:30 pm
Unsettling the Word Book Launch
– July 20, 2018 at 7:00 pm - 9:00 pm
Love My City Week (Tri-Cities) Celebration
– July 21, 2018 at All Day
Garage Sale / Block Party
– July 21, 2018 at 9:00 am - 2:00 pm
Fraser Lands Community Day
– July 21, 2018 at 11:00 am - 3:00 pm
St. James Music Series presents The Gesualdo Six
– July 21, 2018 at 7:30 pm - 9:30 pm
Church at the Lake
– July 22, 2018 at 11:00 am - 2:00 pm
Jazz Vespers: Sharon Minemoto
– July 22, 2018 at 4:00 pm - 5:00 pm
Peace Portal Alliance Church Soccer Camp
– July 23, 2018 at 9:00 am - 3:00 pm
Richmond Baptist Church Soccer Camp
– July 23, 2018 at 9:00 am - 3:00 pm
Terry LeBlanc: When Fundamentalism Meets Liberalism
– July 23, 2018 at 7:30 pm - 9:00 pm
Peter Shaw: Living With Never-Ending Expectations as a Leader
– July 24, 2018 at 7:30 pm - 9:00 pm
A Conversation on Biblical Theology
– July 25, 2018 at 12:00 pm - 12:45 pm
Regen: Lewis Chifan & Broadway Church
– July 25, 2018 at 7:00 pm - 9:00 pm
Lynn H. Cohick: Motherhood & Martyrdom: Family & Faith in the Early Church
– July 25, 2018 at 7:30 pm - 9:00 pm
Rosa Quintana Lillo: Heroes in the Seaweed
– July 26, 2018 at All Day
Stars & Dark Matter: Quilts by Lois A. Klassen
– July 26, 2018 - August 31, 2018 at All Day
Seeing God: Hans Boersma's Book Launch
– July 26, 2018 at 12:30 pm - 2:00 pm
Family Matters Conference
– July 27, 2018 - July 28, 2018 at 6:00 pm - 5:00 pm
David Ley: Postmodern Urban Spaces – a City Tour
– July 28, 2018 at 9:30 am - 1:00 pm
Summer Community Day
– July 28, 2018 at 12:00 pm - 4:00 pm
Jazz Vespers: Ragtime Ramblers
– July 29, 2018 at 4:00 pm - 5:00 pm
Bruce Longenecker: Beyond the Mysteries – Paul's Proclamation of the Mystery of God
– July 30, 2018 at 7:30 pm - 9:00 pm
Flavours of Hope: Summer Food Market (Tuesdays)
– July 31, 2018 - August 28, 2018 at 11:00 am - 4:00 pm
Donald Lewis: 'In Darkest London': A Window on Urban Life & Mission in Darkest Victorian England
– July 31, 2018 at 7:30 pm - 9:00 pm
Aug 2018
Regen: John Neate & TBA
– August 1, 2018 at 7:00 pm - 9:00 pm
David Bebbington: Architect of Modern Missions – the Achievement of William Carey
– August 1, 2018 at 7:30 pm - 9:00 pm
ACTS Seminaries Open House
– August 2, 2018 at 10:00 am - 2:00 pm
The Bible in Evangelicalism Today
– August 2, 2018 at 12:00 pm - 12:45 pm
Darin Martin Travel West Tour 2018
– August 3, 2018 at 7:00 pm - 9:00 pm
Decoding Jordan Peterson's '12 Rules for Life'
– August 5, 2018 at 4:00 pm - 5:30 pm
Jazz Vespers: Geoff Claridge Quartet
– August 5, 2018 at 4:00 pm - 5:00 pm
South Van Sports Camp
– August 7, 2018 - August 10, 2018 at All Day
Alzheimer Café Vancouver
– August 7, 2018 at 4:00 pm - 6:00 pm
Fear Not Meetings
– August 8, 2018 - August 11, 2018 at 7:00 pm - 9:00 pm
Regen: Tasha & Moses Masitha, with Regen Band
– August 8, 2018 at 7:00 pm - 9:00 pm
Midsummer Celebration with Ezra Kwizera
– August 10, 2018 at 6:00 pm - 10:00 pm
The Heart of Giving: The Giving of Art (Friedrich G. Peter)
– August 11, 2018 at 2:00 pm - 5:00 pm
Jazz Vespers: Palo de Rosa
– August 12, 2018 at 4:00 pm - 5:00 pm
Kingdom Life Community Church Soccer Camp
– August 13, 2018 at 9:00 am - 3:00 pm
Pacific Grace MB Church Soccer Camp
– August 13, 2018 at 9:00 am - 3:00 pm
Men's Bible Study and Prayer Group
– August 15, 2018 at 7:00 pm - 8:30 pm
Regen: Jason Ballard & Worship Central
– August 15, 2018 at 7:00 pm - 9:00 pm
Pro-Life Student Symposium
– August 16, 2018 - August 19, 2018 at All Day
Book Launch: The Church in Surrey and White Rock
– August 17, 2018 at 6:00 pm - 8:00 pm
Jazz Vespers: Super Trumpets
– August 19, 2018 at 4:00 pm - 5:00 pm
Kickers Soccer and Arts Camp
– August 20, 2018 - August 24, 2018 at 9:00 am - 3:00 pm
Cycling for Seafarers
– August 25, 2018 at All Day
Memorial Concert Honouring Ellen Wang
– August 25, 2018 at 2:00 pm - 4:00 pm
Mike Smalley: Just One
– August 25, 2018 - August 26, 2018 at 6:00 pm - 6:30 pm
Jazz Vespers: Wild Blue Herons
– August 26, 2018 at 4:00 pm - 5:00 pm