There are always so many good workshops at Missions Fest that it's hard to choose where to go. This year – Friday and Saturday (January 31 – February 1 at the Vancouver Convention Centre) is no exception.
But there's one panel discussion I hope will be particularly well attended: How Can We Inspire City Officials with God's Shalom? (Saturday at 3:30).
This is an excellent opportunity to hear from, and interact with, a Vancouver City Councillor and three other urban experts.
Here is how the event is described:
Municipalities increasingly want churches to use our properties and people to help them create flourishing urban environments for the common good. We should say yes. But first, how can we get them to value the vital roles spirituality and religious observance play in forging the common good?
Speakers' biographies:
Christine Boyle was elected to Vancouver City Council in 2018 as a member of OneCity Vancouver. She has a BSc in Urban Agriculture and First Nations Studies from UBC, an MA in Religious Leadership for Social Change from the Graduate Theological Union in Berkeley, and is an ordained minister in the United Church of Canada.
Dena Kae Beno is the coordinator and community infrastructure development specialist of the Housing & Homelessness Unit for the City of Abbotsford. Her scope of work also includes poverty reduction, child care, mental health and harm reduction. Dena has an MA in Anthropology/Sociology from SFU.
Trevor Vanderveen is pastor of First Christian Reformed Church in east Vancouver. To seek the common good in the midst of the development boom, he has engaged city planners and councilors to ensure faith-based institutions are considered and protected in future redevelopment projects.
Jonathan Bird (moderator) is a church relations specialist with Union Gospel Mission. He's tasked with catalyzing clusters of congregations to help rebuild the social architecture of the Lower Mainland by joining in God's holistic responses to poverty, homelessness and addiction in their own neighbourhoods.
Here are some other seminars that look good to me:
* Loving Your Muslim Neighbour as God Does
* Off the Streets and into Our Hearts (Nepal)
* Serving Seafarers Through Changing Times
* Navigating a Sexually Explicit World
* Changing Neighbourhoods: Impact of Immigration
* Loving a Mosque Community Together
* Setting Free the Oppressed in Europe
And there are many more.
There's a wealth of choice down at Missions Fest. Be sure to put aside some time to wander the 250-plus booths, hear from a plenary speaker (Ken Shigematsu, Aaron White, Jay Ewing, Milissa Ewing, and Kevin and Julia Garratt are local leaders featured this year) and chat with the friends and acquaintances you're bound to run across.
Joan of Arc returns
Ron Reed recently noted on the Soulfood blog that Pacific Theatre has been responsible for several Joan of Arc appearances over the past 10 years. The first was The Passion Project, a one-woman performance piece . . .
. . . which placed an actor/dancer in a 10X10 square of light on which were projected (from multiple angles) a barrage of clips from Dreyer's masterpiece of silent film, The Passion of Joan of Arc. . . .
And here we are, exactly 10 years after that screening of Dreyer's Passion at [Christ Church] Cathedral, with another Passion screening, also at the Cathedral, this time with an ancient score performed live by the Orlando Consort.
Here is a description of the Film in Concert: the Passion of Joan of Arc, featuring the Orlando Consort.
An intense experience awaits us as we journey to medieval France to witness the trial of Joan of Arc: a silent movie classic, the award-winning Orlando Consort provide beautiful live choral music composed and performed during her lifetime, intricately tailored to enhance the harrowing drama.
Condemned unseen in France on its release, vilified by the Catholic authorities and even banned outright in England, Carl Theodor Dreyer's film, La Passion de Jeanne d'Arc (1928), is widely recognized as a masterpiece. 
Formed in 1988, the Orlando Consort rapidly achieved a reputation as one of Europe's most expert and consistently challenging groups performing repertoire from the years 1050 to 1550. Their work successfully combines captivating entertainment and fresh scholarly insight; the unique imagination and originality of their programming together with their superb vocal skills has marked the Consort as the outstanding leaders of their field.
The event takes place this Friday (January 31).
Colonialism / Jubilee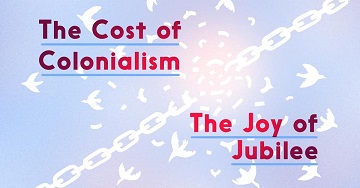 Peace Church on 52nd is welcoming the author/editor of ground-breaking books relating to Indigenous issues to lead The Cost of Colonialism, The Joy of Jubilee February 7 – 8.
Here is the invitation:
If Canada is a settler colonial society, how does that shape Christian understanding and discipleship? Join Steve Heinrichs, director of Indigenous-Settler Relations for Mennonite Church Canada, for courageous conversation on February 7 – 8 as we contemplate the practice of Jubilee.
Co-sponsored by MCBC's Indigenous Relations Working Group and the Reconciliation Committee of the Vancouver Quakers – with Mennonite Church BC.
Heinrichs' books are Buffalo Shout, Salmon Cry and Unsettling the Word: Biblical Experiments in Decolonization.
C2B: Glass
Caleb Brown is new to this area, but he has drawn inspiration from his new home for an upcoming video. The Langley rapper goes by the name C2B.
Here is a brief excerpt from a recent article in the Aldergrove Star:
Brown moved to Langley in September from Tri-Cities, Washington – looking to get out of his hometown and take biblical studies at Trinity Western University.
"Faith is everything to me; Christ is the centre of everything – even in my music," Brown said, figuring that a ministry position as a pastor or missionary will be in the cards for him in the future. . . .
Ministry work takes him down to the Lower Eastside of Vancouver on Friday nights where he hands out hot chocolate and lends an ear to people Brown said need to be heard. It was there, Brown got the idea for a story to tell.
Go here for the full article.
Glass will be released February 8.
No Events