Phil Fontaine will address the 56th annual BC Leadership Prayer Breakfast this Friday morning.
The gathering will take place at Hyatt Regency Vancouver, to "acknowledge the value of prayer, community and leadership."
Here is their introduction of Fontaine:
We are honoured to have Mr. Larry Phillip (Phil) Fontaine, Indigenous Canadian leader, advocate and Former National Chief of the Assembly of First Nations (AFN), as our guest speaker.
Under his leadership, the AFN negotiated both the Kelowna Accord and the Indian Residential Schools Settlement Agreement.
He also served in advisory roles to the Royal Bank of Canada and Norton Rose OR LLP on First Nation matters and was instrumental in deepening relationships with Aboriginal communities. Phil has received many honours and awards, including the National Aboriginal Achievement Award, the Order of Canada and numerous honorary doctorates.
Fontaine met with Pope Francis in Rome last March to address the role of the Roman Catholic Church in operating residential schools. After he welcomed the Pope to Canada last summer he was interviewed by CBC News:
For Phil Fontaine, watching the heartfelt apology delivered by Pope Francis at the site of one of Canada's largest residential schools on Monday illuminated a path forward for survivors and others affected by the legacy of the institutions. 
"I'm as optimistic as I was earlier in the day. . . . The Pope expressed not just an apology. He didn't just say, 'I am sorry.' I think he laid out the work ahead of us . . " 
Chilliwack editor fired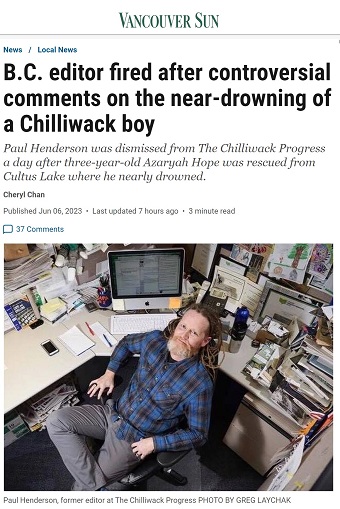 The editor of The Chilliwack Progress has been fired for his insensitive comments about prayer.
Here is part of a June 6 article in The Vancouver Sun:
[Paul] Henderson's termination came a day after three-year-old Azaryah Hope was rescued from Cultus Lake where he nearly drowned. He was airlifted to B.C. Children's Hospital where he received medical care. His condition Tuesday wasn't known.
Azaryah's parents, Natalie and Cameron Hope, are Christians and have asked the community for prayers for their son's recovery. An online fundraiser for Azaryah set up by his great aunt Jenni McGrew named #PrayforRyah has raised more than $14,000 to help the family pay for expenses.
Henderson, an active commentator on community issues, weighed in on social media, calling prayers or the appeal for prayers "superstitious nonsense," and urged people to support emergency first-responders instead.
"You know what does absolutely zero to help a toddler who might die because he/she is being attended to after a drowning incident at Cultus Lake? Praying. Nonsense," he wrote on Twitter on June 1. "Instead, let's support our Chilliwack firefighters and paramedics and RCMP officers and search-and-rescue members."
The Progress fired Henderson and apologized for his comments June 2. Henderson also apologized on his Facebook page. :
The article reported that he has felt targeted by members of what he called the religious right, with whom he had in the past clashed on issues such as sexual orientation and gender identity.
Go here for the full article.
Redemptoris Mater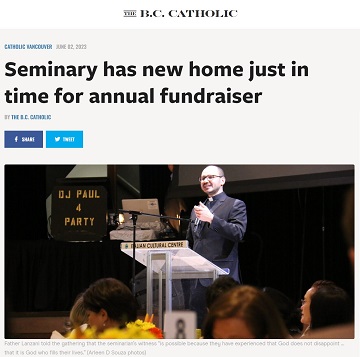 I just learned that we have a Catholic seminary, only a few blocks down from our house. It is a small one, but it seems to be thriving.
A June 2 article on The B.C. Catholic site described it:
Eight young men studying at Redemptoris Mater Seminary "are offering their lives for a mission," Father Davide Lanzani told more than 300 attendees at a recent fundraising event for the Vancouver seminary. . . .
Redemptoris Mater Seminary was opened in 2013 and had a temporary formation house near Blessed Sacrament Church in Vancouver. It moved into a new home at St. Jude's Church in Vancouver [at 15th and Renfrew] last August.
The seminary operates under the auspices of the Neocatechumenal Way, a spiritual renewal movement founded in the 1960s to facilitate faith formation within small, parish-based groups.
There are currently Neocatechumenal communities in five Archdiocese of Vancouver parishes.
Go here for the full article.
Jun 2023
Life-Light by Thomas Brasch – June 8, 2023 - June 14, 2023 at All Day
Provincial Leaders Dinner 2023 – June 8, 2023 at 5:00 pm - 8:00 pm
56th Annual British Columbia Leadership Prayer Breakfast – June 9, 2023 at 7:30 am - 9:00 am
Night With the Persecuted Church – June 9, 2023 at 7:00 pm - 8:15 pm
Church is Essential 2023 – June 10, 2023 at 8:30 am - 4:30 pm
Servant Partners: Community Transformation Certificate (two days) – June 10, 2023 - June 17, 2023 at 9:00 am - 3:00 pm
A Rocha Volunteer Day – June 10, 2023 at 9:30 am - 2:00 pm
Bible Saturday: Matthew Lynch – The World of Leviticus – June 10, 2023 at 9:30 am - 11:45 am
BC Christian Academy's 30th Anniversary Festival – June 10, 2023 at 10:00 am - 4:00 pm
Night With the Persecuted Church – June 10, 2023 at 7:00 pm - 8:15 pm
Saving our Planet: Faith in Action II – June 11, 2023 at 1:00 pm - 6:00 pm
Jazz Vespers in the Valley with Bryn Kinders – June 11, 2023 at 3:30 pm - 4:30 pm
The Color: No Greater Love Tour – June 11, 2023 at 7:00 pm - 9:00 pm
Faith Leaders Advocacy Webinar – June 14, 2023 at 9:00 am - 10:00 am
UGM Summer Connect – June 14, 2023 at 11:00 am
Jazz Evensong @ Brentwood: Gabriel Hasselbach & Friends – June 14, 2023 at 8:00 pm - 9:00 pm
Marketplace Mornings: Finding God in the Valley with Greg Roberts – June 15, 2023 at 7:00 am - 8:30 am
What is it like to be a Christian Observer at a UN Climate conference? – June 15, 2023 at 4:00 pm - 5:00 pm
Wild Light – June 15, 2023 - June 17, 2023 at 7:30 pm - 9:30 pm
MVA: Foundations of Community Organizing Training – June 16, 2023 - June 17, 2023 at 5:30 pm - 5:00 pm
Celebrate Juneteenth / Father's Day with Marcus Mosely – June 18, 2023 at 1:30 pm - 5:30 pm
2023 Vancouver Gospel Festival – June 18, 2023 at 6:00 pm - 9:00 pm
Danny Michel – June 18, 2023 at 8:00 pm - 10:00 pm
Worship for Justice Tour presents Don Moen & Paul Baloche, with Brooke Nichols – June 19, 2023 at 7:00 pm - 9:30 pm
Sam Rocha Trio @ The Princeton – June 19, 2023 at 9:00 pm - 10:00 pm
Second Annual Skidmore Foundation Golf Tournament – June 21, 2023 at All Day
Jazz Evensong @ Brentwood: Mennonite Jazz Committee – June 21, 2023 at 8:00 pm - 9:00 pm
City-wide Worship Night: Worship in the City – June 22, 2023 at 7:00 pm - 9:00 pm
God Said This by Leah Nanako Winkler – June 22, 2023 - June 24, 2023 at 8:00 pm - 10:00 pm
Filmmaking Basics Workshop – June 23, 2023 - June 24, 2023 at 8:30 am - 3:00 pm
Refugee Support and Volunteer Training – June 24, 2023 at 8:45 am - 3:00 pm
House of James: 50th Anniversary BBQ – June 24, 2023 at 11:00 am - 2:00 pm
Worship Invades Pitt Meadows – June 24, 2023 at 7:30 pm - 10:30 pm
Jazz Vespers with Carman J. Price – June 25, 2023 at 4:00 pm - 5:00 pm
One With Them: A Day for Christian Captives – June 25, 2023 at 4:00 pm - 5:00 pm
Mark D. Roberts: Faith-Work Integration – New Learning for a New Day – June 26, 2023 at 7:30 pm - 9:00 pm
Church Earthkeepers Meet-Up – June 27, 2023 at 5:00 pm - 6:00 pm
Strategic Leadership for Christian Higher Education Administrators: (1) Having Difficult Conversations, and (2) Onboarding New Faculty – June 28, 2023 at 8:30 am - 12:00 pm
Mabiala Kenzo: Developments in Postcolonial Theology – June 28, 2023 at 12:00 pm - 12:45 pm
Jazz Evensong @ Brentwood: Karen Graves & Miles Black – June 28, 2023 at 8:00 pm - 9:00 pm
Christian Climate Observers Program at COP28 (2023): Application – June 29, 2023 - July 14, 2023 at All Day
Surroundings by Cara Bain – June 29, 2023 - August 16, 2023 at All Day
Surroundings by Cara Bain: Opening Reception – June 29, 2023 at 4:30 pm - 6:30 pm
New Roots 2023 – June 29, 2023 at 8:00 pm - 9:30 pm