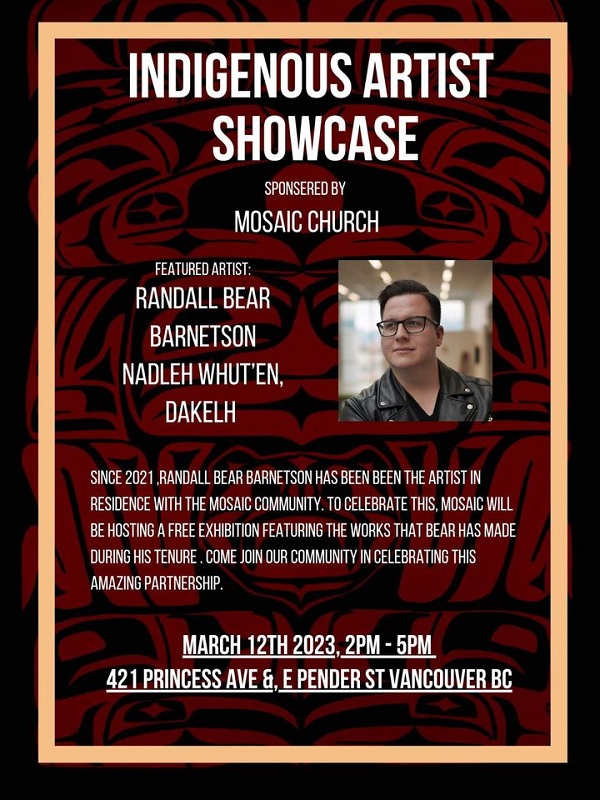 Since 2021, Randall Bear Barnetson has been the artist in residence with the Mosaic community. To celebrate this, Mosaic will be hosting a free exhibition featuring the works the Bear has made.
Indigenous Artist Showcase will be held March 12 where Mosaic meets, at the Strathcona Church building.
I posted a notice of Barnetson's new book, The Nativity Art Project, in December, which included this description of him and his work:
Bear Barnetson is a multidisciplinary Indigenous artist from the community of Nadleh Whut'en, the Dakelh nation and the Dunt'emyoo Bear Clan.
As an Indigenous person from the northwest coast, Bear uses the traditional art style of his people as a framework to interpret contemporary issues such as identity, spirituality, mental health and culture.
Bear was born and raised in the urban Indigenous community of 'East Van.' He spent years serving alongside his parents who founded a ministry on the 100 block of Hastings that provided food and essential services to over two million members of the Downtown Eastside Community. Much of his formative years were spent as a musician alongside his mother, multinational award winning singer/songwriter Cheryl Bear, PhD, who wrote the forward to the book.
As an artist and storyteller, Bear has travelled to and partnered with over 600 Indigenous communities across North America and around the globe. He has channelled these experiences into his work as an artist and in partnership with numerous initiatives in the Downtown Eastside promoting positive Indigenous identity and cultural practices.
Bear's practice is currently based on the Unceded Territories of the Musqueam, Coast Salish peoples, as a guest. On this territory is YVR International Airport, which recently awarded him the Emerging Indigenous Artist of the year award in 2022.
Bear's current endeavours include studying at Emily Carr University of Art and Design in a Bachelor of Arts focusing on Visual Art. As well as partnering with the institution as an Indigenous advisor on Emily Carr's Aboriginal advisory committee, he also teaches at Northwest Coast Arts and Music at Native Education College.
The show will take place at Strathcona Church, 431 Princess Street, at Pender.
Belkin House
A recent post on the Salvation Army site reminded me about how much they do – and how their work is sometimes overlooked because they have just always been around.
This particular message pointed to a branch of their work downtown:
The Salvation Army's Belkin House is taking necessary measures to be prepared to receive a high number of clients accessing residential services this winter.
According to The Weather Network's winter forecast, western Canada is expected to see below-seasonal temperatures throughout this winter. This projection could mean that more people around the Vancouver area will need access to residential services during periods of extreme weather.
David Burrows, director of housing and shelter programs at Belkin House, says that this year a partnership was formed to ensure more space is available for people needing residential services.
"The main thing we did this year was partnering with B.C. Housing in the City of Vancouver, to open up emergency extreme weather shelters," Burrows said.
When emergency shelters are in effect, it allows Belkin House to accommodate an extra 15 residents on nights of extreme weather. Excessive cold, snow or rain all fall under the category of 'extreme weather.'
To house the extra residents, Belkin House uses its multi-purpose room. They lay mats for people to sleep on and bring in additional staff to support them on emergency shelter days.
Considering the bitterly cold temperatures of the Canadian winter, emergency shelters such as the one at Belkin House can prove to be lifesaving for some.
"All 15 clients we take in on those days (extreme weather), would be on the streets if it wasn't for our emergency shelter," Burrows said. "There are a lot of risks that come with living on the street under such conditions."
The emergency shelter is open from 7 pm to 7 am. The additional residents go back out on the street in the morning.
"Monetary donations are critical, as we like to ensure that our residents go back out in the morning prepared for the weather conditions," he said.
Belkin House has just over 250 clients. They offer men's and women's emergency shelter, transitional housing, and community residential facility programs in Vancouver.
More than 75 years ago The Salvation Army opened Dunsmuir House (at 500 Dunsmuir) for men in the heart of Vancouver. In September 2004, they moved to a new location (555 Homer), which was built as a multi-service centre, and renamed Belkin House.
Belkin House is one of several Extreme Weather Response shelters open during this cold spell.
Laing Lectures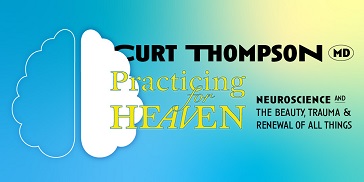 Regent College's Laing Lectures always offer plenty of food for thought – and that certainly looks to be the case this year.
Psychiatrist and author Curt Thompson MD will speak March 8 and 9 on topic of 'Practicing for Heaven: Neuroscience and the Beauty, Trauma and Renewal of All Things.'
Curt Thompson MD connects our intrinsic desire to be known with the need to tell truer stories about ourselves – showing us how to form deep relationships, discover meaning and live integrated and creative lives.
With a keen instinct for making complex topics relatable, Dr. Thompson integrates the science of interpersonal neurobiology with Christian anthropology to help us re-establish and deepen our relationships, leading to healthier, more meaningful lives.
By combining his deep insights into how brain function affects our connections with one another with practical methods for application, he helps us break free from old patterns that no longer serve us to start us on the journey toward purposeful living.
Here is the schedule:
Wednesday, March 8 at 7:30 – 9 pm | Lecture 1
Thursday, March 9 at 11:30 am – 1 pm | Interview and Q&A (onsite only)
Thursday, March 9 at 7:30 – 9 pm | Lecture 2
Feb 2023
Jesus Revolution (several Cineplex Theatres) – February 24, 2023 - March 2, 2023 at All Day

Mar 2023
Ghislain Brown-Kossi: Future Artifact II – March 2, 2023 - March 8, 2023 at All Day
Jessica Ziakin-Cook: 'Outward and Visible Signs': Sacramentalism and Modern Art, 1920 - 1931 – March 2, 2023 at 5:00 pm - 6:00 pm
How do we discuss MAiD with our families and friends – March 2, 2023 at 7:00 pm - 8:30 pm
MAiD in Canada (Apologetics Canada Pre-Conference 2023) – March 2, 2023 at 7:00 pm - 9:00 pm
Apologetics Canada Conference 2023 – Branded: Rethinking Identity – March 3, 2023 - March 4, 2023 at 7:00 pm - 3:30 pm
On the Breath of Angels – March 3, 2023 at 7:30 pm - 9:30 pm
Justin Glibbery Quintet – March 3, 2023 at 8:00 pm - 10:00 pm
Love. Purpose. Reconcile. – March 4, 2023 at 12:00 pm - 3:00 pm
Uniting as One Pastors' Luncheon – March 4, 2023 at 12:00 pm - 2:00 pm
Memorial Service for Dr. Gordon Fee – March 4, 2023 at 1:00 pm - 4:00 pm
The Elevation Project Turned 15 – March 4, 2023 at 7:00 pm - 9:00 pm
Jacob Moon with Special Guest Cory Alstad – March 4, 2023 at 8:00 pm - 10:00 pm
Jesus Revolution (movie) – March 7, 2023 - March 9, 2023 at All Day
UN CSW67: Coerced Religious Conversions, Forced and Child Marriage in Egypt, Pakistan and Nigeria – March 7, 2023 at 1:30 pm - 3:00 pm
Christian Deeper Learning Conference: Diving Deeper – March 8, 2023 - March 10, 2023 at All Day
Growing Healthy Congregations – March 8, 2023 at 10:00 am - 11:00 am
2023 Laing Lectures: Curt Thompson, MD: Practicing for Heaven – Neuroscience & the Beauty, Trauma & Renewal of All Things – March 8, 2023 - March 9, 2023 at 7:30 pm - 9:00 pm
Jazz Evensong @ Brentwood: Christie Grace & Chris Gestrin – March 8, 2023 at 8:00 pm - 9:00 pm
Joy Banks: Waymarkers – March 9, 2023 - March 16, 2023 at All Day
SIMinar: Explore North Africa – March 9, 2023 at 5:00 pm - 6:00 pm
Spirituality and Community in a Time of Loss – March 10, 2023 at 7:00 pm - 8:30 pm
A Rocha Volunteer Day – March 11, 2023 at 9:30 am - 2:00 pm
Thomas Merton Society of Canada One-Day Retreat – March 11, 2023 at 10:00 am - 3:00 pm
Indigenous Artist Showcase: Randall Bear Barnetson – March 12, 2023 at 2:00 pm - 5:00 pm
Jazz Vespers in the Valley with Amber Tsang and friends – March 12, 2023 at 3:30 pm - 4:30 pm
Dr. Matthew Lynch: The Land Keeps the Score: Violence in Creation According to the Old Testament – March 14, 2023 at 4:00 pm - 5:30 pm
Out of the Depths: A Time of Lament through Prayer and Worship – March 15, 2023 at 12:00 am
Stewardship Toolkit: Time, Talent, Treasures, Trees – March 15, 2023 at 7:00 pm - 8:30 pm
Theology Symposium: 'Just War' or Just Another War – March 15, 2023 at 7:00 pm - 9:00 pm
Jazz Evensong @ Brentwood: The Ruby Lane Organ Trio – March 15, 2023 at 8:00 pm - 9:00 pm
Lloyd Mackey Fonds in TWU Archives Launch Event – March 16, 2023 at 1:00 pm - 1:45 pm
Book Launch: Dr. Matthew Lynch – Flood and Fury: Old Testament Violence and the Shalom of God – March 16, 2023 at 7:00 pm - 9:00 pm
Dr. Aaron Kheriaty: The Growing Biomedical Security State: A Threat To Human Dignity? – March 16, 2023 at 7:00 pm - 9:00 pm
Wonderfully Good: River Prophetic Nights, with Isabel & Thrainn Skulason – March 16, 2023 - March 17, 2023 at 7:00 pm - 9:00 pm
Academic Symposium 2023 – March 17, 2023 at 10:00 am - 4:00 pm
Sarah Kurbjuweit: Rhythms & Roots – Opening Reception – March 17, 2023 at 4:00 pm - 7:00 pm
Traditional Hymn Sing Along at Elim Village – March 17, 2023 at 7:00 pm - 8:30 pm
Hawksley Workman – March 17, 2023 at 7:30 pm - 9:30 pm
Metro Vancouver ESL Ministries Network Event – March 18, 2023 at 9:00 am - 4:30 pm
North Shore Alliance Church Community Cleanup – March 18, 2023 at 2:00 pm - 4:00 pm
Taizé Service – March 19, 2023 at 4:00 pm - 5:00 pm
The Mr. Rogers' Neighbourhood Sacred Jazz Suite – March 19, 2023 at 7:00 pm - 8:30 pm
Inklings Institute of Canada: Dramatic Reading of Dorothy Sayers' King of Sorrows – March 21, 2023 at 7:00 pm - 8:30 pm
Jazz Evensong @ Brentwood: Nick Apivor & Friends – March 22, 2023 at 8:00 pm - 9:00 pm
DEI, CRT & Anti-racism: Common Sense, Campaigning & Courtesy – March 23, 2023 at 1:30 pm - 2:30 pm
SoulStream presents: Coming Home Lenten Retreat – March 24, 2023 - March 26, 2023 at 5:00 pm - 12:00 pm
Raise Your Spoon Fundraiser, Starring Leland Klassen – March 24, 2023 at 6:00 pm - 8:00 pm
Heart Conference – March 24, 2023 - March 25, 2023 at 7:00 pm - 5:00 pm
Presentation on MAiD – March 24, 2023 at 7:00 pm - 8:30 pm
How to Understand the Days of Creation with Dan Kreft – March 24, 2023 at 7:30 pm - 9:30 pm
Tax Clinic – March 25, 2023 at 12:00 am
Canadian Disaster Relief Volunteer Training – March 25, 2023 at 9:00 am - 4:00 pm
Wherefore Art the Begats? with Dan Kreft – March 25, 2023 at 7:00 pm - 9:00 pm
Handel's Messiah – March 25, 2023 at 7:30 pm - 9:30 pm
Jazz Vespers in the Valley with the Kayden Gorden Quartet – March 26, 2023 at 3:30 pm - 4:30 pm
Jazz Vespers with Bonnie Northgraves – March 26, 2023 at 4:00 pm - 5:00 pm
Buoyancy – March 26, 2023 at 7:30 pm - 9:00 pm
Book Launch: Criminal Law – March 28, 2023 at 12:30 pm - 1:30 pm
Cambodia Justice Journey Info Session – March 28, 2023 at 7:00 pm - 8:15 pm
Living Fruitfully: A Biblical Theology of Work – March 29, 2023 at 10:00 am - 11:00 am
The Man of the Shroud Exhibition – March 29, 2023 - April 2, 2023 at 6:30 pm - 1:30 pm
St. John Paul II and the Human Person – March 29, 2023 at 7:00 pm - 9:00 pm
Jazz Evensong @ Brentwood: Kayden Garden & Friends – March 29, 2023 at 8:00 pm - 9:00 pm
Book Conversation on Faith Formation in a Secular Age by Andrew Root – March 30, 2023 at 10:30 am - 11:30 am
Belonging: How has racism affected your sense of belonging within Christian churches? – March 30, 2023 at 11:00 am - 1:00 pm
You Can't Take it With You – March 30, 2023 - April 1, 2023 at 7:30 pm - 9:30 pm
Evangelical Missiological Society Canadian Regional Conference – March 31, 2023 at All Day
Learning How to Grow Restorative Churches – March 31, 2023 - April 1, 2023 at 9:00 am - 4:30 pm
The Seven Last Words of Christ – March 31, 2023 at 8:00 pm - 9:00 pm
Valdy – March 31, 2023 at 8:00 pm - 10:00 pm

Apr 2023
Lectures on Distinguishing Heresy (two events) – April 1, 2023 - April 2, 2023 at All Day
Iron Sharpens Iron Men's Conference – April 1, 2023 at 8:30 am - 3:30 pm
Garage Sale & Thrift Shop – April 1, 2023 at 10:00 am - 3:00 pm
Rheinberger's Mass in C major (op. 169), and Cherubini's Requiem in C minor – April 1, 2023 at 2:00 pm - 4:00 pm
St. John Passion – April 1, 2023 at 2:00 pm - 3:30 pm
Leeroy Stagger – April 1, 2023 at 8:00 pm - 10:00 pm
Palm Sunday Service – April 2, 2023 at 10:00 am - 11:15 am
Watoto Children's Choir – April 2, 2023 at 10:00 am - 11:30 am
Watoto Children's Choir – April 2, 2023 at 6:00 pm - 7:30 pm
Rheinberger's Mass in C major (op. 169), and Cherubini's Requiem in C minor – April 2, 2023 at 7:00 pm - 9:00 pm
TWU's Sustainability Week – April 3, 2023 - April 6, 2023 at All Day
Planetary Health Lecture: Plastic Pollution & the Microbiome Menace – April 4, 2023 at 7:00 pm - 9:00 pm
Climate Change 'Smart' or 15 Minute Cities – April 5, 2023 at 4:30 pm - 5:30 pm
Fire From Heaven: Michael Faraday and the Dawn of the Electrical Age – April 5, 2023 at 7:00 pm - 9:00 pm
Kinbrace Virtual Open House – April 5, 2023 at 7:00 pm - 8:30 pm
The Way College Info Night – April 5, 2023 at 7:00 pm - 7:45 pm
Jazz Evensong @ Brentwood: Dan Reynolds – The Sower Suite – April 5, 2023 at 8:00 pm - 9:00 pm
Sarah Kurbjuweit: Rhythms & Roots – April 6, 2023 - April 12, 2023 at All Day
At the Still Point of the Turning World: Music & Poetry for Holy Week – April 6, 2023 at 6:00 pm - 7:00 pm
How to Talk to Your Kids About Doubt – April 6, 2023 at 7:00 pm - 9:00 pm
Black and Rural – April 6, 2023 - April 15, 2023 at 8:00 pm - 10:00 pm
Fort Langley's Stations of the Cross – April 7, 2023 at 10:00 am - 11:30 am
Good Friday City-wide Gathering – April 7, 2023 at 10:00 am - 11:30 am
Good Friday Combined Service – April 7, 2023 at 10:00 am - 11:15 am
Good Friday / DTES Joint Gathering – April 7, 2023 at 10:30 am - 11:30 am
Good Friday Joint Service – April 7, 2023 at 10:30 am - 12:00 pm
Good Friday Service (First Baptist, Westside, Coastal) – April 7, 2023 at 11:00 am - 12:00 pm
Good Friday Service with Haydn's Seven Last Words of Christ – April 7, 2023 at 7:00 pm - 8:30 pm
Easter Bash – April 8, 2023 at 11:00 am - 1:00 pm