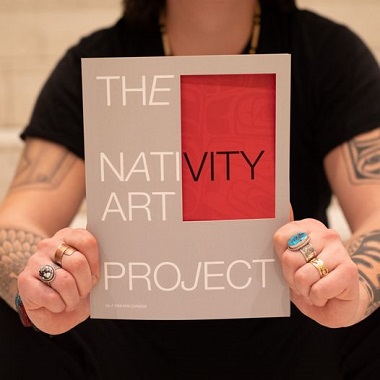 Last week I posted about 15 local books published in 2022, under the broad heading 'Church in culture, living the Christian life.'
This week I will look at several books involving 'arts, fiction and literature.'
Early next year I will introduce another couple of dozen, over two weeks, which fall broadly under the headings, 'Academic' and 'Biography.'
The write-ups are generally from Amazon and publisher / author sites.
Randall Bear Barnetson: The Nativity Art Project (24-7 Prayer Canada)
The Nativity Art Project is a creative social impact initiative curated by 24-7 Prayer Canada – it is our prayer that it will encourage healing in Jesus' name and inspire hope, faith and joy during the season of Christmas.
The 2022 gallery is made up of a series of 12 art pieces based on the Nativity story, seen through the lens of Indigenous art and culture. Each piece is accompanied by a devotional, a prayer and an invitation to re-imagine how we have navigated the crossroads of faith and culture.
We are praying that this project will be a path of healing for the First Peoples of Canada and the church to walk on together.
Bear Barnetson is a multidisciplinary Indigenous artist from the community of Nadleh Whut'en, the Dakelh nation and the Dunt'emyoo Bear Clan. As an Indigenous person from the northwest coast, Bear uses the traditional art style of his people as a framework to interpret contemporary issues such as identity, spirituality, mental health and culture.
Bear was born and raised in the urban Indigenous community of 'East Van.' He spent years serving alongside his parents who founded a ministry on the 100 block of Hastings that provided food and essential services to over two million members of the Downtown Eastside Community. Much of his formative years were spent as a musician alongside his mother, multinational award winning singer/songwriter Cheryl Bear, PhD, who wrote the forward to the book.
As an artist and storyteller, Bear has travelled to and partnered with over 600 Indigenous communities across North America and around the globe. He has channelled these experiences into his work as an artist and in partnership with numerous initiatives in the Downtown Eastside promoting positive Indigenous identity and cultural practices.
Bear's practice is currently based on the Unceded Territories of the Musqueam, Coast Salish peoples, as a guest. On this territory is YVR International Airport, which recently awarded him the Emerging Indigenous Artist of the year award in 2022.
Bear's current endeavours include studying at Emily Carr University of Art and Design in a Bachelor of Arts focusing on Visual Art. As well as partnering with the institution as an Indigenous advisor on Emily Carr's Aboriginal advisory committee, he also teaches at Northwest Coast Arts and Music at Native Education College.
Louise Bergen Price: The Canada Coat (Mennonite Heritage Museum Society)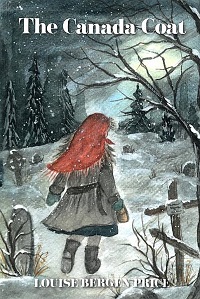 A timely book. When her father's dreams to immigrate to Canada fall through, Rena and her family are trapped in Ukraine in the midst of the Holodomor, a famine that will kill millions in 1932 – 1933. Then, just when it seems that the worst is over, her father goes missing, and Rena struggles to keep her hopes alive.
Storyteller and author Louise Bergen Price has long been fascinated by her family's story of hardship and survival in Ukraine. This story is based on the true story of the difficult life of her mother.
This historical novel is written for adolescents. This is the first book published by the Mennonite Heritage Museum, which is in Abbotsford..
Louise Bergen Price lives in Abbotsford and is retired from a career as a teacher / librarian in the public school system. The Canada Coat is her first novel, but she has had short stories published. She has been very active with the Mennonite Historical Society of BC. Go here for a YouTube presentation.
Monika Hilder: Letters to Annie: A Grandmother's Dreams of Fairy Tale Princesses, Princes & Happily Ever After (Friesen Press)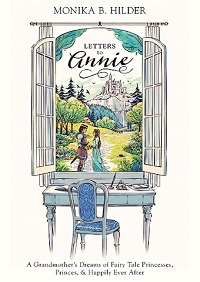 What do we love about fairy tales? How do they, along with Narnian and other fantasy stories, speak to us at any age?
In the fictional voice of a grandmother writing to her granddaughter over the first 25 years of her life, Letters to Annie: A Grandmother's Dreams of Fairy Tale Princesses, Princes, & Happily Ever After inspires us to live into our deepest life questions.
With a wealth of spiritual and literary insights, these 33 letters leave us richer and more able to navigate the challenges, sorrows and joys of life with wisdom, courage and love.
Monika Hilder  is Professor of English at Trinity Western University, where she teaches children's and fantasy literature. She is co-founder and co-director of the Inklings Institute of Canada, and is the author of a three-volume study of C.S. Lewis and gender. Monika has also published on George MacDonald, Madeleine L'Engle and L.M. Montgomery. She has a passion for educating the moral imagination through literature and writes about spirituality, gender metaphor, ethics, fairy tale, suffering and consolation, joy, imagery of Heaven and celebrating one's gifts. 
Simon Choa-Johnston: House of Daughters (Earnshaw Books)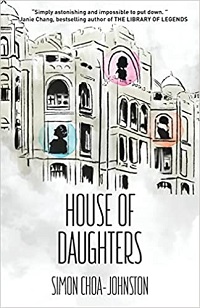 Emanuel Belilios, a wealthy Jewish opium oligarch, suddenly leaves Hong Kong and his junior-wife, Pearl Li, blames Semah, the senior-wife. Pearl kicks Semah out of the mansion where the polyamorous trio had lived, and she shuns everyone including her daughter Leah Felicie.
But when death strikes Emanuel and Semah and her father in rapid succession, Pearl suspects that the Chinese curse against opium smugglers has returned. She must act swiftly to assuage the hex. But the Fates are wily, and she's running out of time.
Inspired by the author's own family, House of Daughters is a stand-alone sequel to the Globe and Mail best-seller, House of Wives.
Simon Choa-Johnston was born and raised in Hong Kong and educated in Canada at McMaster University. He studied theatre in a variety of studios in New York, returning to Canada to work as an artistic director, director and playwright. More recently, he retired from the Richmond Gateway Theatre where he was Artistic and Executive Director. He now lives in South Surrey with his wife Sheila; they attend Church of the Holy Trinity (Anglican) in White Rock. Go here for a recent interview.
David M. Wallace: The Little Brudders of

Miséricorde

(Tidewater Press)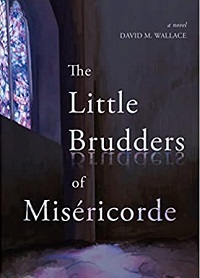 Man and mouse: comrades who together navigate a world of saints and sinners, and crimes both real and imagined.
Spence is lost – the brief optimism of his early retirement and bold move from Vancouver to Montréal has devolved into a lonely round of French classes, winter cycling and watering his absent daughter's houseplants. When a mouse moves into his Notre-Dame-de-Grâce apartment uninvited, Spence welcomes the company and the two form an unlikely friendship.
Thierry is a petty thief with strong opinions and a foul mouth who draws the former drama teacher into an unexpected theatre of conspiracies. He becomes Spence's little brother, helping him learn French, confront painful memories and reaffirm his Catholic faith. A darkly comic story of rebirth that is both poignant et amusant, sacred et sacrebleu.
David Wallace earned a BFA from the University of Victoria. He has performed with the Globe Theatre (Regina), the Bastion Theatre (Victoria) and at the Edmonton, Vancouver and Victoria Fringe Festivals. In 1996, David began a teaching career in Burnaby. Over the course of two decades, he directed students in 20 full-length plays and musicals, and more than 60 one-act plays performed for and by young people. The Little Brudders of Miséricorde was reviewed in the Vancouver Sun.
Jack A. Taylor: Prince of Persia (Castle Quay Books)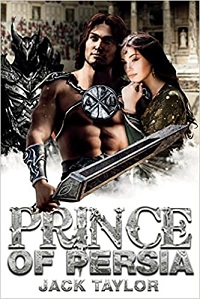 Join the exciting and perilous adventures of Nabonidus, the emperor's champion gladiator, who finds Messiah Yeshua then returns to his homeland hoping to find his place in a world of great warriors.
Set in first-century Persia in a chaotic flux of Orient and Occident, Nabonidus and his wife, Daphne flee Ephesus to seek out Nabonidus' roots, but their lives are ripped apart.
Caught between the Elamite rebels and Parthian Magi, will they survive? Will Daphne ever be reunited with Nabonidus? Discover the quests of Nabonidus and Daphne and determine for yourself if Nabonidus is the true Prince of Persia.
Winner of the 'Word Guild Best New Manuscript Award 2021.'
Jack Taylor has written eight novels, including the award-winning series The Cross Maker trilogy and the One Last Wave trilogy. He worked with Rift Valley Academy in Kenya for 18 years and just retired as senior pastor of Faith Fellowship Baptist Church – a multicultural congregation with over 50 nations represented – in Vancouver. His wife of 45 years, Gayle, is his partner in ministry and together they cherish four children and 11 grandchildren. He has founded nine organizations. including New Hope Community Services Society, which has sheltered over 850 refugees since 2004.
Jack A. Taylor: 12 Tasks of Manhood: A Father & Son Trek (independently published)
12 Tasks of Manhood is a 'novlet' designed to complement 12 Tasks: Creating a Rite of Passage, co-authored with Shel Arensen.
Vincent Lau and his son Stephen deal with the realities of modern life while trying to negotiate the next steps of maturity.
Can a group of fathers cross cultural and generational boundaries to help their sons overcome a life-changing adventure? Stocked with the skeletal core of what the 12 Tasks are all about.
See above for information on Jack Taylor. Go here for an interview with Taylor about the 12 Tasks books.
Cathy AJ Hardy: Love Breathes with Me, Volume 2 (Friesen Press)
The spiritual prayers and poems in this collection speak to the inner soul journey of those seeking awareness of Divine Presence in all things. To be fully awake and open to grace and wisdom, we must pause, listen, and reflect, knowing our human experience is beautiful and good even when times are challenging.
Simple yet powerful, these lyrical writings come from the lived experience of the author and hold elements of Christian mystical and Celtic spirituality while using broad and inclusive language for people of all traditions and beliefs.
Cathy AJ Hardy is founder and director of Soul Care Circles, which offer three one-year courses in spiritual formation and a two-year course in spiritual direction. Cathy is a singer-songwriter, retreat facilitator, poet and spiritual director. Her music has been honoured many times by the Gospel Music Awards of Canada, and her songwriting is inspired by her poetry and written prayers. She is a member of Spiritual Directors International and currently lives in Mission. She is the author of two previous books: Love Breathes with Me (2018) and Walk with Me (2020).
I have posted two earlier local book round-ups this year, here and here.