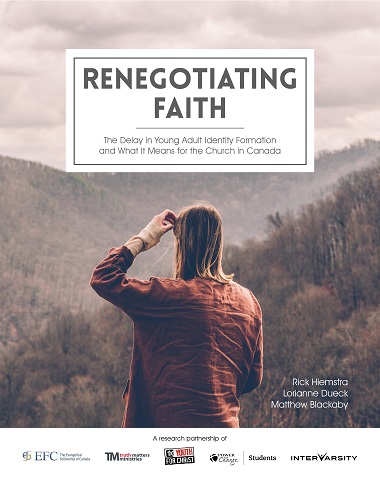 Whether you want to learn about young people, or you're a youth leader, or you're a young person yourself – there's something for you this week.
Renegotiating Faith
The lead researcher for the recent Renegotiating Faith study will be teaching in New Westminster and at two Abbotsford venues later this week.
Rick Hiemstra's starting point, taken from the poster for the February 3 event at New Westminster Christian Reformed Church is:
The delay in young adult identity formation and what it means for the church in Canada: Identity formation and entry into adulthood is delayed by 5 – 7 years compared to what it was just a few decades ago. New Canadian research, Renegotiating Faith, looks at what this delayed identity formation means for faith formation
The study itself is 182 pages – well worth reading – but a personal presentation by Hiemstra would make an ideal introduction. Renegotiating Faith "looks at the transition from high school to the next stage in life for Canadians age 18 to 28 who had a Christian religious affiliation as a teen and who attended religious services at least monthly at some point during their teen years."
The study covers a lot of ground, with 15 chapters covering topics such as Emerging Adulthood, Religious Transmission and Life Choices After High School.
There is much to recommend the research, but a couple of themes stood out for me:
The importance of mentoring/guiding. Any parent (or church) with students moving from high school to post-secondary education should take note of the importance of having home church mentors who will connect students to other churches and campus Christian groups – if they want their kids to carry on in the faith. When they move out, will their faith move with them?
UGRE. This unappealing acronym stands for Universal Gnostic Religious Ethic: "In our interviews, many young adults talked about something behind all religions, as if there were a greater, deeper reality that they had discovered that others (usually their parents or grandparents) have not been able to discover. . . . It is an ethic rather than a religion. . . . Although the beliefs we label the UGRE often appeal to young adults as if they were a new spiritual discovery, in fact they echo ancient heresies long rejected by Christian tradition." This is not good news; clearly, more solid teaching and discipleship are required.
Renegotiating Faith "is based on the data from the Young Adult Transition Research (YATR) study. YATR is a multi-phase research project that began in 2015 and includes a literature review, 26 interviews with ministry experts, 40 interviews with young adults, a national survey of 1,998 young adults, and a national survey of 1,570 ministry experts."
The researchers worked on behalf of several research partners: the Evangelical Fellowship of Canada, InterVarsity Christian Fellowship, Power to Change – Students, Truth Matters Ministries and Youth for Christ.
Hiemstra noted:
Although the sponsors of the research come from evangelical backgrounds, we agreed from the outset that this research needed to include, as much as possible, the whole church. So we worked to engage Catholic, Mainline Protestant, Orthodox and evangelical young adults and ministry experts.
The three opportunities to hear Hiemstra speak are:
1. How to Keep Young Adults Engaged in the Church, Columbia Bible College, Abbotsford, January 31
2. Canadian Youth Workers Conference (Hiemstra is just one of several speakers in a two-day event which covers a wide range of issues), Central Heights Church, February 1
3. Renegotiating Faith, New Westminster Christian Reformed Church, February 3
One other event is run by and for young leaders.
Youth Leadership
The Youth Leadership Conference will take place Friday evening and Saturday (February 1 – 2) at Westside Church (The Centre) in downtown Vancouver. Here is how organizers describe how the movement / conference came about:
YLC was a church collaboration initiative organized by local youth pastors who were leading youth ministries in the urban context of Vancouver.
Their aim was to organize a gathering in which students, pastors, leaders and ministers could come together around the gospel of the kingdom and unpack its power in life and ministry. We wanted local churches and youth groups to gather together around the good news of Jesus and get a vision for what the Spirit could do in their church, city, school, context and community. Because more than anything, we want to see God's kingdom come and his will be done in our cities, communities and schools as it is in heaven.
Most of the speakers are young leaders from the Metro Vancouver area.
St. Andrew's-Wesley renovations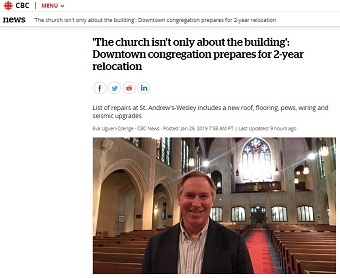 Rev. Dan Chambers spoke with Margaret Gallagher of On the Coast January 28. Here is part of an article based on the interview:
This Sunday will be the last service at St. Andrew's-Wesley United Church for a long time.
The heritage building at the corner of Burrard and Nelson in downtown Vancouver is set to begin an extensive two-year renovation project and will be closed during that time.
But amid the upheaval, officials are emphasizing that the church will continue.
"The church isn't only about the building. It's also about what happens amongst the community," Rev. Dan Chambers told On The Coast reporter Margaret Gallagher.
The long list of repairs includes a leaky roof, replacing tile floors with stone, getting new pews and bringing all the wiring up to code.
Most importantly, seismic upgrade work must be done for the building, which was built in 1933.
Chambers says the only reason the church was able to afford the $30 million bill for repairs is because it sold its gym and common room 20 years ago. The land was developed into a 20-storey complex.
Go here for the full article, and here for the seven minute interview.
Services on Sunday morning will be held next door at Century Plaza Hotel across from St. Andrew's-Wesley, while Sunday afternoon jazz vesper services will be held across Nelson Street at First Baptist Church.
First Baptist Church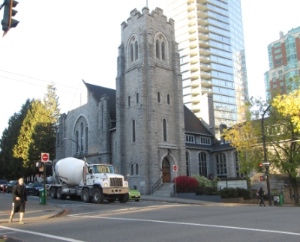 Speaking of First Baptist, it is undergoing major renovations itself – the restoration of the church building itself, along with a tower and rental housing beside the church.  Some demolition has been taking place since late last fall. Go here for regular video updates.
Chair of the 'Heart for the City' oversight committee Broek Bosma said in a December 23 update that "the transfer of the air parcel" had just been concluded. "Believe it or not," he said, "when large towers are built, they subdivide the air. So the air above our parking lots has now been sold and transferred to our partner Westbank."
In a January 27 update he said demolition is continuing, and trees are coming down. Excavation of the site, north of the church building, will begin before the middle of February. "So, over the next year, they're going to be digging a pit about six to seven storeys down."
Jan 2019
How to Keep Young Adults Engaged in the Local Church
– January 31, 2019 at 7:00 pm - 9:00 pm
Feb 2019
Canadian Youth Workers Conference
– February 1, 2019 - February 2, 2019 at All Day
Go Conference 2019
– February 1, 2019 - February 3, 2019 at All Day
Reasons to Hope: Nathan Betts / RZIM
– February 1, 2019 - February 3, 2019 at All Day
Youth Leadership Conference 2019
– February 1, 2019 - February 2, 2019 at 6:30 pm - 8:30 pm
Open House: BC Christian Academy
– February 2, 2019 at 9:30 am - 12:30 pm
The Psalms and Building Faith in Children and Adults
– February 2, 2019 at 9:30 am - 4:00 pm
North Shore Worship Night
– February 2, 2019 at 7:00 pm - 9:00 pm
Stayed on Freedom: A Musical Celebration of Black History Month
– February 2, 2019 at 7:30 pm - 10:00 pm
Renegotiating Faith
– February 3, 2019 at 7:00 pm - 9:00 pm
Terra Lightfoot
– February 3, 2019 at 7:00 pm - 9:00 pm
Intimacy & Community in a Fragmenting Culture with Connally Gilliam
– February 4, 2019 at 12:00 pm - 1:00 pm
Journey 101 (Monday evenings)
– February 4, 2019 at 7:00 pm - 9:30 pm
Multiply Conference 2019
– February 6, 2019 - February 7, 2019 at All Day
Stephanie Grey: Assisted Suicide – Communicating with Clarity and Compassion
– February 6, 2019 at 7:00 pm - 9:00 pm
An Evening with Mez McConnell
– February 6, 2019 at 7:30 pm - 9:30 pm
Susan McCaslin Book Launch and Reading
– February 6, 2019 at 7:30 pm - 9:00 pm
Jazz Evensong: Dalannah Gail Bowen
– February 6, 2019 at 8:00 pm - 9:30 pm
A Prayer for Owen Meany
– February 7, 2019 - February 9, 2019 at All Day
Pastors' Chapel and Brunch
– February 7, 2019 at 9:00 am - 10:30 am
City in Focus Breakfast with June Francis: Diversity & Constructed Identities
– February 8, 2019 at 7:00 am - 8:30 am
A Musical Evening in Support of Wet'suwet'en
– February 8, 2019 at 7:00 pm - 11:30 pm
Screening: Fatal Flaws
– February 8, 2019 at 7:00 pm - 9:00 pm
Earth, Wind, Fire & Life
– February 8, 2019 at 7:30 pm - 9:00 pm
Changing Minds and Saving Lives: Becoming an Effective Pro-life Ambassador
– February 9, 2019 at 10:00 am - 12:00 pm
Alzheimer Café
– February 9, 2019 at 2:00 pm - 4:00 pm
Roddan Jubilee Lectures: Karen Joseph
– February 9, 2019 at 3:00 pm - 5:00 pm
Jazz Vespers in the Valley: Don Stewart (Black History Month)
– February 10, 2019 at 4:00 am - 5:00 am
KAIROS Blanket Exercise
– February 10, 2019 at 1:00 pm - 4:30 pm
Jazz Evensong: Maria Ho
– February 13, 2019 at 8:00 am - 9:30 am
LeaderImpact Metro Vancouver Young Leaders Kickoff
– February 13, 2019 at 5:30 pm - 7:00 pm
Eve Leader: Through a Glass Darkly
– February 14, 2019 - February 15, 2019 at All Day
The Date Night Tour
– February 14, 2019 at 7:30 pm - 9:30 pm
Trio Céleste
– February 15, 2019 at 11:30 am - 1:00 pm
Song & Story: A Celebration of the Indigenous Studies Program, featuring Cheryl Bear
– February 15, 2019 at 7:00 pm - 9:00 pm
Y4C Presents '7 Mountains of Influence in Our Culture'
– February 15, 2019 at 7:00 pm - 10:30 pm
Open Mosque Day
– February 16, 2019 at 10:00 am - 3:00 pm
Honduras Fundraiser High Tea
– February 16, 2019 at 3:00 pm - 5:00 pm
Masterpieces: Famous Choruses of Great Composers
– February 16, 2019 at 8:00 pm - 10:00 pm
Taizé Contemplative Service
– February 17, 2019 at 4:00 am - 5:00 am
MVA Faith Caucus
– February 19, 2019 at 11:30 am - 1:30 pm
Inklings Institute of Canada: The Perilous Lot of the Christian Artist
– February 19, 2019 at 7:00 pm - 8:30 pm
Mixing Science & the Mystics (part 1)
– February 19, 2019 at 7:00 pm - 9:00 pm
Children of God
– February 20, 2019 - March 10, 2019 at All Day
Church Planting in Post-Christian Soil: a call for papers
– February 21, 2019 at All Day
Dark Glass Theatre: The Amish Project
– February 21, 2019 - February 23, 2019 at 12:00 am
Canada in Crisis: Mobilizing the Church for Action – Pastors Forum
– February 21, 2019 at 9:00 am - 12:00 pm
Andrea Loewen Book Launch for 'Feeling Better – A Field Guide to Liking Yourself'
– February 21, 2019 at 7:00 pm - 10:00 pm
Shad
– February 21, 2019 at 8:00 pm - 11:00 pm
Christopher Yuan Conference, with Dr. Leon & Angela Yuan
– February 22, 2019 - February 24, 2019 at All Day
Work as Worship Retreat
– February 22, 2019 at 7:30 am - 2:30 pm
Christianity at a Crossroads with Clarence Janzen
– February 22, 2019 at 7:30 pm - 9:30 pm
Coldest Night of the Year
– February 23, 2019 at All Day
Delta Prayer Breakfast
– February 23, 2019 at 8:15 am - 11:00 am
Journey Home Refugee Support: Basic Training
– February 23, 2019 at 8:45 am - 3:00 pm
Screen Time (Simulcast): Parenting in a Media Saturated Culture
– February 23, 2019 at 9:00 am - 12:00 pm
Singable Saturdays: Mozart Edition
– February 23, 2019 at 10:00 am - 12:30 pm
Tensions in the Bible: The Development of Catholic-Jewish Relations in the Context of Biblical Interpretation
– February 23, 2019 at 11:00 am - 1:00 pm
Christianity at a Crossroads with Clarence Janzen
– February 23, 2019 at 2:00 pm - 4:00 pm
Healing Night with Pastor Anthony Greco
– February 23, 2019 at 5:00 pm - 7:00 pm
Ember
– February 23, 2019 at 7:00 pm - 9:00 pm
Reverb: Songs, Poems, Stories
– February 23, 2019 at 7:00 pm - 9:30 pm
What About the Dinosaurs? with Clarence Janzen
– February 23, 2019 at 7:00 pm - 9:00 pm
Young Street Vocal Band
– February 23, 2019 at 7:00 pm - 8:30 pm
Worship Invades Coquitlam
– February 23, 2019 at 7:30 pm - 10:00 pm
Grand Reopening & Celebration of African Fountain Chapel Vancouver (AME)
– February 24, 2019 at 11:00 am - 4:30 pm
Jazz Vespers @ St. Andrew's United Church
– February 24, 2019 at 4:00 pm - 5:00 pm
Jazz Vespers in the Valley: Olaf de Shield (Black History Month)
– February 24, 2019 at 4:00 pm - 5:00 pm
Dedication Service: Central Presbyterian Church
– February 24, 2019 at 7:00 pm - 9:00 pm
Kairos Cantonese Course
– February 25, 2019 at All Day
David Clough: On Animals Volume II – the Challenge of Christian Animal Ethics
– February 25, 2019 at 7:30 pm - 9:30 pm
Stephen Fearing
– February 25, 2019 at 7:30 pm - 10:00 pm
Tuesday Morning with John Stetch
– February 26, 2019 at 11:00 am - 12:00 pm
Open House: Mission to Seafarers
– February 26, 2019 at 4:00 pm - 8:00 pm
Animals and Ethics in the 21st Century with Dr. David Clough, sponsored by Vancouver Humane Society
– February 26, 2019 at 7:00 pm - 9:00 pm
Mixing Science & the Mystics (part 2)
– February 26, 2019 at 7:00 pm - 9:00 pm
Khari Wendell McClelland: We Now Recognize
– February 28, 2019 at All Day
Hans Boersma: Lectio Divina – Renewing Our Practice
– February 28, 2019 at 12:00 pm - 1:00 pm
Bryanna Russell: Making Womb – Opening Reception
– February 28, 2019 at 4:30 pm - 7:30 pm