Apologetics Canada has stepped in at the right time to fill a need. Their fourth annual conference, March 7 – 8, drew about 2,000 people to two local churches – Willingdon in Burnaby and Northview in Abbotsford. There were people of all ages there, but the majority were young adults. Teaching was strong and organization solid. Give it a try next year if you missed it this time.
Here are a few of the highlights, from my point of view:
1. Youthful leaders, writing books
Andy Steiger and his Apologetics Canada team are all young and energetic – and local; the office is in Abbotsford. What struck me this year was that Apologetics Canada has just published books by two of them (well, one is on the team, the other a close ally).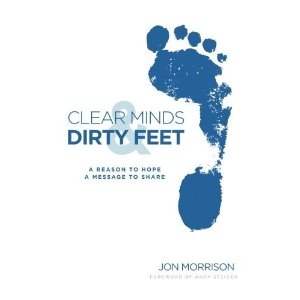 Jon Morrison, who grew up in North Vancouver and is now associate director of Apologetics Canada, has just written Clear Minds Dirty Feet.
According to the site, "Jon got his start in Christian apologetics for two reasons: 1. Growing up in the church, his twenties were spent investigating and wrestling with whether the faith he grew up believing was intellectually reasonable. 2. As a pastor of students, he loved them too much to let their doubts overcome their love for Jesus. Jon now seeks to be the kind of 1 Peter 3:15 apologist who gives the reasons for his hope that Jesus is Lord with the gentleness and respect due to all people and worldviews."
The title refers to importance of distinguishing between good and bad philosophy (clear minds) and then to defend the truth claims one has discovered in our schools, offices and homes (dirty feet).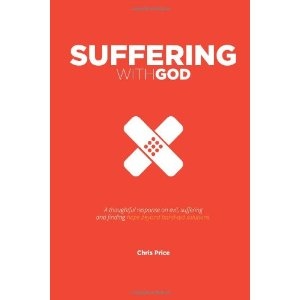 The other young local leader with a new Apologetics Canada-related book is Chris Price, lead pastor of Calvary Baptist Church in Coquitlam. Suffering With God "journeys with the reader into the tough issues of the character of God, our experience of suffering and the philosophical question of evil."
Chris introduces the book with this anecdote: "My wife and I were recently at a child's second birthday party where our friends' four year old son tumbled off the trampoline and severely broke his arm.
"I clearly remember this little boy crying out repeatedly for a Band-Aid because when you are a child and you get hurt a Band-Aid helps make the pain go away. His mom obliged him and with trembling hands placed the Band-Aid on his arm. I remember the boy crying out, 'It's not working, it's not working, it's not working.' This may have been the first time real, intense pain forced on him the realization that Band-Aids don't work for every wound.
"Band-Aids don't mend broken bones. Logic doesn't lessen the sting of loss. Answers don't always soothe personal anguish . . .
"This book is not a Band-Aid. This book is not a healer. My hope is that this book is a revealer of the God who, in His time, will do the healing. A God who can reset your soul, strengthen you in your suffering, and make you whole."
2. Warren Larson, Islamic scholar
I attended a breakout session on 'Understanding and Responding to Muslims' by Dr. Warren Larson, and discovered another valuable resource in our midst. He worked among Muslims in Pakistan for 23 years before becoming director of the Zwemer Center for Muslim Studies. Though living in the Vancouver area now, he still serves as adjunct faculty member of Columbia International University, teaching in the area of Islamic Studies.
Warren made a comment about not being entirely comfortable with apologetics. He did not mean that he sees no value in the discipline. He was, after all, leading a workshop in the midst of an apologetics conference. He was emaphasizing that treating individual Muslims as friends and neighbours is of primary importance. Knowing what you believe, defending what you believe and contending for the faith are legitimate and important, but not at the expense of relationship and community.
After the conference, I read Warren's blog post Remembering St. Francis as a model for Muslim evangelism, in which he told the story of his 'foolhardy' trip to Egypt in 1219 to convert the most powerful sultan of the time,
"We must remember that attitudes toward Muslims during the Crusades were hostile beyond what we can imagine, yet St. Francis was motivated to share Christ, and so should we. Muslims wake up with no church, no Bible and no one to tell them about the Way, the Truth and the Life. Five times a day from countless minarets in their midst they hear God is great but who will tell them God is love?"
3. Gary Habermas on the resurrection
Gary Habermas has a stock presentation, one which he has delivered to grade two students and to professors at Oxford and Cambridge. The Liberty University professor has been perfecting his talk for decades, and we were the beneficiaries of his practiced performance on the first evening of the conference.
Using words such as 'stock presentation' or 'practiced performance' might suggest a subtle questioning of its integrity. Rather, they are meant to point out that confidence, combined with a casual tone, serious learning, gentle humour and personal anecdotes can create a memorable talk. (A couple of family members joined me Sunday morning at Broadway Church for another version of the talk; the audience seemed captivated there as well.)
Using the whole stage, Habermas paced out a timeline which showed when the Gospels were written compared to the crucifixion, how the number of writers and the early dates of their writing compare with writings about other figures from the Classical era (very well indeed) and how early and consistently Paul and the Gospel writers described the reality – and centrality – of the resurrection.
I won't go into Habermas's arguments here, but I recommend you check them out on Youtube, where he presented The Resurrection Argument that Changed a Generation of Scholars, before The Veritas Forum.
4. Craig Evans back in town
Craig Evans spoke Saturday morning on the topic 'Can You Trust the Bible?' examining some of the early writings on papyrus. Really fascinating; it was too bad his time was cut short.
Now the Payzant Distinguished Professor of New Testament at Acadia Divinity College in Nova Scotia, Craig is no stranger to this area; for more than 20 years he taught at Trinity Western University. He is the author and editor of more than 60 books, has given lectures at Cambridge, Oxford, Yale and other universities, has appeared on countless radio and TV show and has worked as a consultant for the National Geographic Society . . . the list goes on.
Again, I'll just point to a good Youtube video from the Video Timeline Project of St. John's College, Nottingham's, where Craig gives an overview of his Fabricating Jesus: How Modern Scholars Distort the Gospels. Towards the end, he clears up some misrepresentations about the reliability, quantity and consistency of early Greek New Testament texts – as he did at the conference.
5. Conference DVD coming
If all of this seems nothing more than a hint of what was available over two days at two locations, that is indeed the case. The good news is that a conference DVD will soon be available. It will include video of the four main sessions, along with audio recordings of the many breakout sessions.
Arts coverage
It's great to see the way art created in the church – broadly speaking – is being covered by. secular media quite often these days. A couple of recent examples:
The Ubyssey on Sharalee Regehr's Women of Substance show at Lookout Gallery: Regent College art exhibit celebrates the unsung women of history. The show runs until March 27.
The Georgia Straight's Colin Thomas wrote an insightful review of The Seafarer at Pacific Theatre: Within the Seafarer's despair, there is grace. The show runs until March 29.
Crossridge buys Clova
Crossridge Church has been using the Clova Theatre for its worship services since the fall of 2011, but now has bought the building.
Jennifer Lang described the transition in the Cloverdale Reporter (Curtains to close on the Clova Cinema):
"An Art Deco-style gem on Main Street Cloverdale, the Clova Theatre opened in 1947, and, apart from a decade-plus where the silver screen was silent until a re-boot as the Clova Cinema in 1992, has been thrilling successive generations of movie fans . . .
"In buying the building, Crossridge Church agrees to make repairs and improvements as a condition of the sale of the heritage property, the real estate agent acting on behalf of the church told the Cloverdale Reporter."
Operator Craig Burghardt said, "The church has graciously offered to let us continue running, rent-free" until the end of summer.