Dr. Linda Ambrose points out that influential Vancouver pastor and politician Bernice Gerard was a convinced feminist. This article is excerpted from her public lecture at Trinity Western University February 17.
In the year 2000 The Vancouver Sun named the Rev. Bernice Gerard number one on a list of the 25 most influential religious figures in British Columbia in the 20th century. Journalist Douglas Todd explained, "The veteran evangelist has made Greater Vancouver a stronghold of charismatic worship, spreading its super-emotional, arm-waving style to mainline Protestant, Anglican and Catholic congregations.
In addition to founding some of B.C.'s 200 Pentecostal churches and a Christian TV network, Gerard's gravelly voice has reached hundreds of thousands of people through her radio and TV shows."[1]
My work explores Bernice Gerard's reflections on the question of women in ministry and women's status in the church. Her autobiography, Today and for Life, appeared three years after she concluded her pastoral ministry that had stretched from 1964 to 1985, when she co-pastored a Vancouver church, Fraserview Assembly [now Harvest City Church], with Velma Chapman, her life-long ministry partner.
In her private correspondence just a few months before the book was published, Gerard described it as "a[n] intellectual – spiritual – pilgrimage kind of book: … my story of new life in Jesus, and my Pentecostal experience, life as a university chaplain, women's ministry, a biblical rationale for Christians in politics, and some of my experiences as a member of Vancouver City Council, etc."[2]
I set out to interrogate Gerard's 'intellectual pilgrimage' and in particular, her position on the contentious issue of women in ministry. Questions about women's place in the church were being widely debated by North American evangelicals throughout the 1970s and 1980s and the issue of women's ordination was at the centre of the deliberations of her own denomination, the Pentecostal Assemblies of Canada, in that period.
Bernice Gerard was a feminist, and her feminism was shaped by a surprising combination of influences and ideas she encountered, adopted and adapted from a surprisingly broad spectrum of scholarship. Indeed, Gerard encouraged readers of her life story who were curious to know more about what had shaped her thinking, to check the footnotes of her book.[3]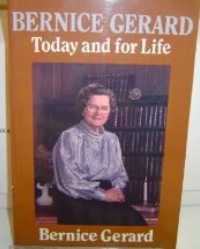 A careful reading of her autobiography and her personal papers held in the archives of the Hudson Memorial Library at Summit Pacific College in Abbotsford demonstrates that Gerard's thinking about women's roles was influenced by at least three different expressions of feminism in the 1970s and 1980s: evangelical feminists who believed that read correctly, the scriptures actually teach equality between women and men; ecumenical feminists, especially Catholic scholars who claimed unabashedly that 'Jesus was a feminist'; and perhaps most surprising of all, radical secular feminists like Germaine Greer who encouraged women to take responsibility for their own lives.[4]
Portrayals of Gerard in the media and in Pentecostal church circles as a popular (and often controversial) preacher, broadcaster and municipal politician have tended to overshadow the fact that she was an academically inclined woman who read widely, enjoyed academic exchanges and thought carefully about how she could arrive at a synthesis between her faith and her feminism.
The fact is that she managed this so skillfully, almost subversively, that many of her former listeners, readers and parishioners might balk at the very idea of the label 'feminist' even being applied to her. Certainly her instruction to simply check the footnotes in her book belies the complexity of ideological influences that converged as she adopted and adapted ideas from various sources to arrive at her conclusions about the role of women in the church.
---