Three interesting art shows – and a talk by one of the artists – are taking place this summer on the UBC campus.
Edith Krause: [a]drift
Beaty Biodiversity Museum
Until: August 25
Artist Talk: August 10
"If we are to protect the world's multitude of places and creatures, then we must know them, not just conceptually, but imaginatively as well."  
– Wendell Berry, Life is a Miracle
 In this visual art exhibition at Beaty Biodiversity Museum by Edith Krause, [a]drift presents human life-sized images of microscopic marine creatures. 
Merging the worlds of art and science, Krause chose portraiture, an art form traditionally reserved for humans, as her medium to showcase individual organisms while carefully avoiding the scientific habit of splaying them out for identification. 
She worked with them as characters in the actual poses she observed. While the images are mimetic, these enlarged portraits convey their ecological importance, reveal forms that are unfamiliar and fantastic and make visible the invisible.
Krause will explore the inspiration and process behind her work in person on Saturday, August 10, 2 pm.
She is a printmaker and instructor in art and design at Trinity Western University who lives in Langley, She began her art studies at Emily Carr Institute of Art & Design and recently completed her MFA at the University of Alberta. 
Previously, she studied and worked in the fields of marine biology and aquatic ecology at UBC and earned a MSc in Zoology. 
Her interest in biology has been a major influence on the subject matter of her artwork and her current art practice consists of an interdisciplinary exploration of ecosystems, employing scientific methodology to collect images and data, and art to express her findings.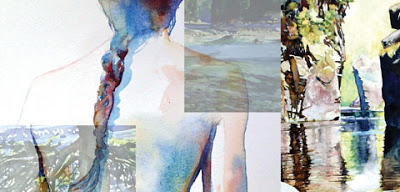 Stefan Brunhoff: Nature Never Spent
Lookout Gallery (Regent College)
Until: August 1
Through his watercolour paintings, Stefan Brunhoff seeks to pursue the 'otherness' of the natural world in Nature Never Spent – the world seen anew through the engagement and play of brushes, paint and paper.
Brunhoff states: "The mystery of what God places before us in the world is infinite in its impenetrability and is ultimately uncontainable. One seeks to see, touch and elicit the profundity, the beauty and the strangeness of what is before one's eyes and to distill and amplify this into the painting to some measure. One never really succeeds, but rarely is failure so rewarding and the search to continue the attempt so compelling."
Brunhoff is an architect and watercolour painter who draws inspiration from the unique qualities of the British Columbia landscape, as well as the particular characteristics of his media; both buildings and paint.
He began practicing architecture in 1987 after graduating from UBC School of Architecture. In 1996, he began his own firm, focusing on recreation and wilderness houses, as well as the occasional city house.
Allison Library (Regent College)
Through August 
Maisey says, "Photography has been a form of therapy – it motivates me to get out of the house and keeps me moving.  But it has become much more: it is now a  passion." Vanscapes puts that passion on display.
In 2012 Murray dedicated "at least one morning each week to a project called 'Vancouver Awakes.' My goal was to capture Vancouver street scenes in the special light that is available only in the morning . . . I consider myself very privileged to be able to walk the streets of Vancouver and share some of what I see of the people who make this place home."