Books are always a good bet for Christmas, so I'll point you to the 2013 releases by Metro Vancouver Christians that I'm aware of. Without looking too hard, I've come up with at least 15 good books. Why not encourage one of two of the authors and surprise a loved one with a locally produced cultural product?
Leah Kostamo: Planted 
When Margaret Atwood likes you and your book, you know you're doing something right. 
And when she tweets her 451,075 (!) followers – "Met 2 real life #GodsGardeners #maddaddam today! http://www.arocha.ca Planted, by Leah Kostamo http://www.wipfandstock.com They walk the walk!" – you will be very pleased indeed.
Leah Kostamo launched Planted: A Story of Creation, Calling and Community earlier this fall, and had a chance to talk about it December 3 on Context with Lorna Dueck, a live studio audience TV show filmed at the CBC building in Toronto. She also met Margaret Atwood, who was a guest on the show with her.
Leah has been receiving a lot of positive response to her book, in which she tells some really good stories based on 'walking the walk' for 12 years with her husband Markku at the A Rocha community in South Surrey. A Rocha was the first Christian environmental centre established in Canada, and is part of an A Rocha network with centres in 19 nations.
Eugene Peterson is a fan; in fact, he wrote the Foreword to the book. He said, "In an arena frequently marked by controversy and acrimony, A Rocha is cheerful, winsome, exuding gratitude. I continue to be struck by the two common characteristics that are given fresh expression in this book. To begin with, modesty, a humility that permeates A Rocha culture . . . and then there is such joy."
An illustration of humility, coupled with humour, comes to mind immediately. Leah says in the book: "I am boldly going to take credit for landing A Rocha in the Little Campbell Valley Watershed," then notes that "I zeroed in on this bit of geography for purely selfish reasons" (her twin sister was living about an hour south of the border). God works in mysterious ways.
Her latest blog post demonstrates her approach in another way. It begins, "'I prefer not to read things printed on a dead tree.' So said a young environmentalist when I offered her a copy of my environmentally themed book, Planted."
The young woman, it turned out, does not read books, but she did take the proffered gift.
Leah's gracious response:  "Here's the main thing I admire about this woman. She still took the book. She told me her opinion, but she saved me embarrassment. She recognised that we're all on a journey. She didn't lecture me. She put our newly established relationship first. And because of her graciousness I haven't been able to dismiss her conviction. It has stuck with me and made me think harder about what decisions I can make that will help me live lighter on the planet today."
Leah doesn't lecture either; she tells refreshing and appealing stories from her own experience. This book would be a great gift for anyone concerned about the environment, which must cover at least 90 percent of BC's population. It is a Christian book, but it can be appreciated by anyone.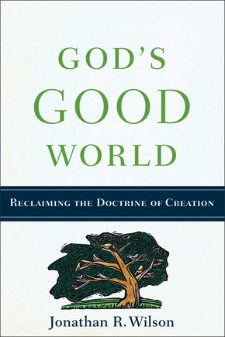 Jonathan R. Wilson: God's Good World
I remember hanging around with Jonathan Wilson some 30 years ago in the Institute for Public Discipleship, a group urging evangelicals to take social justice issues more seriously. It is really good to see how he has carried on engaging such issues – and others – as an academic; he is now a professor of theology at Carey, at UBC.
God's Good World would make an ideal companion gift with Planted. It makes the case that the doctrine of creation has often been neglected in Christian theology. 
Jonathan explores the ways in which a mature doctrine of creation can help the church think practically about contemporary issues, including creation care, sexuality, technology, food and water, and more.
A useful review by Scott Elliott in the Englewood Review of Books concludes with this statement:
"God's Good World is a book that will surprise you. It is a theology of creation, but it is not just about Genesis 1 – 2 or 'creation care.' Wilson shows how creation is tied to redemption and how creation is a part of the whole drama of scripture. He shows how ignoring the doctrine of creation will lead to false doctrines and unhealthy practices. God's Good World calls the church back to the biblical doctrine of creation found in scripture."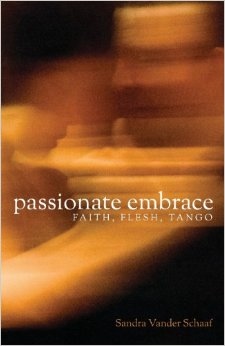 Sandra Vander Schaaf: Passionate Embrace
When Sandra Vander Schaaf wanted to celebrate the launch of her new book, she held a dance party at the Fan Club downtown – which was very appropriate, given the topic.
Passionate Embrace: Faith, Flesh, Tango is described on her site as "a story of desire, intimacy, and transformation, set in the sumptuous world of Argentine Tango. Sandra Vander Schaaf shares the provocative tale of an unexpected love affair with the world's most sensual dance, and an equally unexpected experience of spiritual renewal on the dance floor. This is a vivid, eloquent, honest glimpse of Christian faith and doubt and the exquisite relationship between body and soul."
I had planned to go, and I'm still sorry I missed the event – except that this stiff old Scottish-Canadian would have been terrified to tango. Maybe I'd better read the book before undertaking such a venture! And Sandra is a good writer. This brief excerpt from the words she shared with those who attended the dance gives a sense of both the content and the style:
"It is hard to speak of faith in a world so shamefully and tragically dominated by religious extremism, ignorance, and intolerance. But I believe in the passionate embrace of Grace, the passionate embrace of the Divine . . .
"It is hard to speak of flesh in a world where bodies are so often treated as commodities, where we are taught to despise our own bodies  and idolize the carefully contrived perfection of cardboard cut-out celebrities, all in the interest of a consumption driven culture and economy. But I believe our bodies matter so much more than this. I believe bodies are sacred . . . 
"It is hard to speak of tango. How can one put into mere words the experience of this sensual, intricate, ever-so complex and ever-so simple dance of the soul? But I had to try . . ."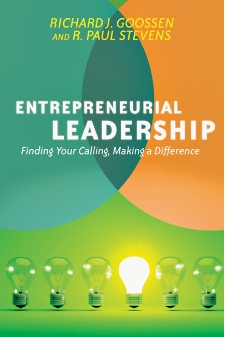 Rick Goossen & Paul Stevens: Entrepreneurial Leadership
I've seen these two men in action for years now – most recently at the Entrepreneurial Leaders Conference last month – and I have no doubt that Entrepreneurial Leadership: Finding Your Calling, Making a Difference is a very useful book. But you don't take my word for it; there are at least 30 recommendations by an illustrious network of business people, academics and theologians from around the world on the book's Amazon page.
Rick Goossen and Paul Stevens ask, "What does good theology have to do with good entrepreneurship? Rick is an entrepreneur himself, but he has also published several books based on interviews with other entrepreneurs. Paul is a pastor turned academic who has consistently encouraged Christians to practice their faith in their working lives.
Together, they have written what many are already declaring to be the essential resource for Christian entrepreneurial leadership, based on exhaustive research, practical experience and decades of teaching marketplace theology.
This book isn't for everyone, but for any creative young person or for anyone involved in business, it would be ideal.

Regent College  prof Iain Provan argues in Convenient Myths that "Very different 'big stories' about the world vie for influence over our hearts and minds. But most people simply take the world as they find it and get on with their lives without reflecting too much about this battle.  They simply assume that what is true about reality and about right and wrong is obvious.  However, the fact of the matter is that every one of us lives in a world profoundly shaped by other people's ideas."
In particular, he says, the contemporary world has been shaped by two potent myths:
1. Karl Jaspers' construct of the 'axial age' envisions the common past (800 – 200 BC), the time when Western society was born and world religions spontaneously and independently appeared out of a seemingly shared value set.
2. Conversely, the myth of the 'dark green golden age,' as narrated by David Suzuki and others, asserts that the axial age and the otherworldliness that accompanied the emergence of organized religion ripped society from a previously deep communion with nature.
Both myths contend that to maintain balance we must return to the idealized past. 
I have to admit that I've rather missed out on the significance of the axial age and the dark green golden age. Also on their interaction. In other words, I'm among the masses, Missing in Action in this great battle, and I have no doubt that I would benefit from reading this book.
After all, as Iain points out, "False stories are dangerous. The flourishing of our planet, and indeed of its human inhabitants, will not in the end be advanced by such."
What I do know already is that we are remarkably fortunate to have the likes of Iain Provan in our midst, and I've always found his public lectures well worth attending (he's a solid church soccer coach as well). And when I read a good theological guide such as Scot McKnight saying that "In Convenient Myths Iain Provan not only challenges deep (and deeply mistaken) myths, but destroys them on the rocks of rugged history," I'm sold.
This one's cheating slightly. Though Peter Eppinga was in Vancouver, at UBC, until earlier this year, he is now a Family Practice Resident in Calgary. He's got an interesting story.
A Globe and Mail article last year about UBC's program to increase the number of Aboriginal physicians in BC described his initial interview for the School of Medicine: "In a scene that would have been unthinkable not so long ago, Mr. Eppinga showed up for his interview wearing a cedar hat and a traditional Haida blanket, and those about to question him included a native elder, a Métis, a healer and several aboriginal physicians."
Equally unthinkable, a few years earlier, was the likelihood that Peter would be sitting in that seat at all. Brought up by his evangelist father Gerry and his Haida mother Beatrice – with whom he still works in Christ for First Nations – he was headed down a very different path before turning to God during his last year of high school.  
Peter was accepted at UBC and is now working in Calgary. Along the way, he wrote Your Brain, of which he says, "Whatever you impress in your mind will become expressed in your physical life. Your brain has the ability to change your life and this book will teach you how to look after your brain and maximize its potential."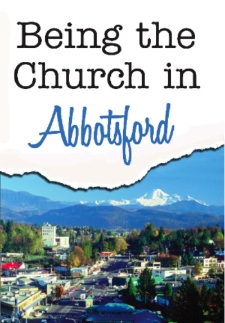 Ron Dart et al: Being the Church in Abbotsford
Church for Vancouver is all about unity between Christians and highlighting ways in which the church is at work in the surrounding community. For that reason, I consider Being the Church in Abbotsford an exemplary work. 
To start with, the four editors – Ron Dart, David Giesbrecht, Hans Kouwenberg and Christoph Reinders – represent a wide swath of the church, and they in turn are working with the Abbotsford Christian Leaders Network. On top of that, they "are interested in reflecting on how Christian churches and individual Christians are engaged in various activities, at a variety of levels, in the church and the public square of Abbotsford."
The editors are also keen to disabuse readers of the common assumption that the Fraser Valley is the Bible Belt and that Abbotsford is the buckle of that belt – with all the attendant caricatures. The editors, along with several other writers, demonstrate that the reality is far more complex and multi-layered than that.
A couple of great spots to find these books are Regent Bookstore out at UBC (Christmas sale, December 5 – 7) and Pilgrim Book & Bible at 2714 Kingsway in East Van.
I'll look at more books over the next couple of weeks, including God in My Everything (Ken Shigematsu), Jesus Feminist (Sarah Bessey), Missional God, Missional Church (Ross Hastings) and many more.