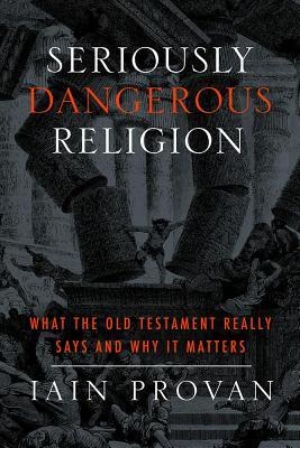 By my reckoning, Christian authors in the Metro Vancouver area have published at least 25 books this year. I'll look at some of the (broadly) Bible-related books this week, then over the next couple of weeks consider fiction/arts and what one might call (again broadly) Christian living. These are not reviews – I don't have most of the books – but are simply meant to introduce the books; many of them would make good Christmas presents.
Iain Provan: Seriously Dangerous Religion
Regent College prof Iain Provan has garnered a considerable amount of attention with
Seriously Dangerous Religion
. Taking on the widely-shared view that the Old Testament is outmoded and dangerous, he disagrees on the former point and agrees with the latter, though not in the way many people might expect.
A
review
by Joy and Matthew Steem in
Converge Magazine
(produced right here in Vancouver) describes why this book – lengthy, erudite and addressing a topic many would rather just avoid – is worth delving into:
For a Christian who wants to engage with our culture and the pertinent questions that are being asked, Provan provides a truly luscious – not to mention exceedingly well documented – work. If anyone recalls Richard Dawkins' riotous rants about the God of the Old Testament, they include words like petty, unjust, unforgiving, vindictive, bloodthirsty and misogynistic.
But what Provan does, with devastating coolness, is methodically turn each of those ideas on their heads – though in a most amicable manner that is not hostile or haughty. . . .
Indeed, as Provan demonstrates, Christianity is a particularly dangerous religion, but not in the way that the some of the naysayers like Karen Armstrong or Sam Harris or Christopher Hitchens or Richard Dawkins claim. It is dangerous "to those who do not wish to think of every other human being as their image bearing neighbour." It is dangerous to anybody who insists that "there is nothing special about human beings as a class." Biblical faith is "dangerous to those among the powerful who would like to be left alone to use and oppress the weak;" and "to those among the rich who would like to be left alone to use and oppress the poor."
In sum, as Provan says, true biblical faith is "dangerous to those who are committed to the status quo."
Not quite dangerous enough – once interpreted by Provan – for some, however. In First Things, Peter Leithart makes this point, in a generally positive review:
At many points, Provan tilts his explanation of the biblical view of X ever-so-slightly toward the prevailing outlook of contemporary culture. . . . The result is that 'seriously dangerous religion' loses some of its danger. Provan is perfectly willing to say that the Bible is a danger, for example, to proponents of the 'naked public square' (401). But the final chapter is mostly reassuring: The Bible is not nearly as scary as many think. That's an important thing to say, so long as we haven't trimmed some of the Bible's sharper edges along the way.
Seriously Dangerous Religion is being seen as quite accessible and practical by some, despite its heft.
Coquitlam Alliance Church had Iain join them earlier this month to answer these types of questions:
Is the Old Testament still relevant to Christians today?
Why do we need the Old Testament at all? Isn't Jesus enough?
If God is good, why is there so much violence in it?
And Preston Manning, former leader of the Official Opposition in the Canadian Parliament, says:
What does the Old Testament – one of the foundational texts of western civilization – really say and what is its relevance for us today? Iain Provan's scholarly and practical answers to these questions will challenge Old Testament critics, enlighten believers, and provide guidance in bringing faith perspectives to bear on the challenges of the modern world.
Justyn Rees:  To Make an Old Story New
Justyn Rees: To Make a Long Story Short
Justyn Rees is known around town as a great storyteller, a person who can make the Bible come alive. His lively personality and charming accent make him a strong oral communicator. But he has written several books as well, and this time he has taken on a major task. In his own works (taking his two new books as one):
It is a storyteller's expression of the Bible from soup to nuts, Genesis to Revelation. It rattles along at a good pace that should keep the pages turning. It brings together all the fragments of the story as one continuing drama. I wrote it with those who might be brand new to the Bible in mind, as well as those who have loved the Bible for years. It is certainly not a new version of the Bible, or a rewrite, for that would brand me a heretic. But I hope it will cause readers to want to take a fresh read of the original.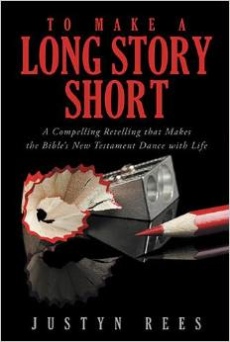 Like Iain Provan, Justyn wants to make the Old Testament more accessible. But the approaches are very different. While Iain writes in an academic milieu, appealing to the intellect, Justyn is far more colloquial. This version of the Old Testament (and New Testament) story could be read by most people – which is not to say that academics can't enjoy it. For example, Paul Stevens, professor emeritus of Marketplace Theology at Regent College, said this:
Justyn Rees as a consummate storyteller has captured the essence of the Bible – true to the text, true to the Spirit, eminently readable. It captures our hearts and draws us into God's story so that it becomes our story, the very thing God had intended when God inspired people of old to write the sacred text. Take and read and you won't be able to put it down. Best of all, your faith will grow.
For more on Justyn Rees go
here
. And while you're there, check out his
Christmas Tales
events – he is a man of many talents. Here is the description:
A compelling retelling of the first Christmas. Raconteur Justyn Rees and singer/songwriter Russ Rosen join forces with multi-instrumentalist Brett Ziegler and percussionists Kenton Wiens and Calum Rees to deliver the songs and stories like you've never heard before. A definite must see this Christmas.
Patricia Dutcher-Walls: Reading the Historical Books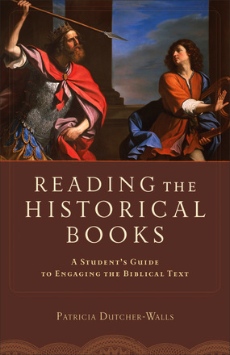 Patricia Dutcher-Walls, professor of Hebrew Scripture at the Vancouver School of Theology, has also taken on the Old Testament, or at least a portion of it. In
Reading the Historical Books: A Students' Guide to Engaging the Historical Texts
, she aims to make life a little bit easier for those studying a complex and foreign subject.
Baker Academic, the publisher, has this to say:
Biblical history can be some of the most difficult material for beginning students to grasp. The conventions of contemporary history writing are quite different from those of ancient Israelite writers. Here a master teacher offers basic orientation to the genre and conventions of the Old Testament historical books, helping students become careful and attentive readers.
Reading the Historical Books has been favourably reviewed. Here is a comment from fellow Old Testament scholar, Phil Long at Regent College:
This student's guide is a model of clarity, economy and explanatory skill. Writing in a straightforward and interesting style and spicing up her discussion with specific ancient and modern examples, Patricia Dutcher-Walls lays out a sensible reading plan for any who wish to take the Bible seriously in all its aspects: literary, historical and theological. Her numerous examples from ancient Near Eastern sources locate the Bible in its world, and her frequent modern illustrations help readers connect.
Norm Funk: Questions Jesus Asked
Moving to the New Testament, Norm Funk, lead pastor of
Westside Church
, wrote
Questions Jesus Asked
with his teaching and discipleship pastor Matt Menzel. This is their description of the book:
The four Gospels record 173 questions posed by Jesus. During the fall of 2013, Westside Church walked through a sermon series looking at 10 of those questions, called 'Questions Jesus Asked.' This book is a compilation of that sermon series. The fact that Jesus asked as many questions as he did stands out. But Jesus didn't ask questions for the same reasons we do. Jesus didn't ask questions because he needed to know; Jesus asked questions because the one being asked did. Jesus asked questions that others were either too afraid or unaware to ask themselves.
Earlier in the year, Norm also put out
A Glimpse of the Cross
, a slim volume based on a sermon series "regarding the person of Jesus and his penal and substitutionary work on the cross," delivered several years ago.
Ed Hird: Restoring Health: Body, Mind and Spirit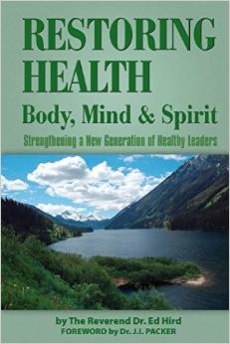 "The book of Titus gives you the keys to healthy communities, healthy families and healthy lives." That was
Ed Hird's
underlying conviction as he wrote
Restoring Health: Body, Mind and Spirit
. He wrote about his book in the November
Deep Cove Crier:
While in Crete, we learned about Titus. . . . [He] taught toxic Cretan pirates how to become radically healthy: how to love, how to lay down their lives for another, how to be the faithful husband of but one wife, how to be gentle and patient. He taught the female pirates how to be best friends with their husbands and their children. This is true health.
If the wisdom in the 45-sentence book of Titus can revolutionize a pirate island, it can even transform a pirate continent like North America. Signs of our North American toxicity include gun violence and the insanity of the shooters, obesity when there is no shortage of food and a wealth of communication tools while many are no longer talking any more. . . .
In an age of many regrets, Titus is a symbol of hope for healthy leadership in the 21st century. With the huge global changes happening, the need for healthy leaders like Titus has never been greater. A key solution to our North American toxicity is rediscovering Titus, the epitome of integrated healthy leadership.
Titus planted significantly healthy communities by identifying and training indigenous leaders in every one of the over 100 Cretan cities. The book of Titus gives you the keys to healthy communities, healthy families and healthy lives.
Restoring Health could have a broader appeal than it would appear at first glance. Irving Hexham, a professor of religious studies at the University of Calgary, said that "when Ed Hird asked me to write an endorsement for his new book, I did so reluctantly. I enjoy Ed's writings, but a commentary on Titus did not appeal to me. What a mistake I made. This is one of the most fascinating books I have read in a long time, and as a commentary rivals the works of Barclay. To expound the biblical text, Ed brings in a wealth of contemporary examples that really bring it alive."
Michael Wilkinson & Peter Althouse: Catch the Fire: Soaking Prayer and Charismatic Renewal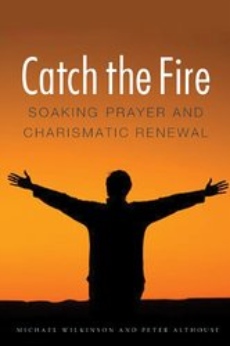 Wilkinson is professor of sociology at Trinity Western University, director of the
Religion in Canada Institute
, coordinator of the
Canadian Pentecostal Research Network
and the author of several books. He and Peter Althouse wrote
Catch the Fire: Soaking Prayer and Charismatic Renewal
.
Here is the publisher's description of the book:
A recent phenomenon of charismatic renewal took place in Toronto in the mid-1990s. Commonly known as the 'Toronto Blessing' and operated by the former Vineyard Church leaders John and Carol Arnott, the renewal was defined by reports of uncontrollable laughter, weeping, speaking in tongues, animal noises and falling on the floor during worship. Sympathetic Christians embraced these practices while others who believed that this form of worship bordered on spectacle rejected them. By the end of the 1990s most people thought that the renewal was over.
Yet, in the first decade of the 21st century, the authors – a sociologist and a theologian – heard rumours that the Toronto church, now known as Catch the Fire, was still holding mass meetings with upwards of 2,000 people in attendance. They also learned of an emerging practice of 'soaking prayer,' an adaptation of Pentecostal-charismatic prayer that, participants and leaders claim, facilitates and expands the reception of divine love in order to give it away in acts of forgiveness, reconciliation, compassion and benevolence.
Soaking, the authors reveal, is a metaphor for practices like resting in the Spirit, prayer for spiritual gifts, healing, prophecy, impartation, and supports overall charismatic spirituality. Attending Catch the Fire conferences, churches and house meetings in the United States, Canada, Britain, Australia and New Zealand, Wilkinson and Althouse observed first-hand how people soak, what it means to soak and why soaking is considered an important practice among charismatics.
Jon Morrison: Clear Minds Dirty Feet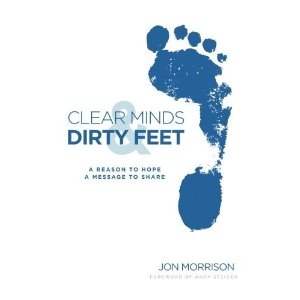 I
wrote the following
back in March, following the Apologetics Canada conference:
Jon Morrison, who grew up in North Vancouver and is now associate director of Apologetics Canada, has just written
Clear Minds Dirty Feet
. [Jon is now
teaching pastor at Maple Ridge Baptist Church
.]
According to the site, "Jon got his start in Christian apologetics for two reasons: 1. Growing up in the church, his twenties were spent investigating and wrestling with whether the faith he grew up believing was intellectually reasonable. 2. As a pastor of students, he loved them too much to let their doubts overcome their love for Jesus. Jon now seeks to be the kind of 1 Peter 3:15 apologist who gives the reasons for his hope that Jesus is Lord with the gentleness and respect due to all people and worldviews."
The title refers to importance of distinguishing between good and bad philosophy (clear minds) and then to defend the truth claims one has discovered in our schools, offices and homes (dirty feet).