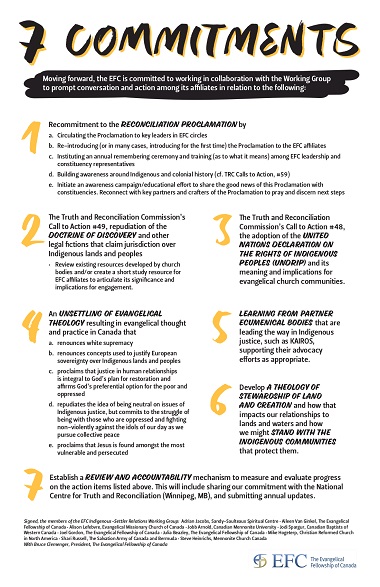 The Evangelical Fellowship of Canada opened its weekly newsletter with these words June 21:
Today is National Indigenous Peoples Day, a special occasion to learn more about the rich and diverse cultures, voices, experiences and histories of First Nations, Inuit and Métis peoples.
The EFC invites affiliates to journey toward right relationship with Indigenous peoples by making an ongoing commitment to listening, learning and relationship-building.
They urged readers to "visit our webpage to learn more and take action.
Here is the content they linked to:
A journey toward right relationship 
In June 2020 an EFC working group presented seven commitments for conversation and action among EFC affiliates (click the Seven Commitments tab below). For the story of how they emerged, see the Overview below.
Take action by learning
Journeying to right relationships with Indigenous Peoples requires an ongoing commitment to listening, learning and relationship-building. Here are some resources to provide a starting point to learning about bridging relationships between Indigenous Peoples and non-Indigenous Canadians.
Reports and documents
Introductory books 
Indigenous Writes by Chelsea Vowell
The Inconvenient Indian by Thomas King
21 Things You May Not Know About the Indian Act by Bob Joseph
Working Effectively with Indigenous Peoples by Bob Joseph
Other books 
A Quality of Light by Richard Wagamese
Unsettling the Settler Within by Paulette Regan
Unsettling the Word: Biblical Experiments in Decolonization edited by Steve Heinrichs
Native: Identity, Belonging and Rediscovering God by Kaitlin B. Curtice
Buffalo Shout, Salmon Cry: Creation, Land Justice and Life Together edited by Steve Heinrichs
Treaties 
The actual texts of Treaties 1 to11
Breathing Life into the Stone Fort Treaty by Aimée Craft
EFC resources
Reading list on racism
White Fragility by Robin DiAngelo
Seven Fallen Feathers: Racism, Death and Hard Truths in a Northern City by Tanya Talaga
Canada at a Crossroads: Boundaries, Bridges, and Laissez-Faire Racism in Indigenous-Settler Relations by Jeffrey S. Denis
Blogs 
Resources from EFC affiliates
Take action by listening and reflecting
Read and reflect on content provided in the 'learn more' section
Listen to Indigenous perspectives with respect and love
Reflect on your own personal biases, attitudes or stereotypes that might hinder loving relationships with Indigenous neighbours
Take action by praying
For openness across congregations in Canada to explore God's heart for restored relationships among all people, and with all of creation
For healing and renewed hope for those who have been impacted by systemic barriers and injustice
For a posture of humility and learning for all Christians in Canada as evangelicals journey towards right relationship with Indigenous peoples
For wisdom, discernment, courage and God's leading as evangelical leaders respond and engage in this work
For commitment from all levels of government to prevent and combat racism and injustice
Take action by building relationships
With Indigenous neighbours
With Indigenous evangelicals
With Indigenous leaders, ministries and congregations
Take action by responding
By speaking the truth in love when you hear discriminatory comments about Indigenous peoples
By sparking discussions and sharing resources with others
By learning how denominations are responding to the TRC, to issues of Indigenous justice, or are prioritizing Indigenous relations
By finding ways to increase awareness about Indigenous issues within your congregation
"I would simply say to every single local church, 'Where are your Indigenous friends? Who are your Indigenous neighbours? Introduce them to me. Tell me what you know of their story. What is the story of the land that you're living on?' And if churches know that, there would be actual gatherings where people would appreciate each other and show up, respect and stand up and help each other in a good way."
Go here for the Indigenous Relations page of the Evangelical Fellowship of Canada. This resource page is re-posted by permission.