The Executive Director of First United Church will become Moderator of the United Church of Canada next month – although she has not yet been elected to the three-year position.
Here is the explanation of that slightly unusual situation from a post on the denomination's General Council 44 site:
On June 17 at 2 pm EDT, nominations closed for 44th Moderator of The United Church of Canada. At that time there was only one nominee, the Rev. Dr. Carmen Lansdowne.
The United Church of Canada requires an election process for Moderator. That election will happen on July 23, and the individual elected at that time will be installed on August 7, 2022.
Lansdowne, a member of the Heiltsuk First Nation, is currently on sabbatical from First United. Go here for her profile on the General Council 44 site.
While Lansdowne is leading the United Church of Canada, First United – in the Downtown Eastside – will be undergoing a major construction project.
The church posted an update June 13:
We're excited to announce that the demolition of our building at 320 East Hastings is now officially underway!
This spring, our remaining staff, programs and services were moved to satellite locations in the Downtown Eastside. Last week, shelter residents were relocated to our newly renovated, state-of-the-art shelter on Alexander Street and by Thursday afternoon, construction fences were up.
Demolition work starts today and is expected to take three to four months.
Construction of the new building is set to begin this fall. The new facility will serve to address the need for housing and healing for community members.
A redevelopment update will take place during a Toast Talks information session Thursday (June 23), 4:30 pm.
The current Moderator for the United Church of Canada, Richard Bott, also comes from this area, having served at St. Andrew's-Haney (which, with Hammond United, became Golden Ears United Church), in Maple Ridge, and Dunbar Heights (which, with Ryerson United, became Pacific Spirit United Church) in Vancouver
Bike Drive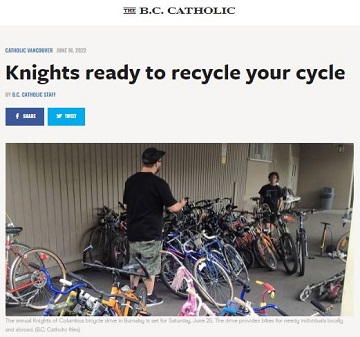 A couple of years ago the Vancouver-based PEDAL Society (which runs Our Community Bikes on Main Street) said it would no longer accept donated bicycles from the Knights of Columbus in Burnaby because of their supposed "anti-LGBTQ+" beliefs.
The Knights – a fraternal organization of Catholic men – have found other avenues to continue their largesse.
An article in The B.C. Catholic noted:
The demand for bicycles hit record heights during the pandemic, which may explain why the annual Knights of Columbus bicycle drive in Burnaby just keeps getting more popular.
The Knights at Holy Cross Parish have been collecting, refurbishing and donating used bicycles for charity since 2006, in recent years surviving ever-changing COVID safety protocols and the loss of former partners.
After new partnerships with R.E.C. for Kids, Bicycles for Humanity and KiaWest, the number of bikes collected by Council 5423 is rising again.
The Knights will host a bike drive this Saturday (June 25), 9:30 am to 3 pm at Holy Cross Church, 1450 Delta Ave, Burnaby.
A March 19 article on Global News referred to PEDAL Society / Our Community Bikes: 'Vancouver non-profit makes urgent plea for bikes to give to those in need.'
Religion at the Edge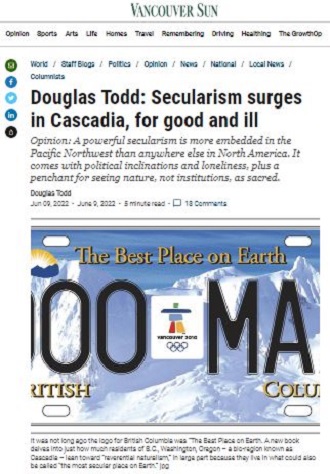 Vancouver Sun columnist Douglas Todd wrote a helpful opinion piece June 9 about secularism in BC and a book which explains what is going on.
Here is a portion:
[A] highly researched book delves into just how much residents of B.C., Washington, Oregon – a bio-region known as Cascadia – lean toward "reverential naturalism," in large part because they live in what could also be called "the most secular place on Earth" (or at least in North America).
Religion at the Edge: Nature, Spirituality and Secularity in the Pacific Northwest (UBC Press, 2022) explains that Cascadia is at the forefront of cultural shifts across the continent.
The book details how non-religion is more embedded here than anywhere else in North America – and how that powerful secularism comes with sharp political inclinations, to the liberal-left.
The scholarly papers in Religion at the Edge probe the kind of theories that an eclectic team of Canadian and U.S. writers dug into in the book I edited in 2008, titled Cascadia: The Elusive Utopia: Exploring the Spirit of the Pacific Northwest (Ronsdale Press). The upshot is secularism has grown even more intense in Cascadia in the past decade, especially in B.C.
A public-opinion survey done for Religion at the Edge shows half of B.C. residents (49 per cent) now have no religious affiliation, while 44 per cent of the people in Washington and Oregon make the same claim. That contrasts with other polls showing, across North America, only about one in five say they have "no religion."
Go here for the full comment, including five key findings.
I have posted several articles about religion in Cascadia over the past few years.
Urban growth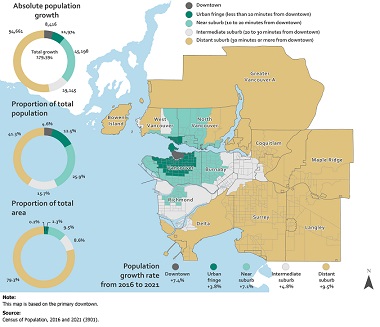 Church planters – indeed all church leaders – can benefit from a recent Statistics Canada study: 'Canada's large urban centres continue to grow and spread.'
In 2021, nearly three in four Canadians (73.7%) lived in one of Canada's large urban centres, up from 73.2% five years earlier.
These large urban centres with a population of 100,000 or more people, referred to as census metropolitan areas (CMAs), accounted for most of Canada's population growth (+5.2%) from 2016 to 2021.
Canada continues to urbanize as large urban centres benefit most from new arrivals to the country. From 2016 to 2019, Canada welcomed a record high number of immigrants and more than 9 in 10 settled in CMAs. . . .
Downtowns are growing faster than five years ago
Overall, the populations of downtowns grew at over twice the pace from 2016 to 2021 (+10.9%) compared with the previous five-year period (+4.6%), despite a slowdown since the onset of the pandemic in the spring of 2020.
Most downtowns (36 of 42) saw their population rise from 2016 to 2021. Most also saw their pace of population growth accelerate (33 of 42) compared with the previous census cycle from 2011 to 2016.
The population of downtowns (+10.9%) also rose at a faster pace compared with the population of CMAs overall (+6.1%). In other words, urban centres – particularly downtowns – have become more densely populated since 2016. . . .
The downtowns of Vancouver and Toronto are by far the most densely populated in Canada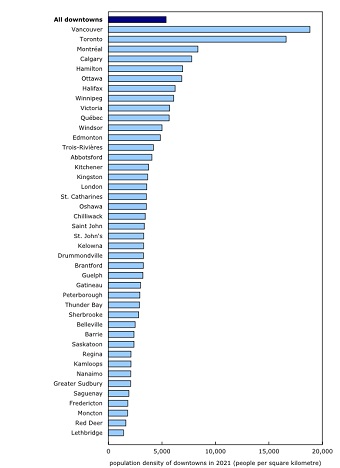 Approximately 3.5% of Canadians (1,281,474) were living in the downtowns of one of the 41 CMAs across the country in the spring of 2021.
The most populated downtowns were Toronto (275,931 people), Vancouver (121,932 people), Montréal (109,509 people), Ottawa (67,169 people) and Edmonton (55,387 people).
Since downtowns are often characterized by high-rise apartment buildings, these areas have among the highest population densities in the country.
The population density of all CMA downtowns combined totalled 5,385 people per square kilometre in 2021.
Vancouver (18,837 inhabitants per square kilometre) had the most densely populated downtown, followed by Toronto (16,608 inhabitants per square kilometre).
By comparison, there were 28,668 people per square kilometre in Manhattan in 2020, the densest borough in New York. . . .
Go here for the full study.
Jun 2022
SIMinar: Explore Cote d'Ivoire
– June 23, 2022 at 5:00 pm - 6:00 pm
The Wolves are Coming for You
– June 23, 2022 - June 26, 2022 at 7:30 pm - 9:00 pm
Worship Central Conference 2022
– June 24, 2022 - June 25, 2022 at 7:30 pm - 9:30 pm
Brandon Isaak & the Saints of Swing
– June 24, 2022 at 8:00 pm - 9:00 pm
Tax Clinic
– June 25, 2022 at All Day
One With Them: A Day for Christian Captives
– June 26, 2022 at All Day
KAIROS Blanket Exercise
– June 26, 2022 at 2:00 pm - 4:30 pm
AC Literary Expedition: Revelation – The End of the World as We Know it?
– June 26, 2022 at 4:00 pm - 6:00 pm
Ron Rittgers: 'You Have Torn Away a Piece of My Heart': A Widower's Lament from the Christian Past
– June 27, 2022 at 7:30 pm - 9:00 pm
Faculty Roundtable: Leading in Difficult Times
– June 29, 2022 at 12:00 pm - 12:45 pm
Jeffrey Greenman: The Perverse Logic of Evil – Putin's War on Ukraine in Theological-Ethical Perspective
– June 29, 2022 at 7:30 pm - 9:00 pm
A Rocha Talks: Responding to the Groaning of Creation in a Changing Climate
– June 30, 2022 at 5:00 pm - 6:15 pm
Jul 2022
Revival Langley Conference
– July 1, 2022 - July 3, 2022 at All Day
Voices Together from Sea to Sea
– July 1, 2022 at 10:00 am - 12:00 pm
Anton Dolfo-Smith: The Long Goodbye
– July 4, 2022 - July 9, 2022 at 12:00 am
Christian Climate Observers Program 2022: Application
– July 4, 2022 - July 25, 2022 at All Day
Kickers Soccer Camp
– July 4, 2022 - July 8, 2022 at 9:00 am - 3:00 pm
FLO Summer Soccer Camp 2022 (two camps)
– July 4, 2022 - July 8, 2022 at 1:00 pm - 4:30 pm
Janet Soskice: 'Who am I?' Self-love in the Days of Self-obsession
– July 4, 2022 at 7:00 pm - 8:30 pm
Wesley Hill: Reading Romans in a Time of Upheaval
– July 4, 2022 at 7:30 pm - 9:00 pm
The Growing Season: Book Launch Party
– July 5, 2022 at 7:00 pm - 9:00 pm
Faculty Roundtable: Gender Dynamics in the New Testament
– July 6, 2022 at 12:00 pm - 12:45 pm
Jules Martinez-Olivieri: Reconciled to Reconcile – a Visible Witness in a Divided World
– July 6, 2022 at 7:30 pm - 9:00 pm
Gary Hall: Tensions, Disruptions and Incompleteness: Thomas Merton on Sustaining Hope in the Face of Social Crisis
– July 7, 2022 at 7:00 pm - 8:30 pm
Bez Open Mike, with Russ Rosen (Thursday evenings)
– July 7, 2022 - July 14, 2022 at 7:30 pm - 9:00 pm
BC Christian Ashram: Thy Will Be Done
– July 8, 2022 - July 10, 2022 at All Day
Lance Odegard
– July 8, 2022 at 8:15 am - 10:15 am
July Contemplative Prayer Retreat
– July 8, 2022 at 10:00 am - 5:00 pm
Perspectives on Truth, Reconciliation and the Catholic Church, with Deacon Rennie Nahanee
– July 8, 2022 at 6:30 pm - 8:00 pm
Adult & Teen Challenge BC Open House
– July 9, 2022 at 11:00 am - 2:00 pm
A Rocha's Market Summer Celebration
– July 9, 2022 at 12:00 pm - 4:00 pm
C. Stephen Evans: The Fear of the Lord & the Virtue of Accountability
– July 11, 2022 at 7:30 pm - 9:00 pm
Faculty Roundtable: Q & A – The Enduring Relevance of Kierkegaard
– July 13, 2022 at 12:00 pm - 12:45 pm
Lynn H. Cohick: God Shows No Favouritism – the Body of Christ & the Household Codes in Ephesians
– July 13, 2022 at 7:30 pm - 9:00 pm
Thomas Oord: Overcoming Obstacles to Love
– July 14, 2022 at 7:00 pm - 8:15 pm
Peter Cheng on Laozi's Dao De Jing
– July 18, 2022 at 12:00 pm - 1:15 pm
Yohanna Katanacho: Theology of the Land from a Palestinian Perspective
– July 18, 2022 at 7:30 pm - 9:00 pm
Faculty Roundtable: Q & A – Palestinian Christianity
– July 20, 2022 at 12:00 pm - 12:45 pm
Susan Phillips: To Make an End is to Make a Beginning – Marking Completion in Perilous Times
– July 20, 2022 at 7:30 pm - 9:00 pm
Chelle Stearns: 'With Sighs Too Deep for Words': Silence, the Holy Spirit & Music in the Processing of Traumatic Experience
– July 25, 2022 at 7:30 pm - 9:00 pm
Bach Festival 2022
– July 26, 2022 - August 6, 2022 at All Day
Dennis R. Edwards: Reimagining Humility
– July 27, 2022 at 7:30 pm - 9:00 pm
Lunchtime Concert: Rebecca Collett
– July 28, 2022 at 12:30 am - 1:15 am
GCN Partner Dinner
– July 29, 2022 at 5:45 pm - 9:00 pm