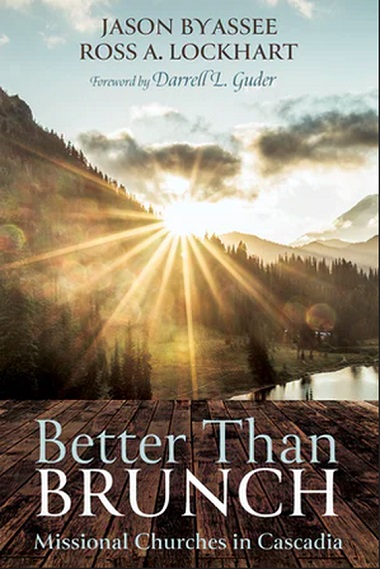 Jason Byassee and Ross Lockhart will launch their new book, Better than Brunch, next Wednesday (January 27). In the meantime, Mark Glanville offers these insights.
For a while now I have been hunting for a book that displays, thoughtfully, what a creative, engaged church might look like in this post-Christendom era. I think I've found it.
In Better than Brunch: Missional Churches in Cascadia, Jason Byassee and Ross Lockhart show us how as Christendom fades, the Holy Spirit is sparking fresh creativity.
Some churches are embodying Christ's tenderness in their neighbourhoods, ministering to brokenness, sharing life together, nourished by the Word and prayer.
We can't turn back the clock. Nowadays secularism swirls around churches like a gas, ghosting away the church's people, finances and any skeletons of its former authority.
Within this new given, Byassee and Lockhart invite us to peek into 11 communities that are engaged missionally in their neighbourhoods. We are looking out for patterns: what do these missionally engaged churches have in common?
Here's one: New metrics to assess effectiveness. Bums on seats, dollars and notoriety take a back seat. These communities are focused on "the impact of God's love for neighbour rather than prestige or self-preservation."
Agape Church, Portland is a good example. Ron Clark had formerly helped lead a growing suburban church. Now Ron reads the Bible with people struggling to escape prostitution. He reads the wilderness wanderings in the book of Exodus with abuse survivors. Agape Church reads the gospels with people being evicted from their homes – "They devour widows' houses . . ." This church measures success by love of neighbour.
In Better than Brunch, Byassee and Lockhart zero in on Cascadia – comprising British Columbia, Oregon and Washington State — with good reason.
Cascadia's rain-soaked cities and suburbs are on the leading edge of secularization in North America. What's happening here will happen everywhere soon enough. So, it is important to know what the Holy Spirit is up to in this neck of the woods as we reimagine a post-Christendom church.
Here is another pattern the book uncovers: These communities are committed both to scripture and also to seeking justice. (The authors use the terms evangelical and liberal.) It boggles the mind to think that the Bible and justice ever became separated.
Take Grandview Church in East Vancouver, for example. At Grandview Church, Tim Dickau, Joy Banks, yours truly and others have been preaching the "gospel of the kingdom."
Grandview Church is known for its creative responses to brokenness in the Grandview neighbourhood. Grandview Church has birthed JustWork, among other initiatives.
JustWork provides employment for people who struggle to hold down a job, namely in renovations, catering and pottery. (You will find the pottery studio in the church basement.) Yet the heartbeat of Grandview Church is prayer, scripture and worship. Evangelical and justice-seeking.
Better than Brunch shows us that we need to get the word 'missional' right. These churches are not necessarily sending missionaries across the waters. But that they are shaped by a deep conviction that they themselves have been sent to their neighbourhood to bear witness to Jesus by their lives and words of love.
Here's another pattern Byassee and Lockhart have spotted: There is no cookie-cutter solution. These churches are "crafted for the local context" – while often also valuing fine craftsmanship!
Union Church was planted in the South Union part of Seattle. (Amazon also 'planted' in this neighbourhood . . . the global hub of its online empire).
A high-end chocolate and coffee house provides the store-front of Union Church's space. The pastor-baristas serve their coffee with care, praying as they do that people will experience Christ's presence as they inhabit the space. A performance room for artists is out back.
On (most) Sundays there is worship. Once a month, corporate worship happens in small groups instead. And once a month, cooperate worship pauses to make space for community service. Union Church keeps a 'William fund.' William used to ask customers for their spare change. Now he is only allowed to ask the staff for money, who collect for him in a tip-jar.
A minor quibble, if I may. Each of the stories in Better than Brunch focus on the remarkable vision and gifting of one or two key leaders. Of course, there is much that's right about this. God often uses a point-person mightily. And yet, it takes a tribe to raise a church. And it takes a church to raise pastors.
As I train pastors at Regent College, Vancouver, I am aware that only a handful of pastors-in-training feel ready to step into alpha-leader shoes, charging into the missional fray with all gifts blazing. But almost all are chafing at the bit to minister shoulder-to-shoulder with other visionaries, in loving a neighbourhood to life.
Byassee and Lockhart are well aware of this (both are former pastors, now professors who are training pastors). They take time to highlight the importance of deep discipleship – yet another pattern in these engaged churches. This post-Christendom thing is here to stay, and flourishing churches are leader-full.
Reading Better than Brunch will open wide your imagination for what the church of Christ can be. It will leave you wondering, "Perhaps this cultural moment may be more of an opportunity than a threat, for the church?"
This article is re-posted by permission of the author and the Vancouver Sun, where it was first published.
Dr. Mark Glanville is Associate Professor of Pastoral Theology, Regent College Vancouver. He's the co-author of Refuge Reimagined: Biblical Kingship in Global Politics (IVP Academic, February 2021). He can be found at www.markglanville.org.
Rev. Dr. Jason Byassee is the inaugural holder of the Butler Chair in Homiletics and Biblical Hermeneutics at Vancouver School of Theology (VST). Rev. Ross Lockhart is Dean of St. Andrew's Hall and Director of the Centre for Missional Leadership, and serves as the Presbyterian Director of Denominational Formation at VST.
Go here for more information about the book launch January 27.