John Stackhouse plays some music, if I remember correctly, when he's not teaching or writing books, and he recently wrote a blog post about Carolyn Arends' new recording.
Recognition is her first full-length feature in six years. The 12 new songs include a duet with Amy Grant, which Arends describes as "a personal highlight."
Here is some of what Stackhouse wrote for Faith Today:
A few decades ago, a Canadian singer broke into the Christian Contemporary Music scene. She had popular songs, most of which she composed herself, that won Dove Awards from the Gospel Music Association.
She was young and smart. True, she didn't sing with the Sandi Patti-style soprano so in vogue at the time.
But popular taste was shifting to embrace altos like Amy Grant, so it wasn't hard to imagine this newcomer conquering the CCM popularity charts and staying there.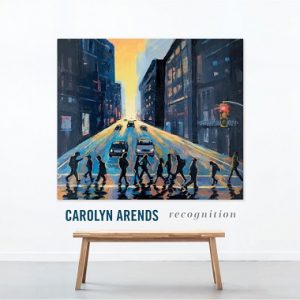 Since then, Carolyn Arends has won a cabinet full of awards and her 'Seize the Day' was recently entered into the GMA Canada Song Hall of Fame. But she has never become a pop star. Now her 13th full-length recording of original songs, Recognition, reminds us why – and in the best way. . . .
[She became] something far better: a ministering minstrel, a singing sister, a poetic preacher, a tuneful teacher. Settle back in your chair, listen to her new work, and become more human.
Go
here
for the full review, which considers the songs one by one, and
here
for more about
Recognition
on Carolyn's site.
Cardus on UGM
Cardus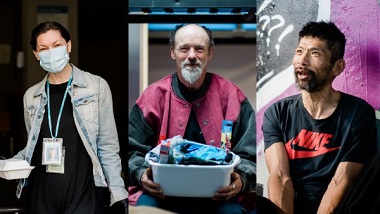 Religious Freedom Institute's Diakonia project has focused its fourth 'case study in faith-based social service' on Union Gospel Mission (UGM), which
ministers to people experiencing homelessness, poverty and addiction throughout Metro Vancouver and Mission.
Here is the conclusion of the 10-page report:
In spite of the challenges – many of which have been exacerbated by the effects of the COVID-19 pandemic – the organization's foundation of hope remains unshaken:
There are hard days at work. There are hard weeks. There are hard months. Sometimes we lose people we care about. But at the end of the day, all signs point to God: he's there with us and he's helping provide light at the end of the tunnel for everybody.
34
It is this Christian hope for recovery and transformation that sustains Union Gospel Mission in the face of deeply entrenched injustices. The organization insists that removing the structural barriers to financial security, stable housing and long-term sobriety will require sustained effort from all members of society – not just charities or governments but community leaders, institutions and individuals as well.
But UGM also emphasizes that every action taken to help someone in need makes a difference, even if it seems small. Indeed, Bob Stacey's legacy [he created UGM in 1940] is a powerful example of how one person, determined to demonstrate his Christian faith to his neighbours, can spark a powerful movement of transformation. "We all can do something. And when people do, things change."
35
Interview with Nicole Mucci, Media Communications Officer, Union Gospel Mission, October 2, 2020.

Interview with Jeremy Hunka, Communications Manager, Union Gospel Mission, October 1, 2020.
Go
here
for the full study.
Heritage Vancouver Top 10
A couple of Catholic buildings – Holy Rosary Cathedral Complex and St. Paul's Hospital – were featured when Heritage Vancouver released its annual Top 10 Watch List December 31.
Here is a portion of their
comment
about Holy Rosary Cathedral Complex, which is on Richards Street just south of Dunsmuir in the downtown core:
Holy Rosary Cathedral, built of stone in the French Gothic Revival style, opened in 1900. The cathedral will undergo needed seismic and other building upgrades.
To finance the $24M project, the Archdiocese is considering selling five of the 12 lots that the Cathedral Complex is built on, thereby sacrificing both the Rectory built in 1935 and the Rosary Hall built in 1907 in exchange for several floors of the new development for permanent church use.
Threat
Holy Rosary Cathedral has been deemed a significant risk to human life and to receive significant damage in the event of a serious earthquake. In order to mitigate these risks, the Archdiocese will undertake a structural seismic upgrade project per the Vancouver Building Bylaw. . . .
Go
here
for the full comment and
here
for the comment on St. Paul's Hospital. (I have fond memories of swimming with the Flying Sharks Club in the Holy Rosary complex as a young teen; I imagine the pool is long gone.)
By no means all of the Top 10 list is devoted to buildings; here is the complete list:
* Arts and Culture
* Neighbourhood Businesses
* Henry Hudson Wooden Schoolhouse
* Holy Rosary Cathedral Complex
* St. Paul's Hospital
* False Creek South
* Broadway Plan
* Historic Street Elements
* Vancouver Plan
* Postmodern Architecture in Vancouver
Heritage Vancouver
is an independent, member-based registered charity dedicated to "Creating a future for Vancouver's heritage."
Evangelism Summit
The event, unfortunately, has just passed. The good news is that you can still see it all on YouTube. I have seen less than half of the Advance Canada Evangelist Summit (which added up to something under six hours each day, January 19 and 20).
Many of the speakers were local: host
Bill Hogg
, Shaila Visser, Carson Pue, Dave Koop, Cheryl Koop, Fari Maghami, James Fam, Rod Bergen, Dave Klassen and probably others.
I particularly enjoyed Fari Maghami's journey as a Persian convert whose life has been focused on "sharing good news with the poor," both at UGM and Eden Cafe, and as a pastor with Coastal Church.
Among the well known international guests was
Becky Pippert
, for decades a leading voice on evangelism, known best for her book
Out of the Salt Shaker
(1979) and its widely acclaimed follow-up,
Stay Salt
(2020).
Pippert spoke three times, and Hogg interviewed her from her home in Michigan. She described the changes which have taken place between the publication of her two books:
The approach to evangelism in the 80s was different than what it is today. The attitude toward evangelism, by and large, was pick a victim, preach a memorized gospel at length and then run away as fast as you can.
The style of witness had a very strong emphasis on truth, but not on relationship. It was very formulaic; you said the same thing to no matter who you were speaking to, no matter how different people were, you always said the same thing.
So I wrote a book that really emphasized communicating truth in the context of a authentic, caring relationships.
But then our world changed, and with that our approach to evangelism began to change. I think today, our approach to evangelism is almost the opposite to what it was in the 80s. It is stronger on the relational aspect, and that's good, but it's very weak on truth, especially any verbal expression of faith.
What I keep hearing Christians say to me is, "I just want to live the gospel, not proclaim the gospel." The thing I hear over and over again is this: "As Francis of Assisi said, 'Preach the gospel, and if necessary, use words.'"
First of all, there is no historical evidence that Assisi ever said that, and if he did say it, he was wrong. Communicating truth is absolutely critical to biblical evangelism. . . .
There's much more where that came from; a very rich and diverse selection of content. Go
here
for the January 19 talks and
here
for January 20, as well as a list of speakers and the schedule for each day.
Leading missional author Alan Hirsch (The Forgotten Ways, The Permanent Revolution, Reframation) also spoke – and will be speaking at Mission Central: SERVE (January 29 – 31) as well. I hope to feature him next week, just before that event.
Jan 2021
2021 Mission Central Conference: SERVE
– January 30, 2021 - January 31, 2021 at 9:00 am - 8:00 pm
Feb 2021
JustWork presents Groundhog Day Trivia
– February 2, 2021 at 8:00 pm - 9:00 pm
A Panel on Human Trafficking
– February 3, 2021 at 6:30 pm - 8:00 pm
Bill C-6 Webinar: Bans on Conversion (Conversation) Therapy
– February 3, 2021 at 7:00 pm - 8:00 pm
Canada Chinese Christian Winter Conference
– February 5, 2021 - February 7, 2021 at All Day
G. Peter Kaye Lectures: Understanding Jesus Means Understanding Judaism
– February 5, 2021 at 10:00 am - 12:00 pm
Being Human in a Technological World: John Behr – Pointers from Patristic Anthropology
– February 5, 2021 at 12:30 pm - 1:30 pm
Catalyze for the Climate 2021: Virtual Conference
– February 6, 2021 at 9:30 am - 11:30 am
Virtual Book Launch Party: Wonderfully Made by Esther Leung-Kong
– February 7, 2021 at 3:00 pm - 4:00 pm
A Literary Expedition into 'The Abolition of Man'
– February 7, 2021 at 4:00 pm - 6:00 pm
Food Security in the time of COVID-19: an IDW Panel
– February 8, 2021 at 8:00 am - 9:30 am
Andy Crouch: Building for the Future in the Context of Lament – Navigating and Implementing Organizational Change
– February 9, 2021 at 10:00 am - 11:00 am
6 Principles to Navigate Revelation, with Dr. Darrell Johnston
– February 9, 2021 at 1:00 pm - 2:15 pm
Alpha Webinar: The Time is Now – with Vijay Krishnan and Nicky Gumbel
– February 10, 2021 at 10:00 am - 11:00 am
TWU Live: Bringing Campus to You
– February 10, 2021 at 4:00 pm - 5:00 pm
David's Crown: An Evening with Malcolm Guite on the Psalms
– February 11, 2021 at 11:00 am - 12:00 pm
SIM: Faithful Witness in Forgotten Communities
– February 11, 2021 at 5:00 pm - 6:00 pm
Jens Zimmerman – Who Am I? Personhood, Technology and Human Flourishing
– February 12, 2021 at 12:30 pm - 1:15 pm
David Baird: The Power of Civility
– February 13, 2021 at 11:00 am - 12:00 pm
The Goodness of Creation and Human Responsibility
– February 18, 2021 - February 20, 2021 at All Day
The Southern Cross: Navigating New Horizons in 21st Century Global Evangelicalism
– February 18, 2021 at 12:00 pm - 1:30 pm
Canada, the Churches, & Bill C-15
– February 18, 2021 at 4:00 pm - 5:30 pm
Trinity Western University and the Court of Public Opinion: A Closer Look at the Role of Religion in Society
– February 18, 2021 at 5:00 pm - 6:30 pm
Business As Mission Virtual Conference 2021
– February 19, 2021 at 9:30 am - 1:30 pm
Mission Central Conference: GROW
– February 19, 2021 - February 20, 2021 at 6:30 pm - 5:30 pm
Coldest Night of the Year: Several Events
– February 20, 2021 at All Day
A Literary Expedition into 'The Abolition of Man'
– February 21, 2021 at 4:00 pm - 6:00 pm
Tax Clinic
– February 22, 2021 at All Day
Keeping Up the Pressure: The Role of Faith Communities in COP26
– February 22, 2021 at 8:00 am - 9:00 am
National Human Trafficking Awareness Day Webinar
– February 22, 2021 at 9:00 am - 10:00 am
Lisa Marie Bowens: Reading the Bible Right Now
– February 24, 2021 at 12:00 pm - 1:00 pm
The Global Leadership Summit: Special Edition
– February 25, 2021 at 8:30 am - 11:45 am
Earthkeepers: Climate-themed Lent Prayer Night
– February 25, 2021 at 5:00 pm - 6:00 pm
SIM: What Do Missionaries Do? And Why?
– February 25, 2021 at 5:00 pm - 6:00 pm
Communities of Welcome for Refugee Claimants: Discovery Meeting
– February 25, 2021 at 7:00 pm - 8:00 pm
Empowering Temporary Foreign Workers during COVID-19
– February 26, 2021 at 10:00 am - 12:00 pm
Thomas Fuchs: Embodied Cognition and Psychiatry in a Technological World
– February 26, 2021 at 12:00 pm - 1:30 pm
Mission Central Conference: CREATE
– February 26, 2021 - February 27, 2021 at 5:30 pm - 8:00 pm
Black History Month with Marcus Mosely: Songs of Freedom
– February 26, 2021 at 7:30 pm - 9:00 pm
CHAT Canada Webinar, with Sandi Smoker: The Art of Grandparenting (bi-weekly, Saturday mornings)
– February 27, 2021 at 10:00 am - 12:00 pm
Just 58: Journeying with Justice
– February 28, 2021 at 7:15 pm - 8:13 pm