Janet Epp Buckingham, author of Fighting Over God: A Legal and Political History of Religious Freedom in Canada, was on CBC's Sunday Edition in a special public forum to discuss the role of religion in Canadian civic discourse and public policy. Listen here. 
I was recently part of a panel discussion titled The Public God on CBC. Host Michael Enright opened with the comment that "God talk" seemed to be on the rise in Canada. When he was growing up, an Irish Catholic in Toronto, no one talked about their religion. It was a topic for Sunday only.
I argued that religion has always been a hot topic in Canadian society. In the 1890s, for example, Canada was rift by the Manitoba Schools Question. This controversy plagued five prime ministers before being resolved by Sir Wilfrid Laurier, with some assistance from the pope. This was only after two legal cases went to the House of Lords in England, long debates in the House of Commons and vitriolic debates in the nation's newspapers.
In fact, religious education has been called "the most contentious issue in Canadian national life." Denial of the right to educate their own children led thousands of Mennonites in Manitoba to emigrate to Mexico. Quebec and Newfoundland have both had constitutional amendments to deconfessionalize their schools.
Numerous legal challenges have been mounted, many decided by the Supreme Court of Canada. Even now, a case concerning Quebec's ability to dictate curriculum to a private, Catholic school is at issue in Loyola High Schools case before the Supreme Court of Canada.
What about the fact that single-faith radio stations were banned in Canada after a station run by the precursor to the Jehovah's Witnesses rained down abuse on the Pope and the Roman Catholic Church? That was in 1928.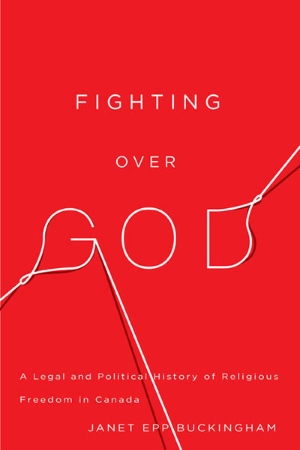 Perhaps one should consider the banning of the Jehovah's Witnesses as an organization during the Second World War. This was at the behest of Roman Catholic bishops in Quebec who argued that their pamphlets denouncing the war effort and attacks on the Roman Catholic Church were harming the war effort. The effect of the ban was that it was illegal to be a Jehovah's Witness or to possess Jehovah's Witness literature. Jehovah's Witness children were expelled from schools and their parents were jailed.
It was through efforts of the Jehovah's Witnesses and the Canadian Jewish Congress that Prime Minister Diefenbaker enacted the 1960 Bill of Rights. And it is said that observing Premier Duplessis' persecution of Jehovah's Witnesses in the 1950s was what spurred Prime Minister Trudeau to establish the Charter of Rights and Freedoms.
'God talk' has long been a feature of Canadian life. Adherents of one religion used religious arguments to buttress their position on a wide variety of public issues. Christian denominations spoke out on issues such as Prohibition and opposed divorce.
In Toronto in the 1950s and 60s, it is likely true that there was a tacit agreement not to talk about religion because it had been the subject of riots a generation earlier. It was only by then that the fervour of the Orange Order – the anti-Catholic, anti-French men's organization – had abated. Orangeville does not get its name because they grow the fruit there.
Is bringing religion into public inherently divisive? It does not have to be. Yet those who have had a negative experience with religion often have an antipathy that is difficult to subdue.
The panel discussion at the CBC showed that panelists with a variety of religious perspectives can have a respectful dialogue without agreeing with one another.
In fact, it is only through respectful dialogue that we can find ways of addressing some of the issues facing Canada. Dialogue and understanding can prevent the kind of aggressive secularism that would have been imposed by the Quebec Secular Charter. And dialogue is the best way to resolve conflicting rights. As we establish our core values as a society, we must be willing to include all voices at the table.
Janet Epp Buckingham is an associate professor at Trinity Western University and director of the Laurentian Leadership Centre, an Ottawa-based, live-in, extension program focusing on leadership in public policy, business and communications