It seems to be a trend – and a welcome one. Three Chinese churches – that I'm aware of, there may well have been more – turned their parking lots over to block parties last weekend. Vancouver Chinese Baptist Church (VCBC) on Friday night (July 12), and Vancouver Chinese Alliance Church (Knight Street campus) and Pacific Grace MB Church on Saturday afternoon.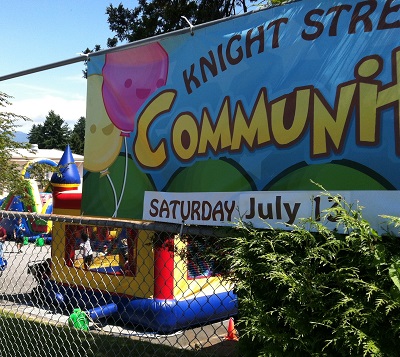 VCBC capped a week-long Kingdom Rock VBS summer day camp, during which they hosted some 300 children, with their 7th annual block party. Spilling out of their property onto a two block stretch of Culloden Street (just west of Knight Street) between 57th and 59th, the celebration charmed hundreds of children with colourful, giant inflatable slides and obstacle courses, along with games and free food for all.
 Pastor Cindy Bridges of the English-speaking congregation (the 1,000-member church also has one Mandarin and three Cantonese services) told me the block party is a great way to meet the neighbours.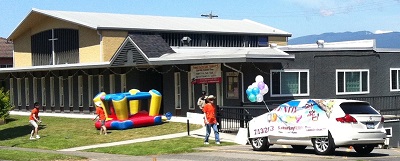 The Knight Street campus of Vancouver Chinese Alliance Church (between 17th and 18th) held its third annual Knight Street Community Day. As at VCBC, there were giant air-filled slides, food, etc. But there was also a band and several booths offering mental health, dental, counselling and other services.
Joshua Koh, pastor of the English-speaking congregation, told me they were not there to get people into the church building. "We just want to serve the community."
Bill Wong, director of Asian Ministries with City In Focus, was also helping out. Knight Street has been his congregation for years; he praised the church for the way it supports him in his chaplaincy work out in the community.
A fourth Chinese church – Knight Street's sister church, Fraser Lands – will hold a community day July 27 on its property in the far southeast corner of Vancouver, one block east of Kerr Street at the corner of SE Marine Drive and Marine Way.