What do creation care and evangelical Christian faith have in common?
Quite a bit more than many have understood, if Chris Wright, international ministries director for Langham Partnership, is to be believed. Wright is in Vancouver this week for Holy Ground: Answering God's Call to Creation Care, a pastors and church leaders conference at Regent College.
Langham Partnership was founded some 40 years ago by noted British evangelical theologian and Anglican cleric John Stott.
Langham was an international outgrowth of All Soul's Church Langham Place in mid-town London, where Stott developed a concept of biblical studies and preaching that has shaped the lives of thousands of young people and students. (He was named one of the 100 most influential people in the world by Time magazine in 2005.)
Wright told me, during a session break in the Regent conference, that Stott always tied in an understanding of biblical thought and preaching with a gospel that included not only personal commitment to Christ but creation care as well.
He noted that Langham's own work provides "direct training in the field of biblical preaching, provision of books for pastors worldwide and the development of PhD scholars . . . there are over 350 alive at present."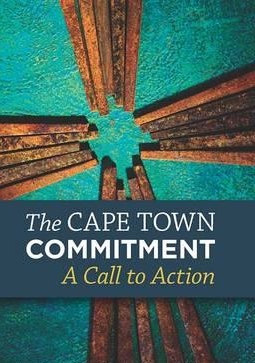 But even more significant is Wright's involvement as chair of the Lausanne Theology Working Group, which shaped the Cape Town Commitment: A Confession of Faith and Call to Action of the Third Lausanne Congress on World Evangelization in 2010. The confession/call was adopted in collaboration with the 4,200 participants at the Cape Town congress.
It has strongly developed statements on the missional role of the Christian community in the world, including matters related to creation care, social action, social justice, ethical issues and the relationship of the Christian community to other world faiths. Further, it was researched and written in collaboration with the World Evangelical Alliance, a 600 million strong body.
Following is a portion of the Cape Town Commitment, from the 'We love God's world' section:
Such love for God's creation demands that we repent of our part in the destruction, waste and pollution of the earth's resources and our collusion in the toxic idolatry of consumerism. Instead, we commit ourselves to urgent and prophetic ecological responsibility. We support Christians whose particular missional calling is to environmental advocacy and action, as well as those committed to godly fulfilment of the mandate to provide for human welfare and needs by exercising responsible dominion and stewardship. The Bible declares God's redemptive purpose for creation itself. Integral mission means discerning, proclaiming and living out the biblical truth that the gospel is God's good news, through the cross and resurrection of Jesus Christ, for individual persons, and for society, and for creation. All three are broken and suffering because of sin; all three are included in the redeeming love and mission of God; all three must be part of the comprehensive mission of God's people.
The Lausanne Movement came into being in 1974, spearheaded by Billy Graham. The first congress was in Lausanne, Switzerland. Then, in 1989, the second congress took place in Manila, under the leadership of Canadian Leighton Ford, Billy Graham's brother-in-law.
The theological groups in both the first two congresses were led by John Stott, so Wright, in effect, became his successor. Wright's 2006 book, The Mission of God was a seminal work that featured much of the thinking that appeared in the 2010 Commitment.  
Wright suggested, during our May 5 interview, that many evangelicals "have not been sufficiently biblical. They have viewed the gospel as purely good news for sinner, But the Bible story is of creation and new creation – included [in and] not separate from gospel."
There is a tendency in North America, not so evident among evangelicals elsewhere in the world, to see creation care as a "liberal Christian" idea.
"Evangelicals are tied in to a powerful political agenda," he added. "The political argument needs to be made that creation care is not just a green issue, but a justice issue."
The idea of the current conference at Regent, as a place where pastors and Christian leaders can become informed, makes sense, Wright said. He pointed out that Vancouver's evangelical community, and to a similar extent, Toronto's, have been bright spots for the creation care movement in North America.
Lausanne, Langham, Regent and A Rocha, as well as institutions like World Vision, have brought to these cities a perspective drawn from what Wright describes as the "majority world, the regions where churches are under-resourced, poor – and growing."
All of that, in Wright's view, makes the Regent conference "a natural." Among the other keynoters, during the event are Katharine Hayhoe, a well-regarded Canadian-rooted Texas climate scientist with impeccable evangelical credentials; A Rocha founders Peter and Miranda Harris; Indigenous theological education leader Terry LeBlanc (who took part in the Cape Town event); and Ed Brown, Lausanne Senior Associate for Creation Care.
And, spun off from the event is a major lecture – Earthkeeping: A Climate for Change – at UBC's Chan Centre, set for Thursday (May 7). Katharine Hayhoe will be the keynote speaker, with responses from the likes of Peter Robinson, CEO of the David Suzuki Foundation, and Preston Manning.
A Rocha Canadian co-founder Leah Kostamo (along with her husband Markku), is another Canadian in the lineup. Their environmental centre in South Surrey is doing some landmark faith-based work in creation awareness. And Leah's writing about the chief subject of her interests has won the admiration of both Christian broadcaster Lorna Dueck and novelist Margaret Atwood.