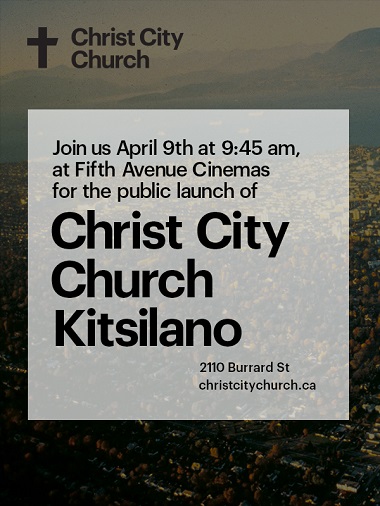 When two Vancouver pastors agreed to meet for the first time for coffee last September, they had no idea that it would lead to the launch of a new church. The two men were Brett Landry, pastor of Christ City Church in South Vancouver, and Fred Eaton, pastor of The Bridge in Kitsilano. The new church that grew out of their conversation is called Christ City Church Kitsilano. 
It's essentially a partnering of their two churches. The Bridge, a Canadian National Baptist Convention (CNBC) church, had been ministering in Kitsilano since August 2000. Christ City, which is Mennonite Brethren, had launched in September 2013 as a plant of Westside Church in downtown Vancouver.
Eaton, who had shepherded The Bridge for two-and-a-half years, now pastors Christ City Kitsilano. It met for the first time on Palm Sunday, April 9, at the Fifth Avenue Cinemas at 2110 Burrard Street – ironically the same place where Westside first met when it launched in 2005.
For The Bridge, which is now disbanded, "This partnership changes our posture in the community," Eaton says. "I think it'll be a much better resourced church to win people for Jesus."
For Christ City, this new gathering marks the first manifestation of its vision of planting parish-like "neighbourhood churches" across Vancouver. "It's a privilege," says Landry, "to partner with people who have been faithful but are looking for some kind of a breakthrough for the next season."
And yet when Landry and Eaton first met just seven month ago at the urging of a mutual friend, only God knew that this would be the result.
"I had it on my calendar for an hour. I had things I had planned to do after that. But after an hour it was pretty clear that I wasn't going to make it," Landry recalls. "I was just sharing the vision of the church, just sharing my heart. I could tell Frederick was interested. After three-and-a-half hours, he looked across the table at me and said, 'Would you ever consider taking us on?' I said we'd never thought about partnering with a church to plant in another neighbourhood. At least I hadn't thought about it."
They went their separate ways agreeing only to pray about partnering together. "It wasn't like we sat down and started to work something out," Eaton says. "It seemed right to us and the Holy Spirit. It was something that we were discovering that was there already. And as we talked about it, it just seemed like in retrospect almost a no-brainer."
In fact, for some months prior to their meeting, Landry noticed people from Kitsilano starting to "trickle in" on Sundays. "Then we started having this conversation. And when it started to look like it was going to happen, there were more people coming from Kits," he says. "I thought this is really interesting how these people are feeling called to be part of Christ City just when we're planning to plant there."
Eaton too says that when he apprised his people of what was being discussed, "It just seemed like green lights all the way along. There was almost excitement for this idea. I talked to everyone and everybody was, 'Let's go!' I've never been through anything like that before. It was discovering that the Lord had gone ahead and I was just trying to catch up with him. It was remarkable."
Landry hopes that Christ City Kitsilano will become the first in an eventual network of autonomous churches that work together as one. "There are different ministries within Christ City that will remain city-wide, and then ministries that will be neighbourhood-specific," he says. "So on a Sunday morning you will have these different neighbourhood expressions, but you'll also have some sharing of staff and resources – such as youth ministry and counseling, God willing – that we can all feed into."
For his part, Eaton acknowledges that this new iteration means a lessening of their ties to the CNBC's Westcoast Baptist Association. "Obviously our main connection is going to be with Christ City and MBs," he says. "But our sincere desire is to keep our historical relationship to the CNBC and the WBA. So they'll stay in our budget. I think that's for the cause of a greater unity and out of a respect for the grace of God we've enjoyed in that relationship."
There's another gathering in Kitsilano that's also just opened – City Life Church Vancouver – which we'll highlight next week.
This article is adapted from Frank Stirk's forthcoming book, Streams in the Negev: How God is Beginning to Transform Vancouver (Urban Loft Publishers).