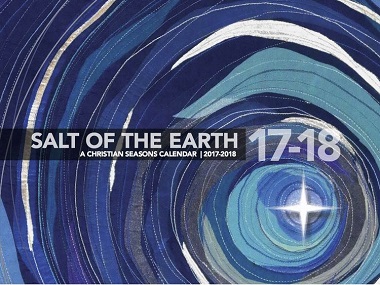 Local media outlets are promoting Advent calendars, but they're really not that Christmassy. One suggested that the Cannabis Christmas Calendar might make for 'Merrier Holidays,' while Daily Hive featured the likes of '24 Days of Soul Chocolate' and 'HBC Musical Advent Calendar' ("wind up music box plays Jingle Bells.")
So, it is a comfort to know we can turn to the beautiful, and locally-produced, Christian Seasons Calendar instead. Though Salt of the Earth is not an Advent Calendar per se, it:
. . . tells the story of the Christian year through scripture, liturgical colour and artwork. . . . This unique calendar opens with the season of Advent and turns not with the 12 months but with the rhythm of the Christian seasons: Advent, Christmas, Epiphany, Lent, Holy Week, Easter and the Season after Pentecost.
Though the calendar is produced by University Hill Congregation (since 1999; read how it got started here), it has been embraced well beyond Vancouver. Several influential Christian thinkers, including Eugene Peterson, Walter Brueggemann and William Willimon, are enthusiastic supporters.
Stanley Hauwerwas, once described by Time as 'America's Best Theologian' (he will deliver the Laing Lectures for Regent College next March and teach a course at Vancouver School of Theology in the summer), said this:
Few things are more important for Christians today than reclaiming the calendar as our time. This wonderful calendar helps us do that by reminding us that we are constituted by the narrative that is quite different from Canadian or American national holidays. What a wonderful gift this calendar is and makes.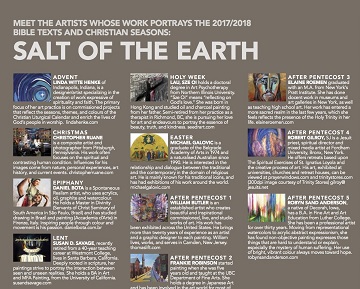 Each year the calendar features the work of several artists. This year, two of the 11 artists are from Metro Vancouver.
A work by Sze Oi Lau ('Sze Oi' means 'reflecting on God's love') is featured for Holy Week. Born in Hong Kong, she holds a doctoral degree in art psychotherapy from Northern Illinois University and moved to Richmond in 1997. She studied oil and charcoal painting with her father, and is again pursuing her love for art after working for 25 years as a therapist.
Frankie Robinson has been involved in the art world for most of her life and taught at the UBC Department of Fine Arts. Her work illustrates After Pentecost 2.
The calendar points out that:
The Christian year divides first into the seasons that lead us through the birth, life, death, resurrection and ascension of Jesus, the Christ: Advent, Christmas, Epiphany, Lent, Holy Week (a part of Lent), and Easter, which ends on the Day of Pentecost. This is followed by the long Season After Pentecost, when, baptized by God's fiery Spirit, the focus becomes our sending to the world God so loves, in light of the story of Jesus we have lived through once again in the first part of the year.
Here are the descriptions of Advent and Christmas:
Advent
Advent means 'a coming, approach, arrival' . . .
Advent, then, is a season of waiting on God. We wait on God, whom we cannot control, but in whom we are called to trust.
Waiting times offer an opportunity for reflection. And if we are honest and grounded in worldly reality, then our Advent reflections must begin with trouble. The liturgical colour for this season – blue – and the lectionary texts reflect this truth telling of trouble in our world, in our country, in our churches, in our families and in ourselves. We wait longingly; aching for God's saving action. O that you would tear open the heavens and come down. (Isaiah 64:1) . . .
Christmas
At Christmas, the word that spoke creation into being is made flesh. . . .
Christmas is short for 'Christ's Mass, the worship service that marks the birth of Jesus. We are given the gift of 12 days to "tell the story, to sing the carols, and to enjoy living in the good news that God still answers the Earth's aching cry in the cry of Mary's child." (Ed Searcy, Telling Time, 2015) The Incarnation is a surprising marvel of God's love in action, and in this season we are given the time to contemplate it and celebrate it with joy and thanksgiving.
The liturgical colours for Christmas are, like Easter, white and gold. They are reminders that the birth of Jesus is the beginning of a pilgrimage through suffering and death to new life. . . .
 Go
here
to order the Christian Seasons Calendar.