I have mentioned the work done by Cardus, a Christian think tank based in Ontario, quite often over the past few years. They are moving ahead on several fronts.
They conduct original research in six areas: education, family, health, law, social cities, and work and economics. They publish two journals and one podcast (Comment, Convivium, Cardus Audio), and are conducting a special Faith in Canada 150 project this year, which co-sponsors polls with the Angus Reid Institute, operates the Halo Project, tells Canadian stories of faith, and much more.
All of these initiatives are valuable for anyone who cares about church and culture, but I will focus on one area for the moment – possibly the most significant for residents of Metro Vancouver.
Cardus's Social Cities work asks these questions: 'What makes a good city? How do we get there?' (Go here for an initial answer.) Then browse through Social Cities resources and sign up for their email. In the meantime, I will highlight one particularly thoughtful element of their work.
Milton Friesen is program director for Social Cities. Here he introduces three papers on Religion and the Good of the City:
If we imagined living in a time when it was not fashionable to treat religion as superstitious, socially irrelevant at best and malignant at worst, when ignorance of both the history and practice of faith were not worn as badges of honour, but were able instead to adopt an open and descriptive posture about how social goods are generated, then we would find our reports about reality characterized by accounts of how religion has contributed significantly to many of the common goods we enjoy.
We could find ourselves collecting data about those goods, as Robert Woodberry ("The Missionary Roots of Liberal Democracy," American Political Science Review 106, no. 2 [2012]: 244–74) did using a 200-year historical lens, and conclude that to the extent that liberal democracy, education, social equality and improved physical health are good things, organized religion (yes, organized religion, not just an internal, personal, psychological state of communion and private conviction) has been a powerful generator of many of the things we wish to attain for ourselves and others around the world.
But we don't live in that world. Although it may be changing, popular communication and even academic research have tended to think it proper to overlook the contribution of religion to the social and cultural goods of the city even where evidence has suggested that it exists in substance and extent, both historically and at present. We live in a time when reporting on the failures of organized religion can seem to be the only legitimate form of coverage. Like the necessity of little-seen plankton in the oceanic food chain, it may well be that the continuous. . . .
In this series of three papers, three postures will be adopted, each one animated by a series of questions designed to provoke our thinking.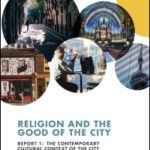 Report 1: Contemporary Cultural Context of Socio-Cultural Goods of Religion
How are we advancing the understanding of the socio-cultural good of religion – especially Christianity as the dominant faith in North America? How does religion contribute to the well-being of cities? What form do these religious public goods take? What are their shortcomings that would be valuable to address?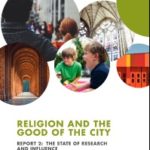 Report 2: State of Research and Influence of Socio-Cultural Goods of Religion
What insights does research provide that could inform people and help shape public relations and policy efforts on behalf of the socio-cultural good of religion? What are the stories that can be told? What do educators, journalists, and cultural influencers need to know? How could this work be undertaken?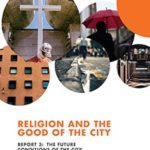 Report 3: Future Conditions of the Socio-Cultural Goods of Religion
Future research, collaboration, and learning need intentional focus and investment. How will this investment become more difficult in the coming years? How will it get easier? What would it look like for religious faith to be seen as a vital contributor to the common good that we depend on? How might the history of religion and the common good inform our future?
This is how the process worked:
A group of 12 carefully selected contributors met for an evening and a full day [early this year] for the incubation of ideas and exploration of how religion contributes to the good of the city today. Their thoughts were presented as a pre-meeting submission that was then discussed face-to-face followed by an invitation to offer a two-thousand-word op-ed-style written response based on those interactions.
I believe anyone who takes a good look at the Social Cities project in general and the three studies on Religion and the Good of the City in particular will be enriched as he or she reflects on the potential for living faithfully in Metro Vancouver.