The Guardian posted an unusual article earlier this year. 'Spiritual union: why Gulf migrants are flocking to evangelical Christianity' offered a unique insight into just how unsuitable Qatar is as a host for the FIFA World Cup – and how selective most media coverage of the nation's failings has been..
Many media outlets have highlighted the abysmal working conditions faced by foreign workers in Qatar.
The Guardian reported in another article that "More than 6,500 migrant workers from India, Pakistan, Nepal, Bangladesh and Sri Lanka have died in Qatar since it won the right to host the World Cup 10 years ago."
Many media have also reported at some length about the unjust treatment of women and gays in the nation, relying on groups such as Amnesty International, which earlier this month posted 'Six things you need to know about the hosts of the 2022 FIFA World Cup.' These are the headers:
* Freedom of expression and press freedom
* Freedom of association and assembly
* Unfair trials
* Women's rights
* LGBT rights
* Labour rights
Ketty Nivyabandi, Amnesty International Canada's general secretary, was quoted in a November 20 CBC News article:
Despite recent changes to Qatari labour law, migrant workers still experience delayed or unpaid wages, denial of rest days, unsafe working conditions, barriers to changing jobs, and limited access to justice. On top of the country's labour record, homosexuality is outlawed in Qatar – for example, sexual acts between men are punishable by a prison sentence of up to seven years – and Qatari law continues to treat women as second-class citizens in employment, education, and health care.
Neither Amnesty International nor its Canadian leader included the kind of religious abuses that they must know have been well documented. Likewise, few media sources have included any description of the systemic marginalization and persecution of Christians in Qatar – nor their beneficial presence in the autocratic nation.
'Spiritual union'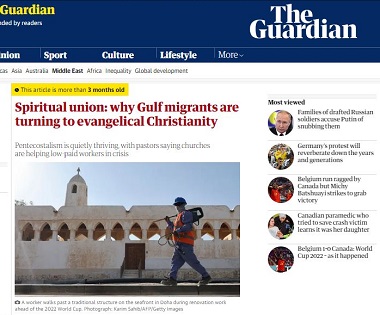 The Guardian deserves credit for its coverage; its story began:
Evangelical Christianity is quietly flourishing among migrant groups in the Gulf as churches provide low-paid workers facing horrific abuse with aid in times of crisis, according to pastors and parishioners across the region. . . .
The Guardian has interviewed pastors and parishioners of churches in all six Gulf countries and found that migrants, including those from Hindu and Catholic communities, are converting to Pentecostalism, one of the fastest-growing religions on Earth with more than 600 million followers.
To cope materially and spiritually, many attend Pentecostal churches because they focus on people's needs in the here and now – namely health and wealth – as well as the ever after.
Pastor John, who like everyone spoken to for this article asked to use a pseudonym as Gulf governments are suspicious of Christian movements and proselytising is often illegal, said his church was helping migrants who faced exploitation, financial hardship, domestic servitude and sexual abuse.
"Rape is a very, very common problem across the entire domestic help industry," the pastor said. "And it's not just females – males come to us because they get raped as well."
Pentecostal churches tend to bring in people from ethnic and national groups whose governments are reluctant to take up cases of human rights violations with wealthy Gulf states for fear they will damage generous aid and trade packages.
Instead, spirit-led churches like this have become de facto unions for migrant workers, often acting as their first point of call in a crisis.
The article points out the significance and size of the migrant work force:
About 30 million migrant workers live in the Gulf Cooperation Council (GCC) states – Bahrain, Kuwait, Oman, Qatar, Saudi Arabia and the United Arab Emirates – the muscle transforming oil-based economies into glittering 21st century metropolises.
In some Gulf states, migrants make up most of the population, and about 80 percent are employed in construction, hospitality and domestic jobs.
Go here for the full article.
'Crazy uncle'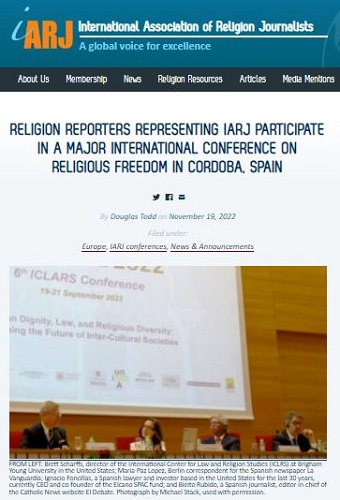 Vancouver Sun writer Douglas Todd addressed the question of why so many journalists ignore matters of faith and religion when discussing bigotry and discrimination in a November 19 article on the site of the International Association of Religion Journalists (IAJR):
When it comes to human rights, religious freedom is the "crazy uncle," the one at the table who expresses ideas that can be both fascinating and disturbing, according to a key speaker at the International Consortium for Law and Religion Studies conference in September in Cordoba, Spain.
Even though many today oppose the concept of religious freedom, dismissing it as unfashionable and even dangerous, Brett Scharffs [director of the International Center for Law and Religion Studies at Brigham Young University] said it is foundational to the principle of non-discrimination. Religious freedom protects the right to worship and the right to hold beliefs that sometimes fall outside cultural mainstreams. . . .
He is concerned about the rise of "identity politics" in many societies, because there can be a downside to fixating on the identity and self-interest of one group instead of on the common good. Identity politics, he said, "often ends up creating a sense of winners and losers," a zero-sum-game in which one person's gain is equivalent to another's loss.
Instead of putting "human rights" front and center in modern-day debates, Scharrfs suggested that it can be less polarizing to keep in mind the value of "dignity" when entering into inter-cultural exchanges.
Go here for the full article.
Christian coverage
Not surprisingly, many Christian groups and media have offered good coverage of the plight of Christians in Qatar, who make up about 13 percent of the population (almost entirely among migrant populations).
Here is a pertinent comment from the Open Doors Canada site:
While football supporters around the world are gathering in Qatar for the FIFA 2022 World Cup, a spokesperson for the charity Open Doors has questioned why Qatar's officially registered Christian churches are hidden away in a single compound.
"While visitors are being encouraged to pay a visit to Qatar's museums, ancient heritage sites and shopping malls, one thing they won't be able to do is visit a church," says Anastasia Hartman, Open Doors' Middle Eastern Advocacy Spokesperson. "The nation's vibrant Christian community has been completely hidden from view."
All officially registered Christian churches in Qatar reside inside a single compound in the capital Doha: the Mesaymeer complex. It is open to Christians that are part of the country's sizeable expatriate community, with non-Muslim visitors also allowed access.
The churches are not allowed any outward religious signs, such as crosses. Indigenous Qataris are not allowed inside the compound. A few other expat churches still exist outside but are not granted any legal permission to practice their religion.
"In 2020, with the spread of Covid-19, the government sent notification to churches saying that permission to gather outside of the complex was suspended," says Anastasia.
"This has left over a hundred churches without permission to operate. Now, the pandemic has eased, the country is open again. However, there is still no sign of churches receiving permission to reopen. There were some signs that the government was going to issue licenses, but this has not happened."
Meanwhile, the small number of indigenous Qatari converts have no official permission to meet or practice. Converting to a non-Muslim religion is considered apostasy and is officially punishable under Islamic Sharia law by death.
This has not been carried out for many years, although they face extreme pressure from Muslim families and community members. Conversion from Islam cannot be officially recognized, causing legal troubles and loss of status, custody of children, and property.
Both indigenous and migrant converts risk discrimination, harassment, and police monitoring.
The Mesaymeer Complex was created by the father of the current Emir of Qatar as a step by government to promote inter-religious dialogue. Anastasia says: "It's a fine gesture. However, now it is now way too overcrowded. It's time for Qatar's Christians to go 'free range' – religious expression is a human right and not something to be hidden away as if it's an embarrassment."

"Article 18 of the UN's Universal Declaration of Human Rights says that everyone should be able to express their faith 'in teaching, practice, worship and observance'," says Gary Stagg, Executive Director of Open Doors Canada.
"While we appreciate the steps made to house expatriate congregations in the Mesaymeer complex, Open Doors is asking them to allow religious organizations – both expat and indigenous to operate peacefully, free from monitoring and interference."
Qatar is currently number 18 on Open Doors World Watch List, which ranks the nations in which Christians face the most extreme persecution and discrimination for their faith.
Here are lists of the Pentecostal churches and all churches in Qatar, according to DohaGuides.
Go here for an Open Doors Canada podcast which offers guidance on how to pray during the World Cup and further resources.