Christmas cheer and the Salvation Army go together, from the ubiquitous bell ringers to the Santa Shuffle. But the Christmas Toy Shop, quartered at Glad Tidings Church on Fraser Street, makes the connection in a particularly colourful and festive way.
The Salvation Army – which has an office just a couple of blocks north on Fraser Street – coordinates the shop and the volunteers, but relies heavily on generous donors, both individual and corporate.
Vienne Chan, who oversees the Salvation Army's Boundless Vancouver Community & Family Services, walked me over to the shop. As we entered the large gift-packed room, she pointed out that the toys come from Toy Mountain, a partnership with CTV (see below), while the store shelving and decoration were provided by The Flash TV show. Waste Connections has donated hundreds of bicycles. And so on.
She said "thousands and thousands and thousands of volunteer hours" have made the gift distribution possible, and added that she has been very impressed by Glad Tidings' support – not only offering free space for the store, for the second time, but also helping out in many other ways.
The Christmas Toy Shop is designed to enhance the gift-receiving experience. Previously the Salvation Army did give out gifts, but recipients were not able to choose specific gifts for themselves.
Now, a wide selection of gifts are arranged by age group. Parents, often with their children, are able to walk around the store and choose the ones they prefer.
The shop is hosted by Pamela Burt, who normally works as food service coordinator at Boundless Vancouver. Her team of volunteers come from a variety of sources, including corporate (Best Buy, Baker Tilly, Bell, JIBC, Cowell), student groups (UBC Sauder), local businesses (Yervana) and more.
Before going to the store, parents need to visit the Christmas Toy Shop web page, and fill out an online registration form. Or they can go to the Salvation Army offices at 3213 Fraser Street, 9:30 am – 3 pm, until the shop closes for the season December 17.
Every Christmas, according to the website, "Boundless Vancouver Community Ministries distributes toys to over 2,000 families with help from CTV Toy Mountain and other generous donors." Each family is eligible to take six gifts (one large toy, one small toy, three stocking stuffers and one book / stuffed toy / puzzle).
Chan said: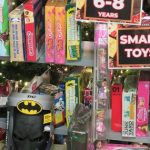 Families feel a sense of dignity when they come into a space where they know they're cared for and they can choose what to give their children for Christmas, and what they want to eat for Christmas [with gift cards].
The Christmas Toy Shop is just the 'retail' portion of a labour intensive process which involves many generous individual donors – and some high-profile partners.
Toy Mountain
On the day I visited the Christmas shop in Vancouver, CTV News was featuring a growing mound of toys at Guildford Town Centre in Surrey. The Salvation Army described the partnership:
This wonderful initiative known as 'Toy Mountain' was started 23 years ago to address the very real need of families not having the means to provide a gift for their children at Christmas time.
This holiday season, CTV Vancouver, 103.5 QMFM, 94.5 Virgin Radio and TSN Radio Vancouver are partnering together for Toy Mountain happening at Guildford Town Centre December 5 and 6 in support of The Salvation Army and the children and families they serve.
This two-day event will feature live broadcasts and encourages listeners all over the Lower Mainland to donate toys and cash this holiday season to make the season brighter for local children.
This year, some 10,000 toys were donated and more than $82.300 was raised for families in need. Toys are distributed to various locations around Metro Vancouver, such as the Vancouver Christmas Bureau, but Christmas Toy Shop is one of the larger recipients.