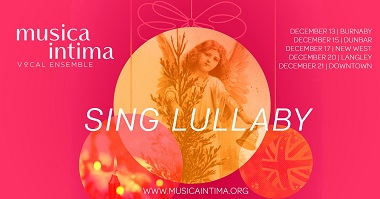 Merry Christmas – and a Happy New Year! I will take a break from my weekly updates over Christmas; back in January.
Time is tight as the big day looms, but there still some appealing Christmas treats on the near horizon.
Most of the higher profile church-based events – Singing Christmas Tree (Broadway), A Thrill of Hope (Coastal), Night of Wonder (Tenth) – are over, and some other favourites – Christmas Tales and Pacific Theatre's Christmas Presence – are all but sold out (though you might get the last couple of tickets, especially if you're willing to venture out to Bowen Island or Abbotsford, respectively).
Here are some concerts to consider:
Festival of Lessons & Carols (Lynn Valley United Church, Dec 20)
The Festival of Lessons and Carols is a long-time tradition that tells the Christmas story through songs and stories. Come share in Lynn Valley's annual, modern and reworked version of this timeless experience.
Christmas Carol Service (Mission to Seafarers, Dec 20)
Last year we had a full chapel and under candlelight we sang carols and listened to the story of salvation. Come and join the celebration and get your Christmas off to a perfect start.
musica intima: Sing Lullaby (Christ Church Cathedral, Dec 21)
Grounded in the British choral tradition, this concert features seasonal music from Herbert Howells and Kenneth Leighton, as well as the newer generation of English composers, such as Jonathan Dove and James MacMillan.  Also on the program are works by Canadian composers Kristopher Fulton and John Burge.  Join us for the lush warmth of the Christmas season!
​Vancouver Cantata Singers: Christmas Reprise XVII (Queens Avenue United Church, Dec 21)
Our 17th annual Christmas Reprise brings traditional carols and contemporary holiday compositions for unaccompanied choir. This year our most popular concert will feature Hieronymus Praetorious's masterpiece Magnificat quinti toni, Morten Lauridsen's exquisite setting of O nata lux, and our signature rendition of Franz Biebl's Ave Maria.

Early Music Vancouver: Festive Cantatas (Chan Centre, Dec 22)
Giovanni Gabrieli, who died in 1612, was without a doubt the greatest composer of the Venetian High Renaissance. We celebrate the holidays this year with music by this Venetian master, his uncle Andrea, and their contemporaries. This is music that would have echoed from the mosaic-covered vaults of Saint Mark's Basilica as well as other Venetian churches.
And there are several more; check below.
Extreme Weather Shelters
The City of Vancouver tweeted this out yesterday:
PLEASE SHARE: Due to cold weather, Powell Street Getaway will be open as a warming centre tonight (December 18th), along with EWRs across #Vancouver. If you need to stay warm, you will be welcomed at one of these facilities. For details, see tables below: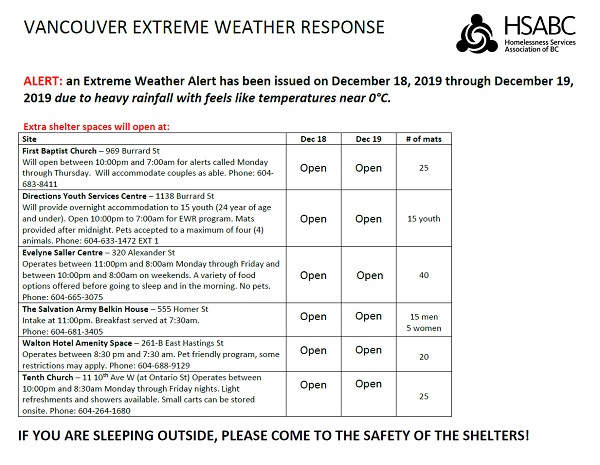 It is good to see First Baptist Church, Salvation Army Belkin House and Tenth Church on the list. A complete Shelter and Street Help Line (bc211) offers a comprehensive listing of all shelters in Metro Vancouver and the Fraser Valley. Again, there is good representation by churches and faith groups.
Vigil for the Silenced
The 15th annual Vigil for the Silenced will be held outside Christ Church Cathedral over lunchtime this Saturday (December 21).
Here is the invitation from pastor Barry Morris (the Longhouse) and friends:
Advent prepares us for the birth of the One who embodies caring and daring – including those who have been excluded or crumbed from the rich tables of society. Something about being born in a "cowshed," amid the phenomenally hierarchical Roman Empire, links to us, now.
We vigil to summon a setting right of that which has caused hurt, exclusion, anguish and silenced people.
Well-intentioned annual blitzes to donate goods for the homeless or food banks or contribute gifts to "needy" children might mask the dark reality of political and economic policies that perpetuate inequalities with poverty and homelessness.
Contact: Barry: [email protected] or Vicki: [email protected]
No Events