The following is excerpted by permission from Frank Stirk's just-released – and long-awaited – book, Streams in the Negev: Stories of How God is Starting to Redeem Vancouver (Urban Loft).
As soon as a search of the City of Vancouver Archives turned up this photograph, I was captivated by its symbolism.
The photo (actually two photos combined to give a panoramic effect) looks south from the intersection of Hastings and Seymour streets toward Pender Street in 1892. What is immediately noticeable is the visible Christian presence, including four churches.
From left to right, according to accompanying notes, they are: Homer Street Methodist Church, the tower of Holy Rosary Church, the spire of St. Ann's Academy (a Roman Catholic school), the spire of St. Andrew's Presbyterian Church and the tower of First Congregational Church.
Every building in this photo is now long gone. Stand at Hastings and Seymour today and there is absolutely nothing left from this earlier time. (Of course, Holy Rosary Cathedral, as it is now known, still exists, but the structure glimpsed here was demolished and replaced in 1899 by the one that still stands at Richards and Dunsmuir.)
It's been more than a century since churches and crosses atop steeples were so prominent in views of Downtown Vancouver, and those days are probably gone for good.
But here is what fascinated me about this old photograph: The sight of churches in the Downtown peninsula may have all but vanished apart from several heritage buildings; and yet the area actually contains more churches now than at any point in its history.
The difference is that these newest ones are not located in their own stand-alone buildings but are instead woven into the very fabric of the community. Westside is alone among the newer churches to actually own a building, but even it was originally built in 1995 as a performing arts theatre. In other words, while the Church is returning to the peninsula, its presence is not immediately obvious to the people who live and work and visit there.
And yet there they are: churches that are hidden in plain sight.
And that's a good thing, because churches in buildings are no longer the focal point of community life as they once were. Today most churches must struggle with a secular culture – and Vancouver is intensely secular – that sees them as out-of-date and irrelevant and perhaps even a social threat. They barely figure in community planning, for example.
The reality therefore is that Christians whom God is calling to serve in Vancouver must disavow any expectation that people will come to church on their own, although it can and will happen, and instead seek by every legitimate means possible to bring the gospel to them.
The challenges they face are huge. Most planters are living daily on the knife edge; it would not take much for them to face setbacks big enough to jeopardize their ministries despite all their prior "successes."
If one were to measure the transformational impact these churches are having by Sunday worship and small group attendance and the number of baptisms alone, the results to date could be worrisome.
"It's sobering," says Alastair Sterne, the lead pastor at St. Peter's Fireside Anglican Church, which meets at Robson Square. "Westside has seen phenomenal growth. It's great there are maybe 1,500 people there now. But that's nothing in terms of influence in this city. If you compare that to like a voter demographic, you couldn't even influence who's going to be the Member of Parliament. That's how insignificant it is. And so there has to be a movement of God."
But Jason Byassee, a professor with the Vancouver School of Theology, seems more hopeful that this movement is already happening. After visiting churches in Vancouver across the denominational spectrum, he's "convinced that . . . God is still alive and well here and wherever God is alive the Church is getting born."
Jonathan Bird with the CityGate Leadership Forum also sees God moving among Vancouver's churches. "I'm actually stunned by the quality of the pastors. The level of education, of thoughtfulness, of cultural awareness among church planters and the pastors who've been here 15 years or more really impresses me," he says. "Vancouver is a brilliant laboratory for twenty-first-century mission, and God has put some brilliant people here."
That said, Bird knows of many churches across the city, evangelical as well as mainline, that are in real jeopardy. "I think the reason most people go to church is not so that they can be inspired and refueled, to be sent out changed and agents of change," he says, "but rather to be reassured that 'in the midst of my chaotic life, this at least remains the same.' If anything's going to kill the Church, that will."
The bottom-line question is how many people, usually millennials, are actually coming to Christ through these new Downtown churches – how many are new converts to a transformed life, and how many had made some kind of previous faith commitment but had left the Church for whatever reason and are choosing to return. Or both.
"I can count certainly on one hand the number of actual conversions that have happened in Artisan's life that we have baptized that have come to faith from an entirely non-faith background," says Nelson Boschman, Artisan Church's pastor of spiritual formation, which now meets in the Downtown Eastside. "The vast majority have been those who have gone on a journey back to Church and maybe are being discipled for the first time or in an intentional way."
These people are often called the "de-churched." Many of them, says American author and pastor Skye Jethani, "haven't walked away from faith in Christ. These Christians have simply lost confidence in the institutional structures and programmatic trappings of the church. For them the institutional church is not an aid in their faith and mission. Rather it's become a drain on time, resources and energy. It feels like a black hole with a gravitation pull so strong that not even the light of the gospel can escape its organizational appetite."
Over at Trinity Central, "the whole de-churched demographic is quite large," says eldership team leader Rhys Scott. "Certainly, we're having a lot of conversations with de-churched people. A lot of our experience has been that people love the belonging in the community and the sense of 'I'm joined to people that I love hanging out with.'"
"We reach a lot of people who felt like their faith wasn't connecting with life, but we're trying not to build the church on transferred growth," says Sterne. "We're still figuring out how to reach someone who has never entered a church. We're reaching a few people. It's hard. And I think a lot of churches are acknowledging that's the next hurdle in terms of reaching the person who has no Christian background."
But Marlon Brown, the pastor of Awake Vancouver – now relocated to South Vancouver – thinks what's really needed given how resistant and ignorant most people are toward Christianity is something a lot more basic.
"Don't get me wrong when I say this," he says. "I don't necessarily need to see thousands of people get saved right now. I want to see thousands of people get saved and I pray that comes. But I think right now our calling is just to make Jesus part of the conversation. I don't really feel as though Jesus is a part of the conversation here. I think he wants to call churches to make Jesus relevant again, to try and introduce people to him, just to get his name back at the dinner table, and back at the coffee shop, and back at the office. I want Christians to rise up and make Jesus part of the conversation."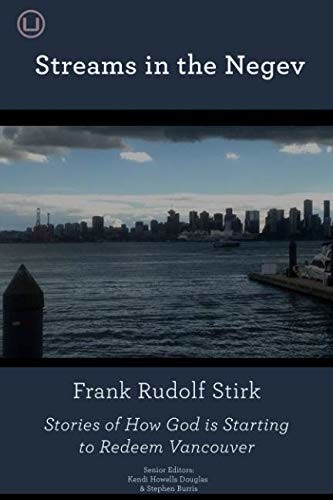 Urban Loft Publishers describe their role in this way: "It is our task to provide fresh perspectives on contemporary urban contexts."
They say this about Frank Stirk's new book:
Churches have been a rare commodity throughout Vancouver, most of the attempts at planting churches in Vancouver came to nothing. As you read this book, you'll see God has better things in mind for Vancouver. In Vancouver – a spiritually "drought-stricken" city there is "a sudden rain" of God's grace starting to penetrate its hard, sunbaked soil, and new life is breaking through.
This book will be interesting and useful for anyone who cares about the health and growth of the church in Vancouver.
Frank Stirk was a journalist for over 40 years. Now retired, he lives in North Vancouver and attends Cityview Church in Vancouver.