George Verwer is a man on a mission – and has been from the time he became a Christian at a Billy Graham Crusade when he was 14 until today, as he travels from city to city around the world – including Vancouver last Saturday (March 16) – celebrating his 80th birthday with old friends and fellow workers.
Verwer is the founder of OM (Operation Mobilisation). Here\s how it began:
At college, George and two friends met regularly to pray. They became burdened by the spiritual needs of Mexico. In 1957 the three friends sold some of their own possessions to raise money and gave up their summer vacation to distribute Gospels and other Christian literature in Mexico.
The friends returned to Mexico the following summer, and the next. . . . The response in Mexico was so encouraging that they opened a Christian bookshop and launched evangelistic radio broadcasts there.
Worldwide influence
OM is probably best known for smuggling Bibles into Eastern Europe and especially for its unique approach to distributing Christian, educational and children's literature from OM Ships (currently Logos Hope). But they now undertake a very wide range of ministries in more than 100 countries.
For more than 50 years, OM has been a significant worldwide missionary force. Some 6,800 workers from more than 100 nationalities take the gospel to millions of people every year. Their core value is – "to see vibrant communities of Jesus followers among the least reached."
OM workers have founded more than 100 other ministries, large and small. Among the better known ones are Dalit Freedom Network (which has an office in Surrey), Gospel for Asia, Frontiers and People International.
Local connections
Just sitting there with Verwer in the Waterfront Centre Food Court near Canada Place provided plenty of evidence of the quality and variety of people who have worked with or been influenced by OM over the years. He met with people all day long, but just in the hour or two I was there many influential local and international leaders stopped by. Old friends and co-workers, others with similar interests – all helped to illustrate the difference a person with a vision can make.
Among them:
Bert Kamphuis hosted the event, along with Rob Sinclair. After working with OM as a young man, he led OM Canada for several years. He has been very involved with the strategic International Student Ministries Canada since 2001, first in Kamloops and now in Metro Vancouver.
Rob Sinclair spent many years with OM in India before developing a ministry which provides biblical resources for South Asia. He still visits India very regularly and is walking the length of the Ganges River, in stages. (He and his wife Carol walked to the source of the Ganges back in 1988.)
Randy and Margo Hoffmann serve with the Baptist General Conference of Canada as recruiters, trainers and educators, and head up the BGCC Muslim Ministry Team; they regularly reach out to Muslims around them. And I'm sure I remember Margo welcoming me to the very first Perspectives course in the Vancouver area many years ago.
Peter and Doreen Quek met through OM; he was in Asia and she worked with Verwer on the International Coordination Team in Bromley, England. Peter has served as a teaching pastor for several congregations in Singapore, Toronto and Vancouver, and for a time worked at Regent College. He is now director of development for LeaderImpact Metro Vancouver.

Christina Aji, a young adult from Damascus, Syria worked for five years with New Heights ministry based in Lebanon. She wants to share how Canadian churches can engage more with God's work in the Arab world and led a seminar at Missions Fest this year.
Others were Edith Granholm, now teaching at Trinity Western University; Bob Isaac-Renton, an architect who specializes in residential, care and church projects; Paul Ndukwe, CEO of Link International Ministries / ACES Canada; and Ernesto Wong, who first met Verwer in Mexico 40 years ago. All were involved on the ships or other OM. missions.
Local OM reps George and Janet Barathan weren't there, but that is only because they are overseas working with war widows in South Asia.
Young 'fanatics'
OM was noted for its rigorous approach. To the Least Reached, a book chronicling 60 years (1957 – 2017) of OM makes it clear that Verwer's personality was a major influence.
For example:
While in college, George met Drena Knecht, a film department secretary from Moody Radio who shared his heart for missions – so much so that after their simple wedding in January 1960, they skipped their honeymoon and drove straight to Mexico to operate their bookstore together. Any doubt in Drena' mind that life with George would be an adventure probably vanished on the trip south, when he bartered their wedding cake in exchange for fuel! [Their 60th anniversary will be next January.]
Or this:
After receiving a sacrificial donation from a small Mexican church, George asked the pastor if he had a suit (he did not). Sitting in a darkened van, George said, "I have plenty of clothes" and took off his own suit, passed it to the pastor and drove off. He arrived at the team house around midnight, wearing only his underwear. This was typical.
Or:
An 'OM Happening' in 1969 in India was advertised as "living, eating, sleeping, praying, preaching, studying with young people from across India, England, America, Africa and Europe." Attractions were listed as "sleeping on the floor and eating off banana leaves."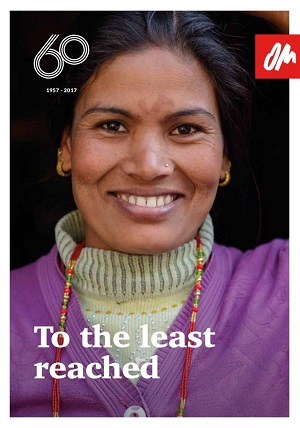 One chapter, 'OM's radical lifestyle' gave a sense of where that style of living came from:
OM began on the cusp of the 60s, when young people worldwide were challenging the status quo. This was the perfect environment for an iconoclast like George Verwer and his nonconformist followers to bring a clear call to radical discipleship demonstrated in lifestyle and philosophy, not for a summer but for a lifetime.
Its purpose was to put God and His kingdom above all else, particularly personal comforts. 'The Spanish Manifesto,' written in 1961 by a group of early OMers – "25 students in love with Jesus Christ" – captured this spirit:
The Lord Jesus Christ was a Revolutionist! Consider . . . His most basic teachings: 'Love your enemies. Whosoever will be chief among you, let him be your servant. Lay not up for yourselves treasures in earth. Except a man forsake all he hath he cannot be my disciple.' . . . The Lord Jesus broke with any cultural pattern which interfered with the life of sacrificial love which he came to give!
The individual who would live this life is of necessity a revolutionary individual, a cultural non-conformist, a 'fanatic' if you please! . . .
(I felt enough of OM's rigour to scare me off as a brand new Christian. After becoming a Christian in Zambia in 1977, and following the advice of my hosts, I travelled overland to Dar es Salaam, Tanzania to join the first Logos. Though I spent 10 fruitful and enjoyable days on board – in Dar, and en route to Mombasa, Kenya – I decided their request that I commit at least two years on board studying the Bible was a bit much for my still somewhat frail faith. Things ended well, though, as I ended up at L'Abri in Switzerland, where I met my wife Margaret. And I learned from Verwer the other day that there was a good bond between OM and L'Abri.)
The current international director of OM, Lawrence Tong, notes in To the Least Reached that there is still a place for fanatics in OM:
God uses fanatics – intensely focused individuals – in our midst to challenge our presumptions and cause the kinds of changes we need to grow and develop. . . .
But the book also showed that Verwer has matured, referring to what he had written as he looked back on his earlier days:
When I was a young Christian, I had a tendency towards extremism and super-spirituality. If I had not learned to accept the human factor in myself and others, I would have been knocked out of the race very early on.
The person who held forth in the Food Court was still pretty forceful, but he had clearly learned some important lessons along the way. (Read The Marks of a Difficult Person, which he posted on his website earlier this month.)
Referring to people with whom he has worked closely and still respects (and possibly to himself), Verwer said, "Godly people make stupid mistakes." He also said he has learned  that "God operates completely different from all of us," and our expectations.
Motivator for missions
Rob Sinclair told me that Verwer is above all else "a motivator for missions."
John Hall, executive director of Missions Fest, who also spent some time with Verwer during the reunion, recently wrote this for The Light Magazine:
George has been a guest speaker at Missions Fest Vancouver from the early days. [Wearing the same world map jacket he had on at the Food Court.] His first visit was in 1987 and his most recent in 2008. If you've ever heard George speak, it becomes apparent very quickly that he is a man filled with passion for following Jesus, who desires to see others follow Jesus to the ends of the earth.
In his article for the 2008 Missions Fest magazine, George shared this:
Christians must take ownership of world missions. I have noticed a tendency for people to think that some other person or group is going to do it. I notice, in meetings right around the world, that it seems to be only a small number of people who are really taking ownership of the task.
To be concerned with missions mobilisation involves a sense of personal responsibility. As we inform ourselves about missions, we need also to sense the weight of responsibility to take action. It's possible to even be a missionary and yet not really take ownership of the bigger vision and task.
Taking ownership means prayerfully developing goals and aims. . . . What we need are tasks in which we can see a combination of the 'possible' and the 'impossible.'
These words still ring true, particularly as the Canadian church struggles to understand its role in global mission. . . .
It was a pleasure and an inspiration to meet with George Verwer, and his partners in mission.