The church is resilient, not fragile. There are signs of decline, but also of renewal. Religious congregations contribute billions of dollars to the good of our nation.
Such are the findings of two recent studies by WayBase and Cardus, and of the ongoing Halo Project.
City Impact Tour
Metro Vancouver leaders can hear directly about the WayBase findings next Thursday morning (June 16) at Tenth Church.
The City Impact Tour has visited about 15 cities across Canada, including Langley (with Surrey and Abbotsford) June 7.
Here is what to expect:
A three-hour event for Christian leaders and pastors, designed to foster a fresh sense of mission and working together for good in Vancouver.
Connect with local Christian leaders and share ideas.
Gain insights from the WayBase 2022 national survey about opportunities to revitalize churches and ministries.
Learn about the current needs in our city and ways to respond to these needs.
New resources and tools to help engage your people and better serve your city.
The City Impact Tour is a collaborative effort involving city networks and ministerials, as well as national associations and ministries, including Alpha Canada, A Rocha Canada, 24-7 Prayer Canada, Cardus, World Vision, International Justice Mission, Youth Unlimited, the Evangelical Fellowship of Canada and many others.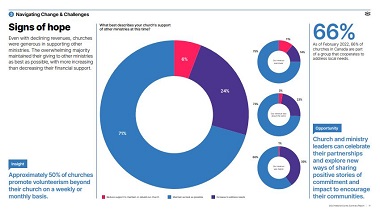 Here is a recent release about the research being discussed:
WayBase has released The Next Normal, its 2022 National Church Survey Results, with better-than-expected findings. The research reveals a call to church and ministry leaders to leverage a pivotal "moment of uncertainty into one of possibility," shares WayBase.
Based on the responses of over 2,000 Canadian Christian leaders from coast to coast, the survey provides insight into the current state of Canadian churches and ministries, how they have adapted to shifting challenges and future implications. Despite the incredible difficulties of the last two years, the findings reveal unexpected stability, commitment to technological innovation and an opportunity for future investment.
"Division, drifting engagement, declining income, and struggling leaders were some of the challenges that seemed to exacerbate over 2021. Yet, there are strong reasons for hope. The Church is poised to turn a moment of uncertainty into one of possibility. It has shown that it can be resilient, that it is not fragile," states a WayBase spokesperson.
Some key findings reveal significant opportunities, for example:
The 'Great Resignation' has not impacted the church. 90 percent of church and ministry leaders intend to stay in their current role for the foreseeable future.

While this commitment is commendable, the energy levels of most leaders are either moderate or low. This is a time for leaders to re-energize.

Older leaders want to stay with their organizations. 79 percent of senior leaders over 60 years old are not planning to retire in the near future.

While this presents stability, older leaders must be mindful that this provides fewer opportunities for younger leaders ready for senior positions. This requires investment in the leadership pipeline.
The number of churches providing online services has quadrupled since 2020.
However, more than half of churches do not plan to have an online service going forward, primarily because they don't feel they've found the right digital tools for engagement and evangelism. This presents an opportunity to build on the momentum of online services and explore new technology to engage people.
"As our world continues to navigate the challenges of the pandemic and our rapidly changing world, it's clear that the church will need to adapt in order to flourish," adds Stephen Mulder, WayBase's Director of National Engagement.
"With much change on the horizon and the increasing complexity of our world, it is essential that we strengthen the church to remain strong, vibrant and bring renewed hope to a hurting world."
Download the summary or sign up for the full report here. Better still, participate in the City Impact gathering at Tenth Church June 16.
Why the Faith?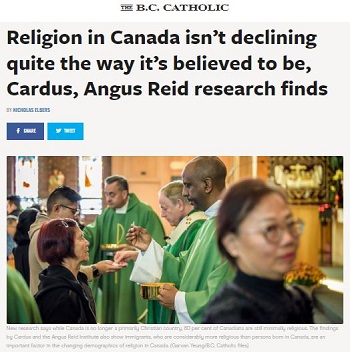 Cardus is in the midst of a cross-country Why the Faith? tour, which also stopped in Vancouver and Langley (May 17 and 18).
An article in The B.C. Catholic described the meeting at Trinity Western University. Here is a portion:
A five-year study by a non-partisan think tank is complicating the narrative of Canadian religious decline while highlighting the shifting and sometimes complicated nature of Canadian religious identity.
The religiosity of Canadians aged 18 to 35 was one of the surprises identified at a recent presentation of a major Cardus study of Canadian religious identity. . . .
[Ray Pennings, Executive Vice President of Cardus,] told meeting participants that the research grew out of dissatisfaction at Cardus and Angus Reid with the prevailing narrative of declining religiosity in Western countries, and in Canada specifically. Pennings believes the findings will complicate this narrative while providing insight into the shifting nature of Canadian religious identity. . . .
Though he stressed that much of the interpretive work still needs to be done, he said two major trends are undeniable.
First, the data clearly show that people in Canada are still mostly religious.

According to the study, at least 80 per cent of Canadians who identify with a religious faith can be classified as at least minimally religious, ranging from 'spiritually uncertain' to 'very religious.'
This, he said, puts to rest the popular myth that Canadian society is shifting toward complete irreligiosity.
Still, there were some trends he described as worrying. Even though the religious and nonreligious categories are relatively stable across all major religions, Cardus' data shows a clear trend of people moving from 'privately faithful' to 'spiritually uncertain.'
The second major trend in the data, according to Pennings, is that demographically Canada is no longer a primarily Christian country and that immigration has become the most important factor in the changing demographics of religion in Canada. . . .
Go here for the full article. An April 18 survey by Cardus and the Angus Reid Institute can be seen here; I wrote on it here.
$18.2 billion Halo Effect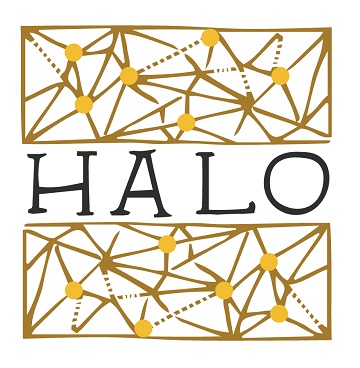 A June 8 release from the non-partisan think tank Cardus is clearly titled: 'Religious congregations produce $18.2 billion worth of benefits for all':
Canada's religious congregations contribute an estimated $18.2 billion worth of benefits to their surrounding communities, according to newly updated calculations at haloproject.ca.
The dollars-and-cents measurement of the good that synagogues, mosques, churches, temples, gurdwaras and other religious congregations produce for all Canadians is known as the Halo Effect.
These benefits include religious congregations' involvement in soup kitchens, immigrant and refugee settlement, addiction programs, providing community space for outside organizations and groups, and even supporting local businesses.
"It's easy to pass by a church or temple of some kind in your neighbourhood and just admire the architecture, not stopping to consider just what an effect the folks who worship there have on the surrounding area," says Dr. Lisa Richmond, vice president of research at think tank Cardus.
"The updated calculations at the Halo Project are a good reminder that religiously motivated activity goes well beyond holding worship services, creating measurable benefits for all Canadians."
According to the new calculations at the Halo Project, for every dollar a religious congregation spends, the surrounding community gets an estimated $5.02 worth of benefits in rural areas and an estimated $3.32 worth of benefits in urban areas. Applying those multipliers to all 20,400 houses of worship in Canada (with annual budgets of at least $33,000) results in an estimated national Halo Effect worth $18.2 billion.
Cardus has been publishing research on the Halo Effect of religious congregations since 2016. Data on congregations' budgets comes from the T3010 Registered Charity Information Return that houses of worship submit to the Canada Revenue Agency. Researchers then consider 41 distinct ways that houses of worship spend their budgets, which fall into seven broad categories:
open space (e.g. recreational use)
direct spending
educational programs (e.g. a daycare on site)
magnet effect (e.g. spending by visitors attending weddings, funerals, etc.)
individual impact (e.g. helping immigrant and refugee families settle in Canada; marriage and family counseling)
community development (e.g. job-training, housing initiatives)
social capital and care (e.g. programs that benefit people in the surrounding community, volunteer activities, food banks)
Visit the Halo Project site to calculate the Halo Effect of any individual religious congregation, or even a group of congregations by postal code, city, province or territory.