Jonathan Bird has been working on a unique project with the City of Vancouver and is offering an opportunity to inform how the Christian community and the City interact in future for the common good. Read his article and look for ways to respond.
A couple of weeks ago, I reported that the City of Vancouver is very concerned that many churches and nonprofits may have little choice but to sell their properties in the near future to market housing development.
That would destroy badly needed "community-serving spaces" for all kinds of community groups, social services, arts and cultural events, as well as the potential to construct affordable housing on their sites.
In response to the crisis, City staff from five departments are engaged in two major projects to draft policy changes they hope will help preserve, enhance, and sustain community-serving spaces in Vancouver for generations to come.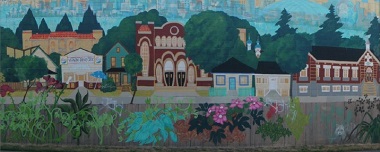 As part of the fact-finding and listening stage of these twin policy projects, the City convened forums in early May, one for non-profits and one for places of worship, and contracted me to facilitate both.
This week I'm able to share excerpts from the summary report from these forums, which I wrote, because the City has now circulated it to the forum participants.
In order to keep this article relatively brief, I'll wait until next week to describe my key takeaways for churches and the Christian community at large. In the 15 years I've been helping churches engage with municipalities, I've never been more hopeful that genuine dialogue is keenly desired on both sides of the table – nor more convinced that time is running out for it to happen with good outcomes.
Meanwhile, I very much want to hear from you!
What stands out for you in these excerpts? What rings true for your church? Would you add anything in response to the questions, that hasn't already been said? Do you have an example of how one or more of the issues raised below have been overcome? What should the Christian community and/or the City do next?
Please share your thoughts in the Comment Section. Or if you have something to say that you want to keep private, email me at [email protected].
The following is excerpted from the Summary Engagement Report of the Community-Serving Spaces Forums. The responses were given in answer to three questions:
In terms of preserving and enhancing your current facility, what challenges (physical, administrative, intangible) do you face?
If you are redeveloping your property, or were to do so, what challenges do you face for implementing the aspects of your mission/mandate that deliver services and programs to your members and community?
What do you see as some ways to overcome some of the challenges that have been identified?
Responses provided by Non-Profit Community-Serving Organizations (NPOs) & Places of Worship (PoWs)
Infrastructure and maintenance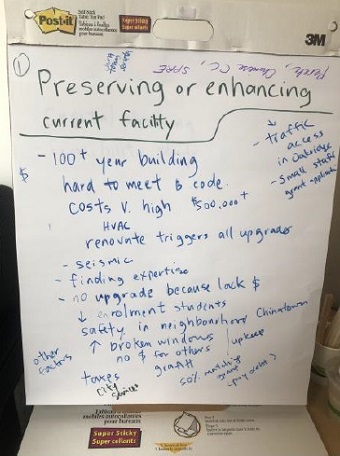 Both types of organizations named costly problems with aging buildings. PoWs  mentioned the need to upgrade for wheelchair access or daycare use. PoWs also indicated that a barrier to major repairs and upgrades is that these trigger prohibitively expensive new building code and parking requirements.
Space rental
NPOs use catering, restaurant and venue rental revenue as key sources of operational income, and they want to include social enterprise and commercial lease spaces in their redevelopment strategies. PoWs, on the other hand, more typically use their kitchen capacity to offer free/low-cost food programs and they rent out spaces for free or at modest rates, especially to mission-aligned groups.
Tax status
PoWs were wary of earning too much revenue through rents or social enterprise because they fear this would jeopardize their charity status with CRA or trigger sharp increases in property taxes as the BC Assessment Authority would re-classify their operations. Where NPOs mentioned taxes, they seem more concerned about municipally/provincially controlled property tax, rather than federally controlled charity status.
Municipal processes, heritage designation
PoWs voiced considerable confusion, lack of knowledge, anxiety and critique of City processes and zoning considerations – even to the point of feeling penalized and excluded in various ways by the City. PoWs seem more concerned about having to combat NIMBYism than NPOs, and are much more likely to be impacted by the benefits and liabilities of heritage designation.
Missional alignment
NPOs did not emphasize a strong concern with regard to aligning their missional decisions with the needs/priorities of the City or the preferences/opinions of their neighbours.
But for PoWs this was a repeated refrain. They emphasized that community-serving uses are integral (or else secondary) to their identity as communities of faith and to their liturgical (worship) practices. They felt this religious nature and functionality makes them fundamentally different from other social/public spaces, and that this in itself contributes to the common good and thus qualifies as a community amenity.
They are keen to consider enhancements to their current facilities or redevelopment plans that include purpose-built community-serving spaces or affordable housing, but they resist any such which might limit their ability to thrive as religious institutions both now and into the far future.
They said they feel their core functions as PoWs are being squeezed out of needed FSR (floor space ratio) in order to make room for other community-serving uses the City prioritizes.
Future-proofing
PoWs showed concern with future-proofing major upgrades or redevelopment projects. Concerns include gaining community support, designing flexible spaces, leaving room to grow and getting the right mix of affordable housing.
Organizational capacity
NPOs and PoWs acknowledged the need to find more money and external expertise, but NPOs focused on the former whereas PoWs focused on the latter. While NPOs recognized the need to partner in order to move forward with major upgrades or redevelopment, PoWs discussed partnership in greater depth, seeing it as essential, yet focused on the challenges of carefully selecting the right, aligned partners.
Responses from Places of Worship
Apart from the general responses noted above, responses given by NPOs were echoed by PoWs. There are, however, additional distinguishing emphases and remarks.
Site and architecture constraints
Some PoWs said their architectural design is too dated and inflexible to justify the expense of major repairs or incremental upgrades for new community-serving uses. Others said they are on a site too small for redevelopment, or on a residential street and thus presumably not eligible for rezoning with density bonuses.
While the membership of some places of worship is declining, others said they've outgrown their space or are seeking sites for "planting" new congregations. None suggested a solution for finding or assembling a large enough site elsewhere.
Parking and heritage constraints
Parking is much more an issue for PoWs. Some want less than what zoning requires, some need a lot more than they presently have. In any case, the cost of constructing parking is huge and may kill projects that would otherwise go ahead.
PoWs seemed to view potential heritage designation as a serious restriction on known and unknown future uses (not least because heritage elements tend to be the very design elements they find dated and inflexible for contemporary worship and community-serving uses).
Counter-productive zoning and city processes
PoWs expressed strong consternation that new master-planned neighbourhoods (eg, the River District) have no zoning requirements for religious space; therefore no land has been set aside for it, and it's very difficult to retrofit pre-built commercial spaces satisfactorily. They wonder if a new, specifically religious zoning regime can be introduced.
Representatives of PoWs that have centralized, denominational approaches to property redevelopment – and thus greater experience in dealing with municipal processes in many jurisdictions – noted that Vancouver is "no longer the best municipality for NPOs" and that they're experiencing conflicting/changing messages and priorities from different City departments, causing significant delays and cost inflation. They recommend the City develop a clear direction and a simplified, fast-tracked pathway.
Collaboration
PoWs are just as eager as NPOs to discover solutions through peer-to-peer and cross-sectoral relationships, possibly more so. Although, as mentioned above, they are very concerned to ensure tight mission alignment in a project partnership.
Commuting members and complicated governance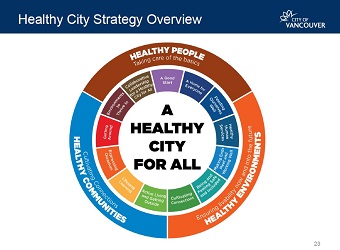 PoWs shared that some congregations consist mostly of commuters, who are therefore disconnected from the immediate neighbourhood and are less available for volunteering (note that NPOs did not express this dynamic, although some types of NPOs may also be composed of commuting members).
PoWs also emphasized that governance and membership dynamics, which vary widely from denomination to denomination and from congregation to congregation, can impede major capital decisions. Multiple levels of approval may need to be navigated. There is often much work to do around visioning just to get a congregation into a position for seriously examining their long-term property options, particularly when housing or community-serving uses are contemplated.
Healthy City Strategy
When looking at how PoWs plotted their programs and facility uses onto the Healthy City Strategy goals, they appear to offer a number of free food security programs and to be commonly involved with affordable housing or shelters.
They emphasized a good start for children (child/daycare, parenting programs, child and youth programs), life-long learning (faith education, ESL groups), healthy human services (12-step and other peer support programs), cultivating connections (community events, venue access/rental), being and feeling safe and included (refugee services) and expressing ourselves (music and drama lessons and performances).
Children, seniors and refugees are key clientele.
Jonathan Bird is church relations specialist with Union Gospel Mission.
All photos except that of Jonathan Bird and 'A Healthy City For All' are from the Summary Engagement Report of the Community-Serving Spaces Forums.