Our first week back living in Surrey, after 15 years in Ottawa, brought a trip down Billy Graham memory lane.
The occasion was a pastors' luncheon at Cedar Grove Church, during which attenders were given a joint presentation about a simple evangelism strategy. The session was co-chaired by Cedar Grove pastor Kevin Cavanaugh and David Macfarlane, Canadian director of national initiatives for the Billy Graham Evangelistic Association.
The strategy is built on the fact that Graham turns 95 any day now and has put together a series of videos under the rubric of My Hope, in which he delivered what he believes could be his last sermon.
Your humble scribe, as it happens, was part of the committee that worked together with the Graham organization to bring the famous evangelist to Vancouver for an eight-day visit to BC Place in October, 1984.
At last week's luncheon, many of the attenders at the tables shared favourite Billy Graham stories from 1984 with their fellow diners.
Here was mine:
Some 20 years later, Licia Corbella – who has written for newspapers in Vancouver, Toronto and Calgary and is now the editorial page editor at the Calgary Herald – told me her story. It follows, as closely as I can recall.
She and her boyfriend, she said, had just moved into a Vancouver apartment. Their landlady invited them to attend a Billy Graham meeting that night. They went, and were moved to go forward at Graham's invitation, at the end of his sermon.
Before the counsellor could begin to help them in making their commitment, Licia noted that she and her boyfriend were "living in sin" and might not be worthy to accept Graham's – and Jesus' – invitation. The counsellor called over his supervisor to consult. The supervisor pointedly drew on the biblical suggestion that "now is the accepted time."
As I recall, Licia told me that they returned on the closing Sunday to put a seal on their commitment. That was the story.
And, yes, Licia and her boyfriend married soon after. Today, they have twin children who are now almost at adulthood.
Licia has battled cancer and sensed God's healing touch in the intervening years. And she has permitted her strong Christian faith to appropriately influence her coverage and analysis of community, social and faith events in Calgary – as well as the effect of such activities in places like Afghanistan. It is worth the effort to google her name for some of her writing, then place into the background her account of that significant day in October, 1984.
My Hope Canada looks ahead
Back to Cedar Grove Church, this past Wednesday, October 30: Cavanaugh and Macfarlane were looking ahead, not backward. They both believe that churches could be strengthened with simple, clear evangelism strategies. They were proposing the following:
Christians are encouraged to invite neighbours into their homes for a 'birthday bash' for someone who is widely loved and who is turning 95. That's Billy Graham, lest we forget.

During the gathering, a video is shown, in which Graham, sitting in comfortable chair beside a fireplace in his rustic North Carolina home. He quietly and clearly enunciates one of his key messages drawn from over 70 years of preaching – that the cross of Christ is the place where God reaches out to people in reconciling love. And he declares that the same cross is where people come, figuratively, when they commit their lives to Christ.

The drama of the video is the interspersing of sermon excerpts from a younger Graham, preaching to great crowds around the globe.
The contrast between the public presentation of the great evangelical orator and the quiet fireside chat of the older man, pooch at his side, sets the table for watchers of the video to quietly make their own life-changing spiritual commitments.
My Hope Canada with Billy Graham will be broadcast several times during primetime November 7, 8 and 9 on Vision, CTS, the Miracle Channel, Joy TV and Hope TV.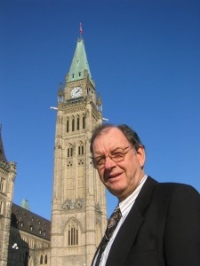 With Lloyd Mackey's return to Surrey – into the Central City urban centre, to be specific – his OttawaWatch column will undergo a name change. It will henceforth be known as CityWatch.
Lloyd is continuing his Doctor of Ministry studies through Tyndale Seminary in Toronto. For feedback, until November 9, his email is lmackey@rogers.com. After that, it will be lloydmackey@shaw.ca.
                             ***********************************************
For another interesting recollection of a major milestone in Vancouver's Christian development – in this case the World Council of Churches gathering in 1983 –  check out Rev. Ed Searcy's recent comment.