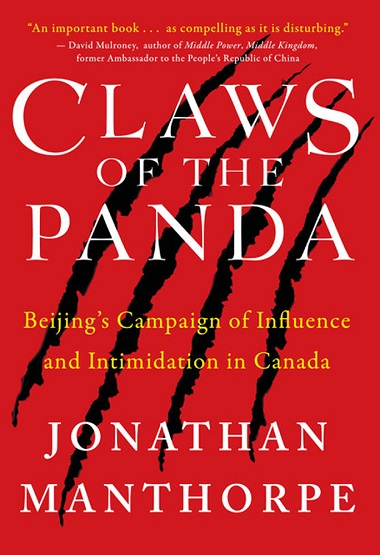 Hardly a day goes by without news reports about the troubled relationship between Canada and China – Meng Wanzhou and Huawei, Canadians held in prison, canola trade, money laundering.
Pundits debate whether we should stand up to China, whether we are being used by the United States as a pawn between superpowers, whether we should just focus on developing trade with China . . .
Claws of the Panda offers some timely insights for anyone following these issues. Subtitled 'Beijing's Campaign of Influence and Intimidation in Canada,' the book does an admirable job of providing context for the ongoing flurry of reports.
Author Jonathan Manthorpe is a veteran journalist with 50 years of experience as a foreign correspondent in Asia, Africa and Europe, now based in Victoria.
Former ambassador to China David Mulroney says of the book:
Manthorpe's account of China's clandestine efforts to influence people and politics in Canada is as compelling as it is disturbing. This is an important book for anyone who wants to understand China's growing influence in Canada.
Missionaries, surprisingly, receive quite a bit of attention in Claws of the Panda, from the first line on the inside flap ("Canada's long relationship with the People's Republic of China – first based on missionary zeal, followed by diplomacy and trade . . .") to the Epilogue's chapter heading ("Time to abandon the missionary spirit").
The threat
But first a bit more about the main thrust of the book. Here is an excerpt from page one:
Much of this book is about how the Chinese Communist Party (CCP) is running roughshod over Canadian values and interfering in Canadian internal affairs to a degree that sometimes amounts to a challenge to Canadians' sovereignty within their own country.
But this is not a book arguing that Canada should distance itself from the current regime in Beijing. As China under the leadership of President Xi Jinping and the Chinese Communist Party sees itself re-emerging as the world's natural, irreplaceable superpower after two centuries of "humiliation" at the hands of Western nations, engagement with China cannot and should not be avoided.
But what the sad and often difficult story of Canada's 150 years of involvement with China tells us is that we need to find a less self-delusional, more courageous and more intelligent way of dealing with the new version of the Middle Kingdom. If Canada does not redress and rework its approach to Beijing, this country may be steamrollered by the juggernaut of history.
The first two chapters explain why and how "Canada has become a battleground on which the Chinese Communist Party seeks to terrorize, humiliate and neuter its opponents".
Chapter One describes China's determination to battle the 'Five Poisonous Groups' – "advocates for independence for Tibet, Xinjiang and Taiwan, promoters of democracy in China and adherents of Falun Gong."  Manthorpe gives specific examples of harassment in Canada, and of violent physical attacks and imprisonment in China.
Chapter Two, 'The Hundred Strategies to Frustrate Enemy Forces,' examines "the machinery that the Chinese Community Party has fashioned to control, influence and milk its relationships with foreign countries."
Most of the rest of the book considers the history of Canada-China relations in some detail, from 'Chinese Build Canada; Canadians Save China' on to very current events (Claws of the Panda was published early this year). A recurrent theme is that politicians and the public have consistently taken an unduly optimistic view of those relations. While public opinion has soured considerably towards China, Manthorpe fears there is not yet enough political will to address the dangers posed by the rising superpower.
He provides background on Huawei, which is particularly important in Vancouver as Meng Wanzhou is being detained here. But he says, "The Huawei story was not the only indication that public skepticism was pushing a sea change in the Liberal government's attitude toward the activities of corporate tentacles of the CCP regime," providing insights on several other Chinese corporations (Nexen, O-Net Communications, Hytera Communications, China Communications Construction Company, etc) which have gained, or have sought to gain, a foothold in Canada.
Claws of the Panda provides the substance which is usually missing in news coverage. Consider this quote, which is followed up in detail:
Canada has continued to be useful to the CCP and its extended family among the red aristocracy, though not as a partner – more as an ATM and safe deposit box for money laundering.
Manthorpe points out that we are facing a double whammy when it comes to China – even as we are being infiltrated and harassed, we are actually losing ground:
Canada's importance in the eyes of the CCP shrank quickly in the 1980s and 1990s as other countries found themselves orbiting closer to China's sun. This change is evident in the trade figures. Canada was China's fourth largest trading partner at the time of mutual diplomatic recognition in 1970. By 2016, Canada ranked twenty-first, and it is continuing to sink.
Canada has served its purpose, opening the door to global society in the 1970s and ending the CCP's international purgatory after the Tiananmen Square massacre . . .
That is not the way the 'Mish Kids' would have liked to see things go.
Missionary zeal
I had not expected to read about James Hudson Taylor in a book warning us about China's current influence on Canada, but Manthorpe devotes considerable attention to his role in birthing missionary enthusiasm for China.
Having founded the China Inland Mission in 1865, he "decided to use the newly opened Canadian Pacific Railway to shorten his journey back to his home in China after a visit to Great Britain."
Though he initially had no desire to plant his work in North America, his reception changed his mind:
After a couple of weeks in Canada, Taylor observed "such deep wellsprings" [quoting from Alvyn Austin] of missionary enthusiasm that he set up a North American branch of the China Inland Mission in Toronto.
Taylor's visit coincided with a generational change in Canadian religious communities that saw the advent of an era of militant evangelism coupled with a strong belief in the Christian responsibility to promote social reform.
By the time Taylor continued on from Ontario, he had received strong financial support along with 42 applications; he chose 15 to accompany him:
On a damp September evening, about a thousand young people carrying torches marched down Toronto's Yonge Street to Union Station to see off Taylor and his band of Canadian missionaries. [!] Over the course of the next 60 years, approximately 500 Methodist missionaries went to live and work in western China. Their children remain active to this day through organizations such as Missionary Kids and the Canadian School in West China.
Manthorpe explains the long-term implications:
Thus, the missionaries and their offspring, brought up in China, fluent in the language and cultures – the so-called Mish Kids – were instrumental in shaping public support for the early recognition of the People's Republic of China after the Communist Party took power in 1949.
Sympathy for the CCP among the Mish Kids stemmed from two sources: antipathy toward the neo-fascist Kuomintang and politically left of centre interpretations of Christianity among Methodists and the United Church of Canada.
The Mish Kids and other scions of the Methodists, in particular, had a significant presence in the Department of External Affairs in the 1930s, 1940s and 1950s. They also played major roles in the evolution of Canada's independent foreign policy after the Second World War.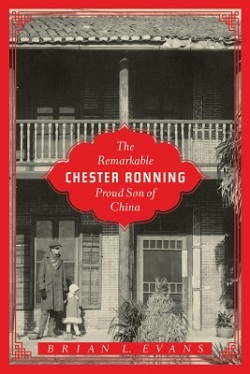 Significant figures such as James Endicott, Arthur Menzies, Paul Lin and Chester Ronning (note the subtitle in the book pictured) are discussed in some detail.
I daresay Manthorpe's assessment of missionary influence will come as a surprise to many – both to secular observers who discount religious influence on much of anything and on current supporters of missionary enterprises, most of whom who not have much sympathy with the deeply anti-Christian record of the Communist Party of China.
Though Claws of the Panda offers a wide range of helpful insights, I do have a couple of caveats.
First, a quibble about editing. While Manthorpe rightly refers to the pioneering work of Andy Yan, head of SFU's City Program, on Vancouver's dysfunctional housing market, he misspells his name (Andy Yam, page 206) and doesn't refer to him in the index.
The second is a matter of assessment. He states:
Canada's fascination with China surfaced in the 1880s, when this country began to send Christian missionaries across the Pacific. Then, as now, China appeared to be a vast market just waiting to gobble up what Canada had to sell. However, the belief that Chinese would rush to become Christians was just as much of an illusion as the conviction today that Chinese yearn to buy Canadian manufactured goods if they have the chance. . . .
That belief, that Canada could change China by the self-evident appeal of Canadian values, remains deeply embedded even today. Events in China show this view to be delusional.
Manthorpe's warnings about China's threat to Canada are timely and astute, but it is worth remembering that he and many others have underestimated the growth of Christianity in China. While it is true that Chinese people did not flock to Christianity immediately, there are now, by most reports, some 100 million Christians in China.
The missionaries' work was not in vain. And who knows, maybe the Mish Kids' – and Canada's – influence may be greater in the long run than we can see now.