Helen Sworn will be in Vancouver later this week to speak about her experience with human trafficking in Cambodia and around the world. For details of her two events (and two other related initiatives) see below.
The following article by Julia Cheung about Helen Sworn and her work is re-posted by permission.
Now that it's illegal to buy sex in Canada, anti-human trafficking activists like Helen Sworn are tentatively hopeful.
Sworn is founder and director of Chab Dai, a coalition of Christians committed to ending sexual abuse and trafficking. (Based in Cambodia, Chab Dai has branches in several other countries, including Canada; the name means "joining hands" in Khmer.)
Canadian law
Canada's new prostitution law, Bill C-36, was adopted in 2014. The Bill made it illegal to buy sex, spurring a cacophony of voices: feminists land on every side. Human rights are touted by all, but both sexually conservative and sexually liberal observers support or reject the bill.
One point of agreement: the vulnerable, the marginalized must be protected. But who fits into that category of 'vulnerable'? Scholars diverge. John Lowman, professor emeritus in criminology at SFU claims that sex work empowers women, even if it is their last resort – because it is a way of turning sexual capital into economic capital. Benjamin Perrin and Janine Benedet, law professors at UBC, view sex work as inherently exploitative of women.
"Cracking down on demand, on pimps, on johns, on drug dealers – it does provide a legal framework for the issue," says Sworn, who has studied the effects of both legalization and criminalization of sex work. "But beating at it with a stick won't stop the continuum of abuse."
Nordic Model
Canada's Bill C-36 follows in the footsteps of the Nordic Model of legislation – one that criminalizes 'johns' rather than sex workers.
"The Nordic Model hasn't worked well in Norway because it won't work without the social support systems," says Sworn.
"At the same time, a UN special report showed that since sex work was legalized in Germany – although the number of sex workers has grown from about 65,000 to 400,000 – only 44 of those workers chose to register themselves with a government-created national registry aimed to protect prostitutes."
Aware of the pitfalls of both legalization and criminalization, Sworn looks to collaboration within the private non-profit sector for answers to the human rights abuses that are linked to the sex work industry.
Abuses run the gamut of human trafficking, including instances where legal recruitment agencies convince rural Cambodian families to change a daughter's age on her ID card, sign a contract and have her working legally in a Montreal brothel within a year – despite her being underage. 
Network needed
"The whole of the global criminal network is connected. So stakeholders interested in fighting human trafficking need to find common ground, stop judging and stop silo-ing arguments," says Sworn.
This drive to collaborate led Chab Dai Canada to partner with a sex workers' union in Montreal, despite the clash between the two groups sexual mores.
"We got access into the brothels because the union agreed that all workers should have an opportunity to access counselling," says Sworn. "To the union's surprise, we ended up finding underage Cambodian girls there."
Freedom Collaborative

Chab Dai's collaborative approach has made the way for an online initiative that resembles a cross between Wikipedia and LinkedIn – social media for the fight against human trafficking. The online platform Freedom Collaborative, launched last year, is the first of its kind and has international ambitions.
"The reason that human trafficking is the fastest-growing criminal network in the world is that traffickers are networked and we are not," says Sworn. "We need to network."
Vancouver focus
There are over 170 organizations in Vancouver's Downtown Eastside doing humanitarian work, along with government resources, but there is no collective organism for partnership between the organizations. With this new online platform, Chab Dai hopes to link together government agencies, NGOs and grassroots movements in ending commercial sexual exploitation and human trafficking across Canada and beyond.
Through data collection, vetted memberships and a well-established steering committee, Freedom Collaborative will provide a referral mechanism for clients, a sharing of best practices and an attempt to patch over the gaps and overlaps that currently run rampant in the fight to end human trafficking.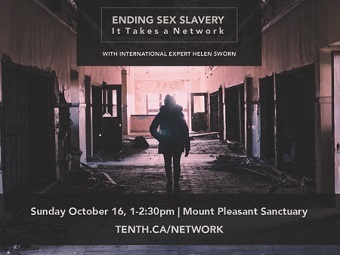 Helen Sworn will take part in launching a Joining Hands for Justice Campaign over dessert and stories at Groundswell Cafe in the Downtown Eastside October 14, 7:30 – 9 pm.
Hear more from her at Tenth Church Mount Pleasant October 16, 1 – 2:30 pm, as she addresses the topic Ending Sex Slavery: It Takes a Network.
Julia Cheung is communications manager for Tenth Church.
                                            ********************************
Three related initiatives will be coming up soon:
Trafficked Human Campaign
A local coalition says police and the city are not enforcing Canada's human trafficking law. The Trafficked Human Campaign will hold a press conference at the corner of Joyce and Kingsway on Tuesday (October 18) to draw attention to the need to protect women, girls, and aboriginal youth from exploitation in Vancouver.
A short prayer service will follow at nearby St. Mary's Church, 5251 Joyce Street.
Integrate
On October 21, Christ City Church will host Integrate: Sex Trafficking, Justice and the Gospel. Organizers describe the event in this way:
Worldwide, there are nearly two million children in the commercial sex trade. Let that settle in for a second. Two million children have been bought, sold or kidnapped and then enslaved. Two million. 
Sex trafficking drives significant profits for perpetrators – a subset of the $150 billion market value of illicit human trafficking.
Phil Reilly of International Justice Mission (IJM) will make and presentation; he will then be joined by several panelists:
Christen McCallum, board member, REED 
Dave Nikkel, constable, Vancouver Police Department and Member of Christ City Church 
Brett Landry, lead pastor, Christ City Church
Over 18
Over 18 is a documentary about pornography which will be showing at several churches in the area during November. The film, produced by Hope for the Sold (which also made Red Light Green Light) is "a feature-length documentary to combat pornography addiction among children and teens."
Over 18 will be shown at West Coast Christian Fellowship (November 6), John Paul II Pastoral Centre (November 7), Granville Chapel (November 15) and Tenth Church East Van (November 16). It will also be shown at several Fraser Valley churches.