Creating Conversation is a weekly editorial, curated by the Centre for Missional Leadership (CML), and gives opportunity for people to speak about issues they believe are vital for the church in Vancouver.  
One of the goals of this weekly article is to spark dialogue – and action. We invite you to join the dialogue here on the Church for Vancouver website.
We also invite you to use the article as a discussion starter with your small group, church staff, friends and your neighbours. Thanks for participating in the conversation!
The world cries out for justice, creation is groaning, we are in the midst of the worst global refugee crisis recorded in history, the gap between the rich and poor is growing and the roots of racial injustice continue to be uncovered worldwide and at home here in Canada.
Many are wondering, what is the answer? What is our responsibility as leaders in the church?
The starting point is prayer, and the vision is Jesus. Prayer might seem a passive response to the world's most complex issues, but that could not be further from the truth. Meeting with the living God in prayer is an immense privilege. It is the purpose of our very existence and what the world needs. 
Saint John Vianney says, "Prayer is the inner bath of love into which the soul plunges itself."
Is your soul weary? Are you worn out? Tired? Do you feel disillusioned? Consider this your invitation to jump into the unforced rhythms of grace that the Spirit of God extends to you, the inner bath of love that rescues and restores the soul.
This November 25, Canadians from far and wide will join 24-7 Prayer Canada for our National Prayer and Worship Gathering in Vancouver! 
Please consider gathering with us for a day of prayer, worship, equipping from scripture and responding to the Spirit. Though Canada is physically entering a winter season, God is saying in the Spirit, the season is spring. Therefore, now is the time to prepare the ground for what is ahead! 
The Lord is saying gather, yes, gather my people. "For I am about to do something new. See, I have already begun! Do you not see it?" – Isaiah 43:19
Will you join His call?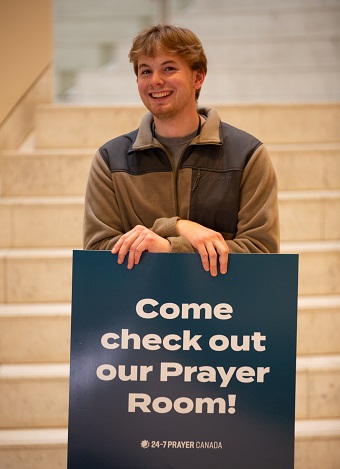 Prayer:
If only a flicker of light would illuminate my soul.
Jesus to you I come,
As I enter prayer now 
I let my soul soak in your promised rest for this weary soul.
The easy yoke, the light burden.
Jesus to you I come 
– based on Matthew 11:28-30
Dorielis Avilan is National Director for 24-7 Prayer Canada.
She was born and raised in Venezuela. At 16, Dorielis moved to Vancouver, and became a refugee. God intersected her life at an Alpha Course. She then gave up her real estate career to pursue full-time ministry, working and volunteering in leading various national prayer initiatives.
Dorielis is passionate about seeing the nation of Canada revived by prayer through the local church in her time. She attends The Way Church with her husband Jason and two kids, Gabriel and Tomás.