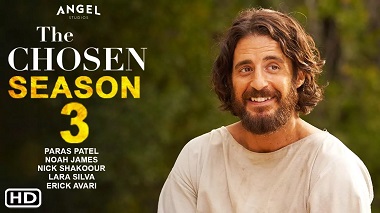 Two movies and two plays are coming to Vancouver this week – two famous shows about Jesus, one about a Japanese Christian hero during World War Two and one about a dramatic ride through the Himalayas aimed at supporting poor children in Nepal.
The Chosen
Numerous adaptations of the Bible have appeared on the screen over the years, but few have received as positive a reception as The Chosen during its first two seasons. Episodes one and two of Season Three will play at local theatres across North America – including several in Metro Vancouver – November 18 – 22.
Canadian Christian News Service described the phenomenon:
The Chosen – the global phenomenon, multi-episode television drama based on the life of Jesus – will launch the first two episodes of its highly anticipated third season in more than 2.000 movie theatres globally, including theatres across Canada.
With more than 420 million episode views from around the world, The Chosen is a fan-supported, seven-season television series that creates an authentic and intimate picture of Jesus' life and ministry, seen through the eyes of the people who knew him.
"The theme of Season 3 is 'Come to me, all you who are weary and heavy-laden, and I will give you rest,'" said series creator Dallas Jenkins. "The honeymoon phase is over, now the characters all have to deal with the costs and occasional confusions of following the Messiah."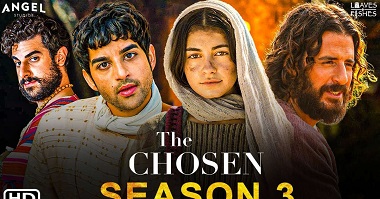 Local movie expert Peter Chattaway has followed The Chosen closely, offering reviews and recaps of every episode (links here) on his Thoughts and Spoilers Substack site.
In reviewing the first season, he said:
The Chosen is an ambitious series – co-written and directed by Dallas Jenkins, son of Left Behind co-author Jerry B. Jenkins and an experienced filmmaker in his own right – that aims to cover the adult ministry of Jesus over the course of seven seasons. . . .
Strikingly, despite the intended length of the show, it does not aim to cover every story in the gospels, nor does it take a conventional biographical approach to Jesus. The series skips right past the baptism and temptation of Jesus, for example, and goes straight to the calling of the first disciples – but first it spends some time developing their back-stories, to give added weight to the stories about them that we do know from the gospels. . . .
But the show is off to a decent start, and, if it does omit some parts of the gospels that the viewer might wish it had included, it highlights other parts that have been virtually ignored until now. It also gives fresh emotional heft to stories that we thought we knew so well. On those levels, at least, The Chosen is an exciting addition to the Jesus-movie canon.
Go here for the full review.
Peter has interviewed two Chosen actors – Vanessa Benavente (Mary) and Jordan Walker Ross (Little James) on his Thoughts and Spoilers Substack site.
Jesus Christ Superstar
Jesus Christ Superstar has returned to town and will be playing at the Queen Elizabeth Theatre until November 20. Shawn Conner wrote about it for The Vancouver Sun:
Since debuting on Broadway 51 years ago, Jesus Christ Superstar has gone through many iterations and revivals. What's different about the version coming to Vancouver is its emphasis on dance.
A character known as Mob Leader embodies the show's emotions through precise, dynamic movements throughout the production. Caroline Perry plays – or dances – the part in the touring production. . . .
Taking place during Christ's last days, the story is seen through the eyes of his betrayer, Judas. There is no spoken dialogue; the story is conveyed through the songs, which were written by Andrew Lloyd Webber and Tim Rice. Many of these, such as I Don't Know How to Love Him, Gethsemane and Superstar, have invaded mainstream popular culture.
Go here for the full article.
The Messiah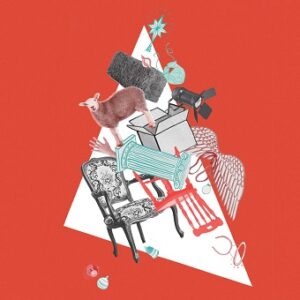 Another play about Jesus will begin just after my next weekly update. Here's the basic information about The Messiah from Pacific Theatre:
Two actors and an opera singer masterfully, movingly, and miraculously enact the greatest story ever told (with some minor alterations along the way).
Three performers play a cast of thousands in an absurd Christmas comedy that melds the ridiculous and the truly angelic.
"Brings a lovely sense of anarchy to the Nativity story – joyous seasonal entertainment." – London Theatre
The Messiah by Patrick Barlow.
Hopefully more soon.
Courage Now
A play celebrating a heroic figure during the Second World War begins this Saturday:
The world premiere of Manami Hara's new work, Courage Now, runs November 19-December 4 2022. Produced by The Firehall and presented in association with Vancouver Asian Canadian Theatre (VACT),
Courage Now tells the story of Japanese Consul Chiune Sugihara, who helped over 6000 Polish and Lithuanian Jews escape the Nazis in 1940.
Going against his government orders, he issued more than 2000 handwritten visas, risking both his life and his career.
Some of those whose lives were saved have families living in British Columbia today.
Whether the show will recognize the Christian underpinnings of Sugihara's heroism is not clear. I posted a story about him when the Vancouver Maritime Museum devoted an exhibit to his work in 2015.
The article by Glen Sunshine included this portion: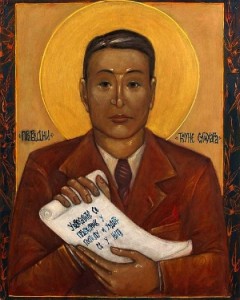 Sugihara was in a difficult situation: if he issued the visas, he could be fired and disgraced; if he didn't, the Jews would die. He told his wife, "I may have to disobey my government, but if I do not, I will be disobeying God. I know I should follow my conscience." Yukiko agreed with him, and the two went to work.
From July 31 to September 4, Sugihara began writing visas by hand at a rate of 300 per day. He didn't even stop for meals – he ate sandwiches that Yukiko left for him by his desk. He even made arrangements for the Soviets to transport them via the Trans-Siberian Railroad (albeit at five times the normal price).
The refugees began to arrive by the thousands begging for visas. When some began to scale the walls of the consulate, Sugihara came out and promised them he would not abandon them.
Go here for the full article.
Out of Thin Air
Himalayan Life is hosting three Out of Thin Air events over the next couple of weeks; one will take place at Heritage Hall in Vancouver November 23:
After six gruelling days covering over 600 kilometres with a total elevation gain of 26,000 feet, Himalayan Life CEO and Founder, Daniel Burgi and five friends completed Altitude: the Ride for Himalayan Life: a challenging high-altitude cycle over Khardung La Pass and Chang La Pass – two of the world's highest mountain passes.
This challenging ride was not to check off an item from a personal bucket list but to raise awareness for children's education in Nepal and India. Through navigating the challenging mountain roads, the extreme altitude, and thin air, the team was able to, in a small way, touch on the reality of the lives of the families and children we serve.
Please join us to watch the Altitude Ride Film Premiere at our Out of Thin Air Fundraising event. Here you will see firsthand how gruelling and emotional the ride was for Daniel and his team and learn more about how Himalayan Life is helping children and families in this challenging landscape where the air is so thin.
Leading the team was Daniel Burgi, who founded Himalayan Life more than 20 years ago. Here is how it began:
While travelling in the Himalayas, I captured in my mind and with my lens those awe-inspiring vistas of towering mountains and glaciers, raging rivers, pretty villages and ever-smiling people. Then it happened, totally out of the blue: one of those life-transforming encounters . . .
I was about to board a train when suddenly I found myself encircled by a horde of some 20 rag-clad kids begging for food or anything. . . .
Go here for more of Burgi's story.
Nov 2022
Janaki Larsen: Self-Assembly
– November 17, 2022 - November 23, 2022 at All Day
Jesus Christ Superstar
– November 17, 2022 - November 20, 2022 at All Day
Can Hospitality Change Canada?
– November 17, 2022 at 10:00 am - 11:00 am
None of the Above: Nonreligious Identity in the US and Canada
– November 17, 2022 at 4:30 pm - 6:00 pm
The Chosen Season 3: Episode 1 & 2 (several theatres)
– November 18, 2022 - November 22, 2022 at All Day
All Saints Bazaar
– November 18, 2022 - November 19, 2022 at 10:00 am - 3:00 pm
The Paperboys (trio)
– November 18, 2022 at 8:00 pm - 9:00 pm
Refugee Support and Volunteer Training
– November 19, 2022 at 8:45 am - 3:00 pm
22nd Annual Fundraising Breakfast of St. Mark's / Corpus Christi College
– November 19, 2022 at 9:00 am - 11:00 am
Christmas Craft Fair
– November 19, 2022 at 9:00 am - 3:00 pm
All Saints Bazaar
– November 19, 2022 at 10:00 am - 3:00 pm
Quality Fair Bazaar
– November 19, 2022 at 10:00 am - 3:00 pm
St George's Annual Christmas Market
– November 19, 2022 at 10:00 am - 4:00 pm
The Unique Role of the Church in Helping People Survive and Recover from Forced Displacement
– November 19, 2022 at 10:00 am - 12:30 pm
Kairos Blanket Exercise
– November 19, 2022 at 1:00 pm - 4:00 pm
Advent Candle Workshop
– November 20, 2022 at 3:00 pm - 4:00 pm
Taizé Service
– November 20, 2022 at 4:00 pm - 5:00 pm
Celebrating Jim Houston's 100th Birthday
– November 21, 2022 at All Day
Let the Little Children Come to Me: Our Ecological Future & Biblical Past
– November 22, 2022 at 7:00 pm - 8:30 pm
Pension Plans and Caring for Staff in their Retirement
– November 23, 2022 at 11:00 am - 12:00 pm
Out of Thin Air: A Himalayan Life Event
– November 23, 2022 at 7:00 pm - 9:00 pm
Science, Faith & the James Webb Space Telescope
– November 23, 2022 at 7:00 pm - 9:00 pm
Jazz Evensong @ Brentwood: Patricia Faith & Bob York
– November 23, 2022 at 8:00 pm - 9:00 pm
Bethany Haynes-Kramm: Play Ground
– November 24, 2022 - November 27, 2022 at All Day
Working Towards Freedom: Anti Human Trafficking
– November 24, 2022 at 8:00 am - 9:30 am
SIMinar: Accounting and Missions: Because Money Moves Ministry
– November 24, 2022 at 5:00 pm - 6:00 pm
Zhongping Chen: Religion, Racism, and Rivalry in North American Chinatowns, 1896-1916
– November 24, 2022 at 5:00 pm - 6:00 pm
National Prayer & Worship Gathering
– November 25, 2022 at 2:00 pm - 9:00 pm
Presidential Installation 2022: Dr. Gerry Turcotte
– November 25, 2022 at 5:00 pm - 6:30 pm
604 Chapel
– November 25, 2022 at 7:00 pm - 10:00 pm
Tom Jackson: Stories Songs & Santa Causes
– November 25, 2022 at 7:30 pm - 9:30 pm
TWU Band and Orchestra Concert
– November 25, 2022 at 7:30 pm - 9:30 pm
A Family Curse
– November 25, 2022 at 8:00 pm - 10:00 pm
Advent in the Neighbourhood: A Webinar
– November 26, 2022 at 8:00 am - 9:30 am
Christmas Bazaar in Steveston
– November 26, 2022 at 9:30 am - 2:00 pm
The Kingdom of God in Working Clothes
– November 26, 2022 at 9:30 am - 12:00 pm
Christmas Craft Fair & Bake Sale
– November 26, 2022 at 10:00 am - 1:00 pm
Mistletoe Bazaar
– November 26, 2022 at 10:00 am - 2:00 pm
A German Requiem / Psalm 42, Like as the Hart
– November 26, 2022 at 2:00 pm - 4:00 pm
Family Christmas Funtastic
– November 26, 2022 at 2:00 pm - 5:00 pm
Burnaby Christmas Night Market
– November 26, 2022 at 4:30 pm - 7:30 pm
Vancouver Momentum: Community & Connection Fundraiser
– November 26, 2022 at 7:00 pm - 9:00 pm
Handel's Messiah
– November 26, 2022 at 7:30 pm - 10:30 pm
Jazz Vespers in the Valley with Sister Jazz Quintet
– November 27, 2022 at 3:30 pm - 4:30 pm
Jazz Vespers with Jazz Connexion
– November 27, 2022 at 4:00 pm - 5:00 pm
A German Requiem / Psalm 42, Like as the Hart
– November 27, 2022 at 7:00 pm - 9:00 pm
An Invitation to Conversation and Dialogue
– November 28, 2022 at 11:00 am - 1:00 pm
Church Earthkeepers Meet-Up
– November 29, 2022 at 5:00 pm - 6:00 pm
Paul Spilsbury: Chasing the Light – Opening Reception
– November 30, 2022 at 4:00 pm - 7:00 pm
CPC³ Lecture: 'The Church and Human Flourishing' by Dr. Andrew Kaethler
– November 30, 2022 at 7:00 pm - 9:00 pm
Jazz Evensong @ Brentwood: The Bruce James Orchestra
– November 30, 2022 at 8:00 pm - 9:00 pm
Dec 2022
Courage Now
– December 1, 2022 - December 4, 2022 at All Day
EFC Advent Prayer for MAiD
– December 1, 2022 at 8:00 am - 9:00 am
Lament and Hope: The Vital Role of Creation Care in 21st Century Discipleship
– December 1, 2022 at 10:30 am - 12:00 pm
'Sacred Cyberspaces: Catholicism, New Media, and the Religious Experience' – CSSR Webinar
– December 1, 2022 at 12:00 pm - 1:00 pm
The 2022 Mission Possible Gala
– December 1, 2022 at 6:00 pm - 9:00 pm
2022 Mission Central Fundraiser
– December 1, 2022 at 7:00 pm - 9:00 pm
Sanctuary's Christmas Gala: Good for the Soul (Sole)
– December 1, 2022 at 7:00 pm - 8:00 pm
Sing a New Noel (three shows)
– December 2, 2022 - December 3, 2022 at All Day
The First Christmas Experience
– December 2, 2022 - December 4, 2022 at 6:00 pm - 9:00 pm
Hark! Hear the Bells
– December 2, 2022 at 7:00 pm - 9:00 pm
Christmas Bazaar at St. Thomas', Vancouver
– December 3, 2022 at 10:00 am - 2:00 pm
Fair Trade Fair
– December 3, 2022 at 10:00 am - 2:00 pm
St. Alban's Christmas Craft Fair
– December 3, 2022 at 10:00 am - 3:00 pm
St. George's ACW Christmas Bazaar and Lunch
– December 3, 2022 at 10:00 am - 2:00 pm
St. Philip's Christmas Fair
– December 3, 2022 at 10:00 am - 2:00 pm
St. Stephen's Christmas Market
– December 3, 2022 at 10:00 am - 3:00 pm
Christmas Fair 2022
– December 3, 2022 at 11:00 am - 2:00 pm
Christmas Carnival
– December 3, 2022 at 2:00 pm - 4:00 pm
A Coastal Christmas: Peace & Goodwill
– December 3, 2022 at 7:00 pm - 8:30 pm
Adveniat: Live Concert
– December 3, 2022 at 7:00 pm - 10:00 pm
Christmas Art Exhibit Opening Night
– December 3, 2022 at 7:00 pm - 9:00 pm
Vivaldi Chamber Choir – Noël: noir et blanc
– December 3, 2022 at 7:30 pm - 9:30 pm
EDUPAVI Craft Fair
– December 4, 2022 at 2:00 pm - 6:00 pm
Christmas at the Chan
– December 4, 2022 at 2:30 pm - 4:30 pm
Christmas Concert
– December 4, 2022 at 2:30 pm - 4:30 pm
The Vancouver Welsh Men's Choir presents Holly Jolly Christmas with Winter Harp
– December 4, 2022 at 2:30 pm - 4:00 pm
VOS 2022 Christmas Concert: Sing Joy to All the World
– December 4, 2022 at 7:30 pm - 9:30 pm
Spiritual Authority Cohorts (monthly, Monday evenings)
– December 5, 2022 at 6:45 pm - 9:15 pm
Hope in the City Breakfast
– December 7, 2022 at 7:30 am - 9:30 am
Christmas Artisan Fair
– December 7, 2022 at 10:00 am - 3:00 pm
Conversations on Vaccination and Protecting our Community's Health
– December 7, 2022 at 12:30 pm - 1:30 pm
Jazz Evensong @ Brentwood: Conrad Good & Friends
– December 7, 2022 at 8:00 pm - 9:00 pm
Dream Centre Society: The Christmas Project
– December 8, 2022 - December 12, 2022 at All Day
SIMinar: The Importance of Prayer in Missions
– December 8, 2022 at 5:00 pm - 6:00 pm
BEZ Open Mic, with Russ Rosen
– December 8, 2022 at 7:00 pm - 9:00 pm
Singing Christmas Tree: Once Upon a Manger
– December 9, 2022 - December 11, 2022 at All Day
The First Christmas Experience
– December 9, 2022 - December 11, 2022 at 6:00 pm - 9:00 pm
Treasures: Rediscover the Gift of Christmas
– December 9, 2022 - December 11, 2022 at 7:00 pm - 8:30 pm
Amabilis Singers: Voces Angelorum
– December 9, 2022 at 7:30 pm - 9:30 pm
Blues Hoodoo
– December 9, 2022 at 8:00 pm - 10:00 pm
Advent Vigil for the Silenced
– December 10, 2022 at 12:00 pm - 1:00 pm
English Conversation Group for Ukrainian Women
– December 10, 2022 at 1:00 pm - 3:00 pm
Amabilis Singers: Voces Angelorum
– December 10, 2022 at 2:00 pm - 4:00 pm
Carols and Bells: A Concert
– December 10, 2022 at 2:00 pm - 3:30 pm
Outdoor Christmas Market
– December 10, 2022 at 2:00 pm - 5:00 pm
Winter's Night
– December 10, 2022 at 7:00 pm - 8:30 pm
Belle Voci: Messiah in the Valley
– December 10, 2022 at 7:30 pm - 9:30 pm
Laudate Singers: Family Christmas
– December 11, 2022 at 2:00 pm - 3:00 pm
Chantez Noël: The Chamber Choir of Pacific Spirit United Church Choir
– December 11, 2022 at 2:30 pm - 4:30 pm