Creating Conversation is a weekly editorial, curated by the Centre for Missional Leadership (CML), which gives opportunity for people to speak about issues they believe are vital for the church in Vancouver.
One of the goals of this weekly article is to spark dialogue – and action. We invite you to join the dialogue here on the Church for Vancouver website.
We also invite you to use the article as a discussion starter with your small group, church staff, friends and your neighbours. Thanks for participating in the conversation!
Moving to Canada, especially to Vancouver, is a dream of many people across the globe. Saying this seems too obvious, since Vancouver is considered, by many rankings, one of the five most liveable cities in the world. In this context, Canada had the highest annual population growth rate (2.7 percent) since 1957, and, according to Statistics Canada, in 2022, "international migration accounted for nearly all growth recorded (95.9 percent)."
In this scenario, who makes up the international church that is moving to Vancouver?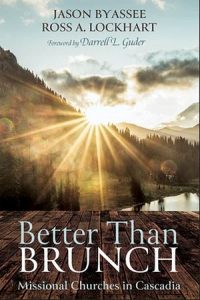 I cannot represent the whole immigrant Christian population that has moved to our city, but I want to share a particular perspective – as a Brazilian aspiring to become a pastor who has an evangelist's heart for Vancouver and Canada.
I see a huge opportunity for the church to spread the love of God to the whole world because it is clear to me that Vancouver is not only a port for the supply-chain industry. I can see the gospel coming to nations that sometimes are not so open to international missionaries and these nations can be blessed through the interaction that Vancouver offers to all of us.
We already have excellent academic works from recent years, researching how Christianity in Vancouver is not something restricted to the past.
For instance, Ross Lockhart and Jason Byassee wrote about several cases in Better than Brunch: Missional Churches in Cascadia (Cascade Books, 2020). They shared many examples of flourishing Christian communities in Metro Vancouver, including the Filipino Catholic community, Grandview Church, Tapestry Church and Tenth Church.
Brazilian community
I would like to focus on the Brazilian Christian community I have known since I arrived in Vancouver in August, 2020. They have been an inspiration for many Brazilian people.
In 2020, according to the 2021 Annual Report to Parliament on Immigration, Brazil was one of the top 10 sources of immigrants to Canada.
The Facebook group Brasileiros em Vancouver has more than 30,000 members. If the proportion of Christians in this group is close to that of Brazil, this would represent 90 percent of Brazilians confessing Christianity as their religion.
What excites me about the Brazilian Christian presence in Vancouver are experiences I have had with some disciples of Jesus, in small groups, pastoral initiatives for vulnerable people and with church planting projects.
Small groups
First, the small groups. These gatherings are welcoming and flexible regarding time, place, language, food and messiness, particularly from the kids. Those meetings do not have have a strict time to end, and some people can stay even for more than three hours together. When the weather allows, we gather in public spaces, such as parks and beaches. During the winter, some people offer their houses, rotating with each other.
Although some initiatives begin in Portuguese, there is a clear desire to be more inclusive with people who do not speak Portuguese. I remember one small group where I brought non-Brazilian visitors from China, South Korean and Indonesia. The Bible study leader immediately shifted to English.
Kids are always very welcome, and they build their own community playing together during our gatherings. Food is not elaborate; every person may bring whatever they can. Potlucks usually offer simplicity, low cost and a diverse experience for all.
Another special characteristic of Brazilian small groups is the use of text message apps (WhatsApp) to facilitate interaction. The group is not centralized in the leader and the messages are not only about the meetings, but people share what they are learning in their daily life, including general knowledge, prayer requests and response, and Bible meditations.
These small groups are a very good catalyzer of a community-based pastoral care.
Pastoral care
Community is the best way of offering and receiving pastoral care; it does not need to be done by clergy alone. The Brazilian community suffers, like the majority of immigrants, with the pressure of study and work, raising children and dealing with homesickness.
Our journey alongside Brazilian Christians has been remarkably refreshing and I have seen this soul care happening among many immigrants here. Coming to Vancouver represents an academic deepening and a moment of reflection regarding the crazy pace of our communities in Brazil.
I recently heard that Brazil has higher-than-average numbers in terms of anxiety disorders, and there are many stressors to justify it: urban violence, economic fragility, and political polarization. I remember seeing in Brazil such an intense pace that sleep deprivation occurred due to numerous church schedules and an overload in families with young children and adolescents. These patterns correlate to an increase in family conflicts and illness.
Coming to Vancouver teaches us about the balance between life and work, which is why we are enormously grateful – even though it is not realistic.(The value of work-life balance is professed by everyone in Vancouver, but the cost of living, the lack of community life to provide social support and the demands of some jobs and educational programs make the desire of achieving this work-life balance more difficult than the theory.)
I see small groups as an attempt to keep the tension between engagement with our mission as church to provide evangelism and discipleship, but also to offer care for exhausted families struggling to live this work-life balance in real life.
One of the reliefs we have is encouragement for the formation of Brazilian small groups in established Metro Vancouver churches – a Baptist church in Richmond, Midtown Church in south Vancouver, Westside Church downtown and Willingdon Church in Burnaby are empowering lay leadership to cultivate fellowship in houses and even in their buildings without charge.
These groups offer pastoral care for people in vulnerable situations. I have seen visits and meal trains happening for sick people and women in early motherhood.
Church planting
Finally, I have seen church planting as a passion for Brazilian people who believe it is one of the best ways to serve the city. They show a flexible and adaptive leadership that is very beautiful.
For example, Home Church uses ads in Portuguese and English on their Instagram profile. Covenant Church used songs sung in Portuguese and English in their worship time. (Both are in Vancouver.)
Church planters started an organization called One Vancouver which recruits volunteers to provide support to newcomers from Brazil.
Some local initiatives in Vancouver have welcomed immigrants from, for example, Brazil, Nigeria, Indonesia and India to focus in prayer, preaching and church planting.
One group of church planters were students of the Vancouver School of Theology (VST). My engagement with a church planting project here on the UBC campus was a result of the enormous generosity of VST to me as an immigrant. Their financial aid policy includes immigrants and is not exclusive to Canadians, helping us to live with great financial relief.
Moreover, the policy of St. Andrew's Hall in offering hospitality and housing to theology students at UBC is another great relief for my family and me. Hospitality is a great encouragement that facilitates the flow of missional immigrants from various countries to serve the church and preach the gospel here in Vancouver. I'm so grateful for that.
Vibrant evangelism
One of the greatest beauties I see in the wave of immigrants who were not part of the established, hegemonic churches in their home countries is the need for creativity and love in the evangelization that we bring with us.
Pentecostalism and evangelicalism, with their vibrancy, energy and empowerment of lay people, started in Brazil with a huge number of missionaries and church planters who came from North America and Europe in the beginning of the 20th century.
Their proactive missional attitude shaped flourishing charismatic Christianity in Brazil, Africa, Southeast Asia and Korea. I believe this passion for evangelism is in our DNA, and I feel there is an ongoing desire for us immigrants to call more people to know Jesus personally and have their lives transformed by Him as ours was.
Conversion in adolescence and among young adults is how most churches are born and grow. This gratitude for the transforming power of the gospel overflows from these communities.
Challenges, confidence
I clearly see that we still have problems. I could call it culture shock, the lack of awareness of immigrants and settlers to notice, name and confront the barriers for us to be mutually hospitable to each other. We have to say that we are sinning in excluding one from another.
There is also the crazy pace of life to pay the bills. The lack of perception of the beauty of the diversity of a multicultural church is still a threat to the even greater flourishing of this union of Brazilians in Canada.
However, we believe that our only redemption is in Christ Jesus and the gospel that breaks down barriers (Ephesians 2) and makes the lonely live in families (Psalm 68.6). There is loneliness on both sides, on the side of the immigrant and on the side of those who were born and raised here. But the gospel of Jesus is that he gives us the Holy Spirit, who is the Spirit of adoption, in which he makes us all have the same Father, the Father of our Lord Jesus Christ (Ephesians 1).
We all share the same sinful nature and the same love and mercy from God that leaves us with no choice but to rethink our spaces and agendas. This will lead to more church planting and revitalization networks being strengthened to the glory of God. May the mercy of God, the passion of Jesus and the reconciliation of the Holy Spirit be with us all, now and forever more!
Afonso Issa (MD, PhD Universidade Federal de Goias, Brazil) is married with Louinne. They live at St. Andrew`s Hall, UBC with their four children, Leticia (15), Luisa (12), Alice (9) and Tiago (7). Afonso is a lay leader at Kerrisdale Presbyterian Church, where he is involved with a church planting project for the UBC campus (Around the Well). He also works for Tenth Church West Side (also in Kerrisdale) as ministry assistant, He is a certified student of the Presbyterian Church in Canada, enrolled in the MDiv program at the Vancouver School of Theology.