The next couple of weeks will be a serious test for the Church of Vancouver. When Franklin Graham comes to Vancouver as part of the Greater Vancouver Festival of Hope March 3 – 5, some will be thrilled, others will be chilled – and many will pray that we can get through the week without suffering any major damage. I'm finding some enthusiasm, but also plenty of angst and even some anger as I speak to fellow believers about the upcoming Festival.
Mayor Gregor Robertson called a meeting with a number of senior Christian leaders and city councillor Tim Stevenson last Friday (February 10) to discuss his concerns about Graham's intolerant language. Those leaders are expected to release a statement this week – and it will, almost certainly, not welcome his role in the Festival.
The history
It is not hard to understand the value of the Festival of Hope. A group of Metro Vancouver leaders visited the Toronto Festival in the fall of 2014 and came away impressed by unity, quality and multicultural nature of the event. They entered into discussions with the Billy Graham Evangelistic Association of Canada (BGEA), which has a high degree of credibility in all circles.
The desire of those leaders was, and is, simply to share the gospel with the many people in Vancouver who do not know Jesus Christ. A promotional video for the event features several of the leaders expressing their hopes:
As a city, we are now at that place where it's time for a major evangelistic initiative, and we believe that the Festival of Hope fits that bill  Giulio Gabeli, executive leader
It will create an atmosphere that will generate some enthusiasm for evangelism in the city.  Wayne Lo, pastor of Chinese Christian Church of Vancouver
Those with long memories will remember the very successful Billy Graham Crusade here in Vancouver in 1984. Everyone knows of Billy Graham's stature, both within the church and in the broader culture. The BGEA has continued to flourish internationally under Franklin Graham's leadership since he took over in 2000, as has Samaritan's Purse, which undertakes charitable works around the world.
Exploratory meetings led to the determination to go ahead with the Festival, and last spring (March 31), some 350 leaders attended the official launch at Broadway Church. The leadership team gathered on the stage represented a wide swath of the evangelical church[1]; members of the Catholic Church attended and were clearly in support of the Festival.
Since that time, hundreds, maybe thousands, of people from dozens of churches have taken part in a series of Involvement Seminars, Christian Life & Witness training, FM419 student evangelism training and prayer events. It should be noted that many of the Festival-supporting churches have large immigrant populations. 
The reaction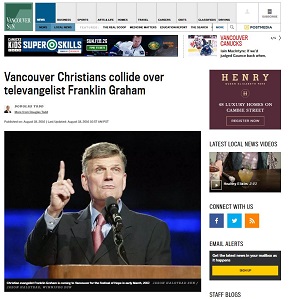 A couple of months after the launch (June 16), several local leaders[2] wrote a letter to the Festival leadership committee, opposing the invitation of Franklin Graham. That letter came to light in an August 18 Douglas Todd article (Vancouver Christians collide over televangelist Franklin Graham) in The Vancouver Sun, though it had apparently not originally been intended for public consumption.
They said, in part:
[W]e seek to share a joyful witness, distinguished by love, and therefore denounce the frequent incendiary and intolerant statements made by Rev. Graham . . . [he] is a polarizing figure: many evangelical and church leaders in the United States have denounced Graham's remarks. Finally, his ungracious and bigoted remarks have the potential to generate serious negative impact on the Christian witness in Vancouver. . . .
Todd also pointed out that the Roman Catholic Church had withdrawn its initial support for the Festival.
Although the letter and the article give little detail about particulars, Todd stated that Graham is "known for criticizing homosexuals, Muslims and U.S. President Barack Obama."
Critics argue that he has a number of failings, including making negative comments towards Muslims and other faiths, anachronistic racial views, political bias, alarmist rhetoric about homosexuals, sowing division in the Christian community and drawing an exorbitant salary.
For example, he said on Facebook:
We are under attack by Muslims at home and abroad. We should stop all immigration of Muslims to the U.S. until this threat with Islam has been settled. Every Muslim that comes into this country has the potential to be radicalized – and they do their killing to honor their religion and Muhammad. During World War 2, we didn't allow Japanese to immigrate to America, nor did we allow Germans. Why are we allowing Muslims now? Do you agree? Let your Congressman know that we've got to put a stop to this and close the flood gates.[3]
The current situation

Concerns about Franklin Graham have been deepened by the polarizing election of Donald Trump. He had not declared himself for either Trump or Clinton before the election (though his bias toward the former was pretty clear). More recently, he has said that he saw "the hand of God" in Trump's election. He prayed during Trump's inauguration and supports Trump's ban on refugees.
He stated on his Facebook page:
There have been a lot of protests and discussion about President Donald J. Trump's executive action on immigration. Some people seem to have forgotten that the priority of the president of the United States is protecting the Constitution and the safety of Americans. . . . Some are also criticizing Christians who support the president's position on immigration – and I'm one of those being criticized. . . .[4]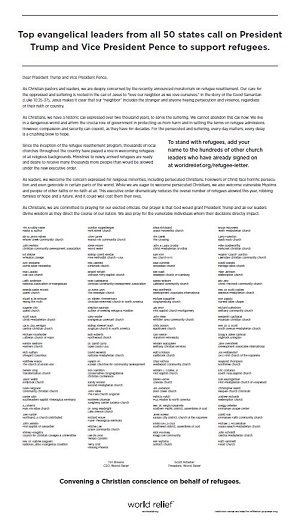 Graham is quite isolated in his stand on refugees among evangelical leaders. Slate reported January 29 Christian Leaders Nearly Unanimous in Opposing Trump's Muslim Ban.
Writing for evangelical flagship magazine Christianity Today, Ed Stetzer said:
* Dear Fellow Christians: It's Time to Speak Up for Refugees – If we are pro-life, we are pro-refugee (January 26):
. . . If America bans refugees, it makes a statement to the world that we don't want to make. It is the picture of someone who sits, arms crossed and turned away, with a raised eyebrow and a ready attack on the helpless, the homeless, the broken. We must do better. . . .
And CNN reported on the full-page ad purchased in The Washington Post by 100 prominent evangelical pastors and leaders to denounce Trump's temporary ban on refugees
Signees include Pastor Timothy Keller of Redeemer Presbyterian Church in New York, Christian author Ann Voskamp, Bill and Lynne Hybels of Willow Creek Community Church, preacher and author Max Lucado, Pastor Eugene Cho of Quest Church and Leith Anderson, president of the National Association of Evangelicals.
In the eyes of many – and I agree with them – Graham is trying to serve two masters, America and the gospel. His desire to protect American interests has blinded him to some simple gospel truths. Franklin seems not to remember some of the lessons that Billy learned along the way – he famously said that if he had things to do over again, he "would have steered clear of politics."
Stepping down
Pastor Ken Shigematsu of Tenth Church was one of the five leaders who wrote the June 16 letter requesting that the Festival leadership team replace Graham (while remaining on the leadership team himself).
He repeated the request in a January 19 email, saying:
[M]any of the secular people we are seeking to reach for Christ in our city will be troubled by Franklin Graham saying prior to the election, "I think Donald Trump will be a great president." . . .
In light of what has transpired, if you and the team are open to an alternate speaker such as a Canadian evangelist in the BGEA orbit like Leighton Ford or Ravi Zacharias, or an American like Anne Graham Lotz or Luis Palau (whom John Stackhouse recommended) who is based in Cascadia, I would be glad to reach out to them and ask them about their availability.
Regardless of the decision you make, you and this event will remain in my prayers and I'm sure God will use it.
However. . . I personally would advocate a proclamation of the gospel while at the same time minimizing unnecessary barriers to reception of the message.
Not having received a positive response from the leadership team, apparently, Shigematsu wrote February 3:
After prayerful reflection, I have decided to step down from the Festival of Hope committee.
As some of you know, Tenth Church is committed to welcoming and serving people of all backgrounds – including Muslim refugees from the Middle East. Franklin Graham's advocating a ban on Muslims entering the United States is at odds with our church's vision and ethos. . . .
Therefore, I am stepping down as a member of the Festival of Hope committee.
You, and this outreach, will remain in my heart and prayers.
Looking ahead

A tremendous amount of good will has been built up across denominational and other boundaries over the past few years, through More Than Gold, Voices Together, the Vancouver Consultation, Alpha and local ministerials (involving many from both the Festival of Hope leadership team and those opposed to Franklin Graham's participation). But there is still a lot of diversity.
Few of those who want Graham to lead the Festival of Hope are interested in importing all his political/cultural baggage (some may support some of it). On the other hand, those who oppose his participation support the importance of an evangelistic witness (some more than others).
I admire Ken Shigematsu's approach. He has tried to support the Festival while encouraging a change in the lead speaker. He has also been firm in his ongoing prayer and support for the Festival leadership team:
I continue to pray for Franklin Graham and the Festival of Hope and trust that God will use it for his glory.
I respect the people on the leadership committee and consider many of you personal friends. All of you are colleagues in ministry. . . .
You, and this outreach, will remain in my heart and prayers.
I do hope that the other leaders who oppose Graham will be willing to recognize some of his contributions, even as they oppose his participation in the Festival. He has reached many people for Christ over the years, and Samaritan's Purse brings aid and relief to people all over the world, including in many Muslim-majority nations.
A recent Province article, for example, was headlined Beauty salon in a war zone: Canadians with Samaritan's Purse working [to] give Yazidis their future back.
And Lise Grande, UN Humanitarian Coordinator for Iraq, thanked Graham and Samaritan's Purse January 12 for having created an emergency field hospital just outside Mosul at short notice. She said it has been difficult to find organizations willing to provide frontline trauma care:
We've reached out to a number of organizations, asking, begging them to step forward. Dr. Graham, Samaritan's Purse answered that call. We can't thank you enough.
You built this hospital in record time. Most of all we want to thank you for saving people. Because Samaritan's Purse is here, thousands – tens of thousands – of people will survive.
One body
The leaders who have met with the mayor have a serious responsibility now. They must follow their conscience as they speak up about Franklin Graham – but they must also endeavour not to injure the hard-won cooperation, even unity, of the local church. (The same applies to the Festival leadership team, of course; it is unfortunate they were not invited to the city hall meeting.)
This is a time for the leadership of the Church of Vancouver to show what it is made of. That won't be easy. A strong contingent is supporting the Festival of Hope. Others are marshaling in opposition. And many will just be hoping and praying for the best.
It would be wonderful if all parties agreed that the various church leaders will continue to work together in the wake of the Festival of Hope – that disagreements on this one initiative will not derail the tide of cooperation that has been gathering for years now.
[1] The Festival of Hope team at the time of the launch: The executive leader was Giulio Gabeli, pastor of Westwood Community Church in Coquitlam. Co-leaders were Barry Buzza (Northside Foursquare Church, Coquitlam); Kevin Cavanaugh (Cedar Grove Church, Surrey); Yiu Tong Chan (Vancouver Chinese MB Church); Sandro DiSabatino (Glad Tidings Church, Vancouver); Norm Funk (Westside Church, Vancouver); Ed Hird (St. Simon's Church, North Vancouver); Darin Latham (Broadway Church, Vancouver); Yani Lim (Bethesda Ministry of Love); Wayne Lo (Chinese Christian Church of Vancouver); Aldrin Navo (Jesus Rock of Ages Ministries); Ken Shigematsu (Tenth Church, Vancouver); Sam Owusu (Calvary Worship Centre, Surrey).
Since the launch, John Best (Willingdon Church, Burnaby) and Daniel Cheung (Vancouver Chinese Renewal Fellowship) have joined the team, while Ken Shigematsu has left.
Advisory team leaders are Dave Koop and Cheryl Koop of Coastal Church. Prayer team co-leaders are Bayo Adediran (Grace Chapel, New Westminster) and Dave Carson (Intercessors for Canada). James Hung (Vancouver Chinese Missions Training Centre) will look after counselling and follow-up. The communications team leaders are John Randolph (Praise 106.5); Catherine Robertson (Eaglecom Marketing); and Laura Lynn Tyler Thompson (700 Club of Canada).
[2] The five signatories were Tom Cooper (president, City in Focus); Tim Dickau (senior pastor, Grandview Calvary Baptist Church); Marjeta Bobnar (ecumenical and interfaith relations, Roman Catholic Archdiocese of Vancouver); Tim Kuepfer, (then senior pastor, First Baptist Church); and Ken Shigematsu (senior pastor, Tenth Church).
[3] Post on Franklin Graham's Facebook page, July 17, 2015.
[4] Post on Franklin Graham's Facebook page, January 31, 2017.