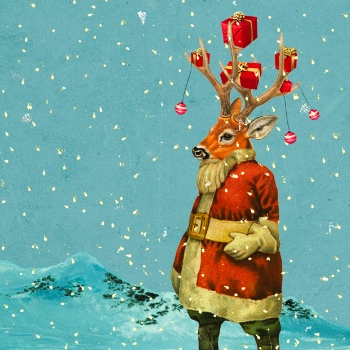 Santa's Christmas, A Traditional Christmas, Christmas Presence, The Mystery of Christmas, A Charlie Brown Christmas, the Singing Christmas Tree, Joy to the World, Lessons and Carols . . . a theme becomes apparent as one scans the list of Events this week. There are some fabulous shows around, and all indications are that tickets are selling like hotcakes.
Christmas Presence
Not only is there a revolving cast of musicians at Pacific Theatre's home base, but the cast of Christmas Presence (December 11 – 21) will visit the North Shore this Sunday (the 15th) and the Valley a week later.
I've seen many of the musicians and they're all talented; every night will be good. Hard to pick favourites, but among the names most likely to be recognized are Carolyn Arends, Spencer Capier, Jordan Klassen, Laurell and Sheree Plett, Nelson Boschman and Michael Hart. Great to see Allen Desnoyers in the line-up!
Here's the promo: "An ad-hoc gathering of musicians and actors who meet day-of to trade songs and choose readings, Christmas Presence is both everything you might expect from a holiday show, as well as the exact opposite. Setting aside the lavish sets and costumes that dominate the season for what artistic director Ron Reed likes to call 'the un-slickest Christmas show in town.'
"The vibe is that of a family gathering that has burst into song – if you happen to have a family of diverse and talented musicians who harbour an equal love for David Sedaris, Stuart McLean and Madeleine L'Engle."
Coastal Church takes over the Queen Elizabeth Theatre for two performances of Santa's Christmas this weekend, on Saturday evening (the 14th) and Sunday morning (the 15th).
Associate pastor Brian Taylor told me they use the theatre so that everyone from Coastal's four services can get together in one place. But they do hope church members will bring guests, and they have advertised in local papers, so they would welcome others, particularly from Downtown and West End, who want to experience the Christmas story in a novel way.
The program will explore the meaning of Christmas through the eyes of Santa Claus. "After losing his job, a disillusioned 'mall Santa' begins preparing himself for what appears to be a miserable Christmas, void of any real meaning or happiness. Not only has he lost his job, but also the joy he once had in being Santa Claus. One night as he travels home, his journey takes an unexpected turn and through the help of a few new friends, he's led to rediscover the joy and true meaning of Christmas."
An important note: tickets can be reserved, but that does not guarantee seating, it simply provides ticket holders the opportunity to enter the auditorium one hour before the event in a priority line.
The Vancouver Symphony Orchestra is really getting out to its public with A Traditional Christmas. They're all over Metro Vancouver, with 14 performances at seven locations between this Thursday (the 12th) and the 22nd. Some shows are already sold out, so you'd better get a move on if you want to see them!
They don't give too much away in their promo materials, but do claim the "concerts present beautiful, heartwarming Christmas music and carols." I guess their reputation is sufficient to draw crowds. 
Christopher Gaze, best known as artistic director for Bard on the Beach, will host, and Gordon Gerrard will conduct.
Dec 2013
The 46th Annual Singing Christmas Tree: A Return to Christmas
– December 9, 2013 - December 15, 2013 at All Day
Invisible and Disposable: How Canada's Prosperity is Being Built on the Back of Migrant Workers
– December 9, 2013 at 7:00 pm - 9:00 pm
Messiah Symposium
– December 10, 2013 at 7:00 pm - 9:00 pm
Vancouver Pastors Prayer Fellowship Christmas Dinner
– December 11, 2013 at 10:30 am - 1:30 pm
A Traditional Christmas with the Vancouver Symphony
– December 12, 2013 - December 14, 2013 at All Day
Surrey Aglow Christmas Dinner
– December 12, 2013 at 6:30 pm - 9:00 pm
Concert: The Mystery of Christmas
– December 13, 2013 - December 15, 2013 at All Day
Family Christmas Carol Sing-along Concert
– December 13, 2013 at 7:00 pm - 9:00 pm
Oculus Chamber Choir: Christmas Concert Fundraiser
– December 13, 2013 at 7:00 pm - 9:00 pm
Joy to the World! A Christmas Gospel Celebration
– December 13, 2013 at 7:30 pm - 9:30 pm
Vancouver Chamber Choir: A Charlie Brown Christmas
– December 13, 2013 at 8:00 pm - 10:00 pm
Roy & Georgette Durman: Annual Christmas Banquet
– December 14, 2013 at 4:30 pm - 7:00 pm
Hummingbird Ministries' 8th annual TFN Christmas Circle
– December 14, 2013 at 5:30 pm - 9:30 pm
Pagsambang Bayan: A People's Worship
– December 14, 2013 at 5:30 pm - 6:30 pm
Gloria Dei Chorale in Concert
– December 14, 2013 at 7:00 pm - 9:00 pm
Santa's Christmas
– December 14, 2013 at 7:00 pm - 9:00 pm
Joy to the World! A Christmas Gospel Celebration
– December 14, 2013 at 7:30 pm - 9:30 pm
Musica Intima: Light for the Child
– December 14, 2013 at 7:30 pm - 9:30 pm
The Bach Choir: The Messiah
– December 14, 2013 at 8:00 pm - 10:00 pm
Santa's Christmas
– December 15, 2013 at 10:30 am - 12:30 pm
Pacific Spirit Choir: Handel's Messiah
– December 15, 2013 at 2:00 pm - 4:00 pm
Corpus Christi College Chamber Choir
– December 15, 2013 at 3:00 pm - 5:00 pm
Gallery Singers: A Ceremony of Carols
– December 15, 2013 at 3:00 pm - 5:00 pm
Joy to the World! A Christmas Gospel Celebration
– December 15, 2013 at 3:00 pm - 5:00 pm
Laudate Singers: Brilliant Baroque
– December 15, 2013 at 3:00 pm - 5:00 pm
Vancouver Chamber Choir: A Charlie Brown Christmas
– December 15, 2013 at 3:00 pm - 5:00 pm
Lessons and Carols
– December 15, 2013 at 4:00 pm - 6:00 pm
Redemption Community Christmas Party
– December 15, 2013 at 4:00 pm - 9:00 pm
A Ceremony of Carols by the Gloria Dei Chorale
– December 15, 2013 at 7:00 pm - 9:00 pm
An Evening of Lessons and Carols
– December 15, 2013 at 7:00 pm - 9:00 pm
Blue Christmas 2013
– December 15, 2013 at 7:00 pm - 9:00 pm
Universal Gospel Choir: Share the Light - Celebrating Yule 2013
– December 15, 2013 at 7:30 pm - 9:30 pm