As Canadians prepare to vote for a new federal government this year, a faith-based justice group has teamed up with a national anti-poverty movement to release a comprehensive plan which challenges the incoming governing party to end poverty in Canada.
On February 3, Dignity for All, a collaborative campaign between Citizens for Public Justice (CPJ) and Canada Without Poverty, released their National Anti-Poverty Plan for Canada.
Dignity for All released this statement:
It's time for a plan to end poverty in Canada. In a country as wealthy as ours, 4.8 million people struggle to make ends meet: to pay their rent, feed their families and address basic needs.
"Over the past five years, Dignity for All has received support and input from thousands of people in Canada" said Joe Gunn, executive director of Citizens for Public Justice. "We are very excited by the amazing reception this report has received from representatives from all parties. The collaborative process in which the National Anti-Poverty Plan for Canada was drafted has made it clear that we have the political will to take action on poverty in Canada. And now we also have a plan. The time to act is now."
The report makes recommendations in six policy areas: Labour and Employment, Food Security, Health, Income Security, Housing and Homelessness, and Early Childhood Education and Care. It calls for the federal government to immediately take action in each of these areas, to address both the immediate and long-term needs of the one in seven people in Canada who live in poverty. 
The Dignity for All campaign is calling on all federal parties to adopt these measures within their election platforms, and make a promise to people living in Canada that they will act on this pressing issue within the first year of taking office.
CPJ's mission is "to promote public justice in Canada by shaping key public policy debates through research and analysis, publishing and public dialogue," based on these values: "We live in a country that provides us with immense opportunities. As citizens, we are called to participate in the public sphere and encourage our governments to adopt just policies. As Christians, we are called to live out our response to God's call to love and justice. This response is at the heart of public justice.
Canada Without Poverty is a federally incorporated, non-partisan, not-for-profit and charitable organization dedicated to the elimination of poverty in Canada.
The plan has received a good response from the media, including from several Christian publications.
In a recent ChristianWeek article, Janelle Vandergrift, a Policy Analyst with CPJ, said:
The case for Christian concern for the poor is undeniable. The Bible calls us to practice justice, protecting and uplifting those considered the weakest members of our society. Our love for God requires that we respect our neighbours' dignity and care for their well-being.
While our response to this call may be in the form of donations or volunteering, Christians also have a role in pressing for justice and measures that prevent the causes of poverty. Part of that responsibility is holding government to their important job of promoting just relations between people within God's creation and fostering conditions that enhance the common good.
The role of government is essential in the task of seeking justice for our neighbours. The federal government has a particularly unique role to play as they handle many of the programs that can make a huge difference in the lives of those living in poverty. These include income security programs and programs and services designed to economically assist Aboriginal peoples, newcomers and persons with disabilities. The federal government also controls financial transfers to the provinces and territories that provide education and health dollars.
National Anti-Poverty Plan for Canada: Executive Summary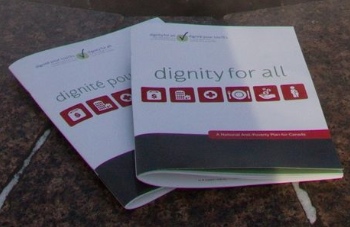 It's time for a plan to end poverty in Canada. In a country as wealthy as ours, 4.8 million people struggle to make ends meet: to pay their rent, feed their families and address basic needs.
Despite multiple calls for the development of a national poverty plan by the United Nations, the Senate, and a House of Commons Standing Committee, Canada has not stepped up to the plate. This means that there is no strategy in place at the national level to address the needs of one in seven people in Canada who live in poverty.
This document presents the key planks of an anti-poverty plan that, if implemented, will make a meaningful difference in the lives of low-income Canadians, achieving greater prosperity and security for all.
The plan is based on an understanding that poverty is a violation of Canada's human rights obligations. It provides a succinct overview of what this means for governments formulating policy and programs aimed at addressing poverty.
The plan asserts that poverty must be addressed in Canada through focusing on six different realms: 
• income security • housing and homelessness • health • food security • early childhood education and care, and • jobs and employment
The policy recommendations in this anti-poverty plan were developed through an extensive process of community engagement by the Dignity for All campaign, bringing together leading academics and experts from social policy organizations, provincial and territorial anti-poverty movements, national associations, faith-based groups, unions and front-line service agencies.
With limited resources, the campaign held six policy summits, where participants developed specific recommendations in each of these areas. The recommendations can be found within this report; just some are previewed below:
Income security
Canada's income security system is now one of the weakest among developed countries. Those in receipt of social assistance continue to subsist on benefits that place them well below any poverty measure used in Canada.
Dignity for All recommends that Canada:
• Reform income assistance programs, such as Employment Insurance, to better reflect labour market realities and other gaps in the system.
• Increase the National Child Benefit to $5,600 annually for eligible families (and index it to the cost of living).
Housing and homelessness
While there are at least 250,000 homeless persons in Canada, most shelters are at maximum capacity.
Dignity for All recommends that Canada:
• Develop and implement a coordinate National Housing Strategy based in human rights.
• Increase funding by no less than $2 billion per year in new money to implement housing strategies that meet the strategy targets.
Health
Socio-economic disparities account for 20 percent of total annual health care spending (expected to have exceeded $211 billion in 2013). Medicare covers only 70 percent of total health care costs – the rest is covered by private insurance plans and out-of-pocket spending.
Dignity for All recommends that Canada:
• Recognize in the legislation of an anti-poverty plan the social determinants of health, including income, employment, food security, early childhood education and care and housing.
• Commit to a new 10-year Health Accord, including a National Pharmacare Program.
Food security
Since the 2008 – 2009 economic recession, food bank usage has increased by 25 percent, with children and youth now representing over 30 percent of food bank users. There are far more who do not visit food banks and also experience food insecurity. Among Inuit adults living in Nunavut, the rate of food insecurity is shockingly high at 69 percent or six times higher than the Canadian national average.
Dignity for All recommends that Canada:
• Develop, in collaboration with all levels of government, food producers, community stakeholders and food insecure people, a National Right to Food Policy.
• Increase federal investment to address the very high levels of household food insecurity among First Nations, Inuit and Métis peoples in a manner that respects cultural, community and gender considerations and Aboriginal land sovereignty.
Early childhood education and care
There are only enough regulated child care spaces for just over 20 percent of young children, despite the fact that more than 70 percent of Canadian mothers are in the paid labour force. Regulated child care in Canada is currently characterized by high fees, low staff wages, mediocre quality and unmet demand.
Dignity for All recommends that Canada:
• Develop a high-quality, universal, publicly-funded and managed early childhood education and care program for children aged 0 to 5 years and for school-aged children up to age 12, to be phased in by 2020.
• Dedicate federal transfers of $1 billion, $1.6 billion, and $2.3 billion over each of the next three years with the ultimate goal of achieving the international benchmark of spending at least 1 percent of GDP on childhood education and care by 2020.
Jobs and employment
In the past 20 years, precarious employment, characterized by some degree of insecurity and unpredictability, generally low wages and few benefits, has increased by nearly 50 percent. Youth and other groups under-represented in the workforce face particular barriers in obtaining secure employment.
Dignity for All recommends that Canada:
• Set national wage standards above the poverty line.
• Provide employment incentives for youth and other groups under-represented in the workforce.
We know government policy can make a difference for those living in poverty. While all levels of government have a role to play in addressing poverty, the federal government, with its policy-making, legislative, taxation and redistributive powers, has the particular responsibility of providing leadership and promoting reform in key areas that are crucial to the well-being of people in Canada. Already every province but one has committed to their own plans; it's time for our federal government to do the same.
Poverty is a complex issue. In order to effectively address it, we need solutions that meet those complexities. We need a coordinated national anti-poverty plan that is consistent with international human rights obligations, is comprehensive in its approach, focuses on those most in need, includes measurable goals, targets and timelines, includes review and accountability processes, involves communities who will be affected by these strategies and is integrated with provincial and territorial plans.
While our proposed plan is suggestive of some of the key elements required for a comprehensive anti-poverty plan, it is not exhaustive. We're not expecting the federal government to adopt our proposals in their current form. We offer this plan as a starting point. A solid, considered, informed starting point. In 2015, a federal election year, every political party platform should include the commitment to develop, and then implement, a national anti-poverty plan.
It's past time for our national government to step up and take action. Dignity for All: A National Anti-Poverty plan for Canada is here.