Tuesday (October 19) was a sad day, because the church in Vancouver – and well beyond – lost Don Lewis.
Like so many others, I knew him through his classes at Regent College (he began teaching there in 1981, shortly after having completed a doctorate focusing on Victorian evangelicalism at Oxford University), and occasional chance meetings.
Early on in my Christian life I took his course on Christian missions – and have ever since loved learning more about the amazing world (and characters) he opened up for us.
He was welcoming – I remember him inviting us to his home for a meal during the course – and always a mine of information and connections.
As Peter Chattaway tweeted:
Very sad to hear of the passing of @regentcollege prof Don Lewis. I didn't really know him, but he played a pivotal role in my life when I pitched him a project and he referred me to Mark Noll, who referred me to Books & Culture, which is how I ended up writing for @CTmagazine.
I first met Lewis while working as a video camera operator at @regentcollege's summer school in 1987, and I interviewed him a few times as a reporter for BC Christian News and other outlets. He will be missed. Memory eternal
Regent College reported ('In Memorium') that Don died of cardiac arrest at age 71, saying:
Don was as caring as he was intelligent, a man of incredible character and profound faith. He leaves a legacy as a gifted church historian and perhaps even more so as a committed professor who cared deeply for his students.
Don was a devoted mentor to hundreds of students and alumni over the years, guiding them through their time at Regent and beyond. He treasured the opportunities to teach, mentor and share life with his students. . . .
Following his early work on British Evangelicalism, Don spent nearly 10 years fashioning and editing the remarkable Dictionary of Evangelical Biography: 1730 – 1860.
Renowned church historian Mark Noll said:
Don's highest calling was to teach, a service he carried out for the encouragement, guidance, illumination and edification of generations of Regent students. But although he was never showy about it, his scholarship made a real difference. He worked for years to plan the Dictionary of Evangelical Biography, 1730 – 1860, handling complicated publishing arrangements that have become an enduring standard.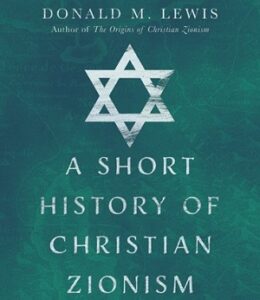 In the early 2000s Don became fascinated with the Christian Zionist movement. In 2009 he published The Origins of Christian Zionism: Lord Shaftesbury and the Evangelical Support for a Jewish Homeland.
This was followed by A Short History of Christian Zionism in September 2021. [Go here for his recent interview about the book.]
While deeply sensitive to the complexity and controversy inherent to the subject, Don pressed forward with the conviction that "church historians are meant to help people – both Christians and non-Christians – understand such movements. . . . They are to be seekers of truth."
An Anglican since his late twenties, Don was committed to the health of the Anglican Church worldwide, particularly its pastors. He was a spiritual companion to many, journeying alongside them through dark hours and seasons.
A faithful mentor and brother in Christ, he would often pray with several students and pastors in the course of a single day. Prior to COVID-19, it was not unusual for Don to spend his reading week flying from Atlanta to Minneapolis to Winnipeg to visit the many alumni and pastors he mentored.
Don was a long-time member of St. John's Shaughnessy, later St. John's Vancouver. In 2013, he moved to the nascent St. Peter's Fireside, where he was a companion to its clergy, an official advisor for the Bishop of Western Canada, and, most recently, Pastor's Warden.
Don concluded the 'About' section of his website with these words:
I live with my wife [Lindi] in Vancouver and have three married adult children and one grandchild. Being a husband, father and friend are what constitute my primary identity – after, of course, being a (genuinely flawed!) follower of Jesus Christ.
Go here for Don's overview of his life's work, and here for Regent College's full statement. Service details will be announced shortly.