Prime Minister Justin Trudeau got all the headlines with his belated appearance at the Tk'emlúps te Secwe̓pemc Nation.
But another visit from the east is worth noting as well – RoseAnne Archibald was welcomed by Union Gospel Mission – and her brother – last Thursday (October 14).
UGM posted this on Facebook:
We had the incredible honour of welcoming National Chief RoseAnne Archibald, AFN National Chief, the first female National Chief of Assembly of First Nations, yesterday to our main Union Gospel Mission site, located on the traditional unceded lands of the xʷməθkʷəy̓əm (Musqueam), skwxwú7mesh (Squamish) and səl̓ilwətaɬ (Tsleil-Waututh Nations).
We are truly grateful for her time and visit. Thank you, Chief Archibald, for coming and sharing your wisdom with us. This visit was immensely meaningful to us, especially as our organization continues our work of reconciliation. We look forward to continually standing in solidarity and walking alongside the Indigenous community, as we all work toward reconciliation.
Archibald posted this on her Facebook page:
Today I visited the Union Gospel Mission in the Downtown East Side of Vancouver. My brother Charles is a Supervisor there and has also worked at the Vancouver Aboriginal Health Society.
He has spent many years giving his time and energy to those who have struggled with mental health and addictions. I've always been proud of his service and leadership work here in Vancouver.
The DTES is ground zero for the intergenerational trauma suffered by generations of First Nations peoples. The fallout of failed government colonial policies is evident here. At the same time, there is a lot of good happening here. There is healing and programs and services that are helping children, women and families.
I met Dominika Olewinski who was born and raised in the DTES. She is an inspiration and working to give back to the community as a Youth Outreach Worker. When I entered the building I was met by Candice Harper, Manager of Women/Families Outreach. She handed me sage and an abalone shell.
I heard from Mike Jowin who talked about how UGM, though a Christian-based organization, welcomes and encourages Indigenous culture and spiritual practises.
And before we went to look at the almost completed Women and Families building from the rooftop, Sarah Mackenzie who is from Haida Gwaii presented me with an eagle feather that she got from her home territory. We ended the visit with a smudge and prayer.
I'm grateful for the work of the UGM. They are walking with us on the #HealingPathForward
Ninanaskamon. Kisahkeetin.
~NC RoseAnne
UGM has made recent statements on reconciliation and racism.
Church in the Iron Furnace
New West Community Church is focusing on The Church in the Iron Furnace during its annual missions conference this weekend (October 22 – 24).
It is good to see our missionary heritage celebrated – along with current examples of missionary enterprise.
Among the highlights:
* Friday night: We will hear from local and foreign missionaries and experience an audio-visual missionary adventure story by Pastor Paul Dirks about James Chalmers, a missionary to the cannibals of Papua New Guinea.
* Saturday morning: Join us for breakfast at NWCC as Dr. Joshua Bogunjoko, International Director of SIM, shares stories from around the world of God's victories in the midst of trials and persecution. Registration is free, but required.
Dr. Joshua Bogunjoko has served as the International Director of SIM (Serving in Mission) since 2013, when he became the first non-Western and first African person in that role.
Prior to joining SIM in the 1990s, he and his wife Dr. Joanna Bogunjoko served as medical doctors in Nigeria with the Evangelical Missionary Society of ECWA (EMS).
They continue to rely on God's provision and grace "to make disciples of the Lord Jesus Christ in communities where He is least known."
* Saturday evening: Dr. Mark Naylor, missiologist and Bible translator, will be introducing and facilitating video field reports from church planters and pastors in Pakistan to highlight the faithfulness and fruitfulness granted to the saints there in the midst of tribulation.
Bogunjoko will also speak during New West's Sunday morning service.
No Greater Love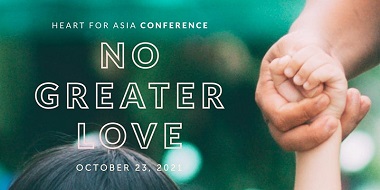 Another missions gathering will be held this weekend at Fujian Evangelical Church in Richmond (and online for those who prefer to remain home).
Actually there will be two 'Heart for Asia: No Greater Love' events, a youth celebration Friday evening and a conference for all ages Saturday morning.
Here is the Saturday program:
Praise and worship featuring the music of Andres Perez and friends
Love in action: ministry stories of God at work in East Asia
Workshops about love unleashed in your life and church
Discussion and mutual encouragement to put the day's learning into practice
Lunch will be served after the conference at 12 pm
For workshops, choose two from these four options when you register:
Love for the Least – Stories from serving the urban poor and victims of super typhoon Haiyan in the Philippines
Love and Service Release God's Grace – Learn to hear God's voice and find your story through service and creativity
Your Church Inspired by God's Love – How to pass on a passion for global disciple-making to your church
Love These Kids – God moves two couples to serve and teach in Asia
Both events are sponsored by OMF Canada, part of "a global fellowship of Christians with a heart for East Asia, serving the church and sharing the good news of Jesus Christ in all its fullness."
No Events