Dr. James Houston is one of the founding fathers of Regent College. Now 97, he will introduce Memoirs of a Joyous Exile and a Worldly Christian, an account of his life and the lessons learned along the way, Thursday evening (February 13).  
He will offer a brief address at 7 pm. Copies of the book will be available for purchase at the Regent Bookstore. 
Houston was born in Edinburgh in 1922, but lived in Spain, where his parents were missionaries, until the family returned to Scotland in 1930.
While he was lecturer at Oxford University (where he got his DPhil and taught cultural and historical geography for more than 20 years) he was invited to become the first Principal of Regent College, a role he took on in 1970.
Following his term as Principal, he was appointed Chancellor (from 1978 to 1980) as well as Professor of Spiritual Theology, until his appointment was endowed in 1991 as the Board of Governors' Professor of Spiritual Theology.
Here is an excerpt from the Introduction to his new book.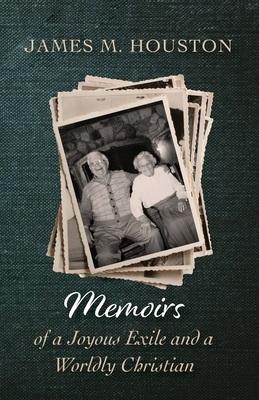 Like me, many have suffered from the paralysis of low self-esteem, and so a first motive for writing these memoirs is to encourage others on life's journey. . . .
Secondly, I have lived all my professional life as a tutor, engaging in mentoring students, and they have revealed many intimacies, emotional as well as intellectual. The wisdom I have gained in pursuing the "personal" in the anonymities of our culture has encouraged me to believe that I too have much to share.
Thirdly, I write as a Christian, blessed with a rich heritage of the faith of my parents and friends. I am deeply concerned about the breakdown of institutional religion in churches and colleges. I want to share my experiences, especially regarding the enlargement of horizons – ecumenically, educationally and emotionally.
In The Narnia Tales: The Last Battle, C.S. Lewis depicts rising secularism as "the sense of the absence of Aslan." One character has a mystical experience, given to all who truly
seek: "Then he breathed upon me and took away the trembling of my limbs and caused me to stand upon my feet. And after that, he said . . . I should go further up and further in."
I have interpreted that injunction by the prayer of Augustine of Hippo: "Let me know Thee 0 God (further up), and let me
know myself (further in)." Perhaps these memoirs will help you do the same.
Fourthly, I have been blessed with long life, nearing my centennial year. Born in 1922, when the thunder of the guns of the First World War still echoed, I have witnessed many changes, now accelerating more rapidly than ever.
I have learned it is not enough to be "a joyous exile," as we Christians often feel we are in a secular society, but also "a worldly Christian," in the sense in which Dietrich Bonhoeffer coined the term – having responsibilities and stewardship in this world, as well as preparing for the life to come. This double identity enables us to be constantly learning new things, as our horizons are increasingly enlarged.
Finally, I have experienced that you never get "old" if you are always learning new things, through new friendships and from much reading of books, old and new. These memoirs are intended to encourage you, the reader, to keep growing "in Christ" in
the maturity of God-given grace. To cite Lewis again, in Prince Caspian Aslan explains to the startled Lucy:
"Aslan," said Lucy, "you're bigger."
"That's because you are older, little one," he answered.
"Not because you are?"
"I am not. But every year you grow, you will find me bigger."
The more time Lucy spent in Narnia, the more Aslan seemed to grow – every time he encountered her. She thought he was getting bigger, but as the I AM, he is always awesome. As he tells her (and us), rather, it is she who is growing up.
These memoirs are about "growing up."
Christian maturity means seeing the kingdom of God ever enlarging, while "the self" is evermore diminishing. Even our churches and colleges need to be envisaged within the broad horizons of global Christianity, and of the cosmic kingdom of God. This is as the apostle exhorted the Thessalonian Christians: "Therefore encourage one another and build each other up, just as in fact you are doing."
One way in which we encourage one another is by remembering.