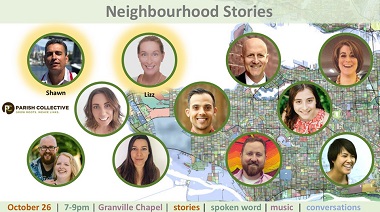 For several years, Barry Jung has been going out of his way to meet his neighbours, build relationships with them and strengthen his South Cambie / Oakridge neighbourhood.
Recently he has been sharing his experiences and insights with members of other churches around Metro Vancouver and at Missions Fest, as well as on his Parish Collective Vancouver Facebook page.
This Saturday evening (October 26) he will host the third evening of Neighbourhood Stories at his home church, Granville Chapel.
His hope is that those who attend will:
. . . be inspired by community leaders, neighbourhood practitioners and collaborators as they share about how God is at work in their neighbourhoods. Our ongoing hope is to encourage each other and be rooted and linked as we weave together a tapestry of care and love in our city and into our neighbourhoods.
Here is how Barry describes the people he has lined up, including the neighbourhood each represents:
Stevan Mirkovich: Fraserview
Stevan Mirkovich will facilitate the evening of stories, music and conversations. A husband, father, pastor and entrepreneur, he served for many years with the Seventh-day Adventist Church.
He is now in the midst of planting a new food ministry, Pour and Kneady Cafe and Bakehouse, and a new food church, The Commons, alongside his wife Heather Joy's ministry at the Oakridge United Church.
Charles & Vanessa Boname: Fairview
Charles and Vanessa live in the Fairview neighbourhood with their two daughters, Elise (13) and Amélia (10). Originally from France, Vanessa is a librarian by trade but is currently studying full-time at UBC to earn her B.Ed. degree to teach in the Vancouver public francophone school system. Charles works in technology and has been the IT director for the Vancouver Foundation for the past five years.
The family has lived at the Hycroft Towers condo complex (a wonderful 1950s modernist structure) for nearly 15 years. They love their Hycroft community of terrific neighbours and love the proximity to the parks, accessible public transport for work downtown, and a 10 minute walk from their church, Fairview Presbyterian where the family participates in a variety of ministries.
Charles, Vanessa and Emily will share about their vertical living community.
Dave Nguyen-Stone: Hastings-Sunrise
Dave is learning to love his neighbour as himself in the Hastings-Sunrise area. He sees the gospel come to life in his children's public school, his Old-Timers Hockey League and through creative friendship with his neighbours. When not at home with his wife and two young kids, he works as the staff director for InterVarsity Christian Fellowship in British Columbia.
Arely Cruz & Holly Warren: Downtown Eastside
Arely Cruz and Holly Warren live in community with five other women at Arbour House in the Downtown Eastside.
Arely is a Vancouver native who loves to travel, make new discoveries and learn about how people and places are interconnected. She loves the hospitality and interdependence of community living and the welcome she receives in turn.
Holly first moved to the DTES in 2005 and was significantly impacted by her experience of living intentionally and in community in the neighbourhood. Since then she has lived in intentional communities in Alabama, London and Liverpool. She recently moved back to the DTES, where she works as an outreach worker. For the past five years she has used spoken word poetry to mobilize and challenge the church on issues of justice, equality and love.
Niki Jung: South Cambie
Niki lives in the South Cambie neighbourhood. Having lived in Vancouver all her life, she has witnessed the high turnover rate of people moving in and out of the city – and the relational toll on both the 'stayers' and the 'comers/leavers.'
Through song, she will share about the hopes, challenges and realities surrounding the pursuit of having eyes to see and of being present to those around us.
Tom & Ellen Wiggins: Kitsilano/Point Grey
Tom and Ellen moved to Vancouver from the northwest of England just last summer. They got married in October 2016 and visited Vancouver as a belated honeymoon. They stayed with friends Ellen had met on a previous trip and were invited to their church retreat. The retreat's focus was on neighbouring which was an inspiring weekend with lots of practical tips and relevant Bible teaching. Now living in Vancouver, a city well known for being lonely, they are intentionally reaching out to neighbours and feeling mobilized to make an impact in their local community.
Shawn Bullshields & Lizz Hunter: Oakridge/South Cambie
Shawn and Lizz live in the South Cambie neighbourhood of Vancouver. Together, they have raised Lizz's son, Lachlan who now lives on his own.
You can see Shawn daily at Granville Island as he shares his musical giftings and welcoming personality as a busker. He is invited to perform for communities all around British Columbia and Alberta, and recently opened for Tim McGraw in Nashville at a fundraiser concert. Shawn is involved with his neighbours by working on cars with them and offering his music at neighbourhood gatherings.
Lizz works for the College of Physical Therapists as well as being a personal assistant, taking care of people's homes when they travel. Lizz has a large community in 12 step programs as well as belonging to Coastal Church, in downtown Vancouver. Together with Shawn, she strives to know her neighbours better and has become more social with the gatherings held by neighbours and in her own yard. The music and potlucks have brought many people together in community.