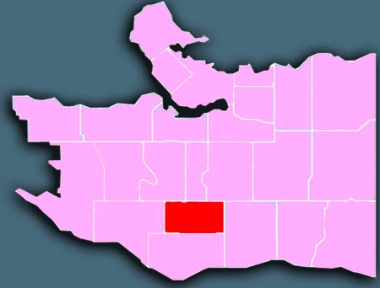 Four years ago Jonathan Bird and I posted a series on the neighbourhoods of Vancouver. We are offering them again, with demographics from the latest national census and some other updates.
Oakridge is a comfortable neighbourhood in south central Vancouver best known for its pleasant single-family housing and Vancouver's first mall, the Oakridge Shopping Centre. It is also home to the main campus of Langara College.
Oakridge runs between Granville Street on the west and Ontario Street (just west of Main) on the east, and from 41st Avenue on the north to 57th Avenue on the south.
Demographics
From Statistics Canada, 2016 Census, custom order for City of Vancouver Local Areas (comparative data for Census Metro Area in parentheses).
population: 13,030     19 & under: 18% (21%)     aged 65+: 22% (16%)
married/common-law: 55% (57%)     people living alone: 11% (11%)     widows: 660     households with kids at home: 42% (39%)     lone parents: 650
moved in the past year: 15% (16%)     moved in the past 5 years: 44% (44%)     renters: 39% (36%)
median household income: $62,988 ($72,662)     all persons in low-income: 23% (14%)     17 & under in low-income: 25% (15%)     65+ in low-income: 14% (10%)
ESL: 68% (43%) mother tongues: Cantonese 24% Mandarin 22% Punjabi 2% Korean 2% Min Nan (Chinese) 2%
Oakridge has the second highest percentage of seniors of any Vancouver neighbourhood, slightly behind Arbutus-Ridge. It also has the second incidence of low-income among households generally, as well as among children and youth. However, some analysts view these income stats skeptically, after reports of households not reporting foreign sources of income.
History
While the neighbouring communities of Marpole and Kerrisdale were developing throughout the first half of the 20th century, Oakridge remained in its natural state, only being turned over to residential and commercial purposes when the Canadian Pacific Railway sold its land holdings after the Second World War.
One of the few developments before the war was the creation of the Langara Golf Course, completed in 1926 in the southeast corner of Oakridge by CP.
Unique features
Oakridge Centre was built in 1959 and is set to undergo major redevelopment. City council approved in principle rezoning Oakridge Centre in March, 2014.
The City of Vancouver has a page devoted to the Oakridge Centre redevelopment. Westbank, the developers, have this to say about their vision for the 28.5 acre property:
An urban enclave defined in equal terms by its landscape and its people; organized around a nearly 10-acre park with elegant towers extruded organically from the landscape; supporting a quality of life that draws on a past steeped in raw natural beauty to represent a future of social, environmental and cultural abundance.
Oakridge will be a crossroads for living, working, connecting, learning, creating and exploring – cultivated by those who want to be part of what's next. It will be:
A cultural hub that pays homage to human experience in all its forms;
2,600 homes for nearly 6,000 residents;
Workspace for 3,000 creative professionals;
More than 300 stores featuring the world's most distinguished brands;
A unique culinary experience featuring the best local and global chefs;
One of Vancouver's largest community centres;
Vancouver's second-largest library;
A nearly 10-acre park made up of six integrated smaller parks;
Home to the world-renowned Goh Ballet performing arts academy; and
An incomparable variety of live music venues.
Among the concerns about the redevelopment were – and still are – the height of the towers, the degree of density envisaged for the housing and the potential overcrowding of the Canada Line SkyTrain line.
Langara Gardens: A large portion of land on the southern boundary of Oakridge will also see major changes. The City of Vancouver site notes:
Langara Gardens is an 8.4-hectare (20.8-acre) site located west of Cambie Street between 57th Avenue and the lane south of 54th Avenue.
A comprehensive planning program was initiated to guide the future development of Langara Gardens. Planning for the site will ensure that existing rental units are protected or replaced, and potential new residential, retail, and community amenity uses are explored.
North-south corridors: Granville, Oak and Cambie streets are the city's primary north-south commuter corridors. Granville Street leads south to the Arthur Laing Bridge, connecting to Richmond and the airport. Oak Street carries Highway 99 south from the centre of Vancouver, to the Oak Street Bridge over the river, at which point it becomes a divided freeway running down to Interstate 5 at the U.S. border. Cambie is the corridor along which SkyTrain's Canada Line runs.
The Jewish community is well represented in Oakridge. While there had been a significant Jewish population in Vancouver from its early days (David Oppenheimer was the city's second mayor, for example), the Jewish community became centred on the Oakridge area only after the Second World War. Go here for a useful brief history of local Jewish settlement.
The Jewish Community Centre was built in 1962 at 41st Avenue and Oak Street, and there are several synagogues in the area. (Two high-profile spiritual/syncretistic/liberal congregations – not related to the Jewish community – are based on Oak Street north of 41st and thus just outside of Oakridge proper: Unity Spiritual Centre and Unitarian Church of Vancouver.)
Churches
Church of God in Vancouver / South Cambie Gospel Hall
Estonian Evangelical Lutheran Church of St. Peter's
Joy Fellowship
Megumi Baptist Church
New Beginnings Fellowship
New Life Fellowship (Mandarin)
Oakridge Baptist Church
Oakridge Church of Christ
St. Matthias & St. Luke Anglican Church
Trinity Baptist Church
Vancouver Chinese Presbyterian Church
Vancouver Chinese SDA Church.
See map.
When we first ran this article, a sharp-eyed reader noted that Oakridge Adventist and St. John's Anglican were missing from the list – as were Oakridge Lutheran (which is right across 41st Avenue from Oakridge Shopping Centre) and Oakridge United. Though all are close by, they are just outside the city's Oakridge boundaries, with the first three being in South Cambie and the latter in Riley Park.
Oakridge Lutheran and Oakridge United are undergoing major redevelopment right now. Two churches on the list above are as well. South Cambie Gospel Hall is meeting at the Peretz Centre until it can move back (very close) to its original location at 60th and Cambie, as part of a larger development. Vancouver Chinese Presbyterian Church will also redevelop. Go here for a related Church for Vancouver story.
Here are a couple of ways in which Oakridge churches are linked to their neighbourhood. The list is far from complete and we would love to hear about other examples:
Further reading