Several Twitter reports from Tenth Church in Mount Pleasant yesterday showed long lines of church members buying piles of their pastor Ken Shigematsu's new book God in My Everything. 
Ken himself said the line-up lasted more than three hours at the morning service – "My hand is sore, but my heart is deeply grateful." 
That's good news for sales, because Tenth is thriving, with more than 2,000 people attending the multicultural church, which has four services – three at their Mount Pleasant building and one at Kitsilano Secondary School (signing next Sunday, the 18th) – with a new site being launched in East Vancouver.
Fortunately the book is also selling well outside Tenth Church walls; apparently the Zondervan warehouse was cleared out within three days.
Ken explains why he wrote God in My Everything in a brief vimeo by Reveal Creative (run  by Sam McLoughlin, a member of Tenth who also works with Converge Magazine).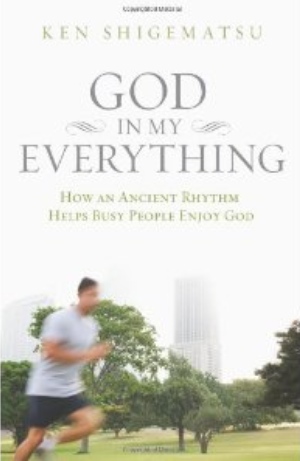 "When I was working for a company in Tokyo, I was known as a '7 – 11 Man,'" says Ken. "I would leave home at 7:00 and wouldn't get home until after 11:00 pm . . . When I moved to Vancouver and became a pastor, I found myself keeping pretty much just as busy."
Then his mentor invited him along on a pilgrimage to the holy places of Ireland, where they visited monasteries and learned how the monks had lived in a simple rhythm which helped them to experience God in all aspects of their lives.
When he returned to work, he began to incorporate some of their disciplines into his daily life. Particularly beneficial, when he was under stress, was simply to close his eyes and meditate for 10 minutes on scripture, on the beauty of creation, "or to simply savour the presence of Jesus." He began to feel more relaxed and thankful throughout the day.
Ken wrote the book for people who are seeking "a richer, deeper connection with God." His book is about passing on "the ancient wisdom of the spiritual masters . . . how we can learn to live with the peace and the presence of God in the midst of our crazy busy lives."
Ken shows that contemplative reflection can fit into everyday life, meaning that spiritual formation – a 'rule of life' – is not just one more thing to add to a to-do list.
God in My Everything will be available in local bookstores, assuming it's not sold out, and has its own Facebook page. All proceeds from the book will go to World Vision and Tenth's mission partners.