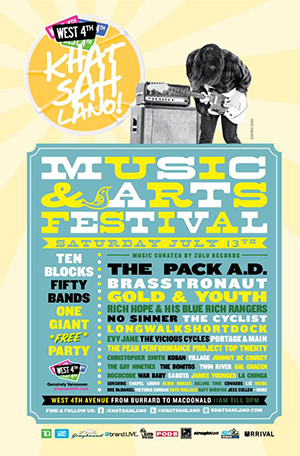 The
Church at the Hollywood
will be in the thick of things at the Khats Fest July 13, as they were at Greek Day in June. They have been active in the Kitsilano community for many years, but never more than since they
took possession of the old Hollywood Theatre
last fall.
Sarah Kift, communications coordinator for the church,
blogs
:
"We've graciously been given a chunk of the street near 4th and Vine, and are in the midst of planning 'The Oasis' – a place where people can come and rest, listen to some music, receive prayer, get refreshed in both body and spirit, play a little, and have a chill place to take a break from the crowds."
Some Church at the Hollywood musicians will be among those playing throughout the day. Kift adds, "Our very own
Victoria Carbol
won a spot to play a full set at the festival this year, so catch her amazing voice on the main stage." And
Bre McDanie
l will be onstage at 4th and Cypress at 11:30 am; Zulu Records will be selling her EPs.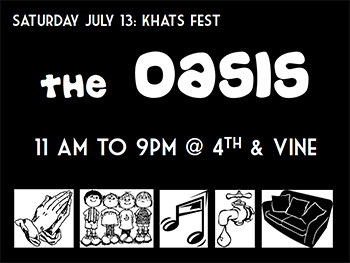 Kift notes that members of Church at the Hollywood "had a marvellous time at Greek Day [June 23], seeing over 100,000 people on our doorstep. 100,000 seems like a lot, but we actually managed to connect and have meaningful conversations with a smaller but significant number of people . . . Overall, the sense was that Church at the Hollywood is an integral and useful part of our neighbourhood."