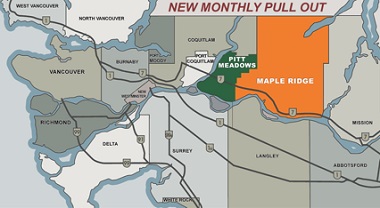 Starting this month, Peter Biggs of The Light Magazine will research one Metro Vancouver / Fraser Valley municipality each month, and produce a four page feature. The May issue kicked off the 13 month series with a look at Maple Ridge / Pitt Meadows.
Introduction
The Districts of Maple Ridge and Pitt Meadows lie on the north shore of the Fraser River. With the striking skyline of mountains to the north, the majestic Fraser River to the south and the Stave and Pitt Rivers forming other boundaries, the communities have a sense of 'small town' living, although their combined population has grown to over 100,000.
Two impressive new bridges were opened in 2009:
• The Golden Ears Bridge links Maple Ridge to Langley and the Trans-Canada Highway over the Fraser River. (Tolls may be removed, depending on the final outcome of the provincial elections.)
• The Pitt River Bridge, part of Highway 7 (Lougheed Highway), links Pitt Meadows to Tri-Cities. The West Coast Express is a high-speed commuter railway linking Mission, Maple Ridge, Pitt Meadows and the Tri-Cities to downtown Vancouver.
The cities have few 'big box' stores or major malls. One resident stated, "Locals often leave to go to work, shop or visit elsewhere, but few from other places come this way."
Bedroom communities
Maple Ridge and Pitt Meadows are 'bedroom' communities; this is a critical distinctive of these communities. Housing is more affordable than in other Metro Vancouver municipalities (broadly comparable to Abbotsford).
Most residents commute to work out of Maple Ridge / Pitt Meadows. Former mayor Ernie Daykin commented, "Sixty-eight percent leave to work elsewhere and have at least an hour commute."
In the light of this reality, pastor Roland Ziprick of St. Paul's Lutheran Church said, "There is a real need to build 'community.' Difficult to do with the 'garage door' mentality we have here."
Another consequence of being a bedroom community is latchkey kids.
"Both parents are away at work elsewhere, kids come and are alone," said Youth Unlimited's Dennis Hemminger, who has worked locally with teens for many years. "We are piloting a drop-in after school cafe where kids can socialize, play games, do homework and we can build relationships."
Youth Unlimited Maple Ridge has two full-time and two part-time staff who work in five local high schools. They consult with school counsellors and connect with kids at risk. They also do a hot breakfast program with church sponsorships and funding, serving more than 600 kids a week.
Churches and unity
Maple Ridge / Pitt Meadows – or 'Ridge Meadows' as locals sometimes refer to it – enjoys a unique quality of unity amongst its church leaders.
The Ridge Meadows Ministerial Association represents the 31 churches in both cities. Around five Protestant congregations are 300 – 500 in number, with the rest being under 200. The two Roman Catholic churches see some 2,500 attend each week. Pitt Meadows, with a population of about 18,000, has only three small (under 150) churches, along with a few very small Christian groups.
However as people frequently travel out of their community for other reasons, it is quite likely that many Christians travel out of the community to church.
The ministerial's formal name belies an informality and genuine depth of good will.
Pastor Dave King of Silver Valley Community Church is the ministerial's president. He told The Light that "leaders from around 15 churches, including the larger ones, along with parachurch leaders, enjoy involvement and share prayers at monthly gatherings. Each month we hear a short presentation from a different church or ministry, and then in groups of three to four we pray for each other."
Every Wednesday, 12 or so pastors gather to pray together for the community. This has been a huge encouragement to the four church planters in Ridge Meadows.
On Good Fridays, the five largest churches express their unity by hosting pulpit swaps – each church singing the same hymns, and each guest preacher handling the same text. Additionally, during July's popular Country Fest many churches cancel their own Sunday services and take part in a joint service at the fair.
"There are a number of distinctives to Ridge Meadows," explained King. "Not only that we are a bedroom community, but we also have a very low percentage of visible minorities." He spoke of Maple Ridge as a "tough area," with the Hells Angels owning several buildings and a clubhouse in the community.
Duane Goerzen is the long time senior pastor of Maple Ridge Community Church and one of the ministerial facilitators. He commented:
Maple Ridge has been a really hard ground. Missiologist Bill Hogg said, "We have lost the lostness of the lost." I think this has been true of church people, but I see things changing, each Sunday new people are coming!
Goerzen estimates that around 6,000 people attend local churches each week, including Catholics (out of a population of 100,000).
Homelessness
During the last year or more Maple Ridge has been in the news for its visible tent city on Cliff Avenue (behind the Salvation Army). The city had turned to Rain City Housing to facilitate a temporary emergency shelter with 40 beds, but this is set to close soon.
In an about turn, the city has returned to the Salvation Army, which is extending its regular 30 beds to 60. (A recent study showed that 93 percent of homeless people in the area identified themselves as from Maple Ridge.)
Along with this, at the request of BC Housing, the Salvation Army has adopted a 'harm reduction' program.
"This is unique for us, nationwide, and involves needle exchanging and condom distribution," Amelia Norrie of Salvation Army Ridge Meadows Ministries told The Light.
The Salvation Army provides a large range of services that includes feeding 100 – 150 people a day. In 2015, they provided 93,000 meals in their Community Meal Program. They found 166 individuals housing, and gave 205 backpacks to local children starting school, along with 31,000 bagged lunches for hungry kids. Fifty kids were given the opportunity to go to Camp Sunrise
This excerpt is re-posted by permission. For Peter Biggs' full presentation on Maple Ridge / Pitt Meadows – with coverage of several churches, Hemlock Mountain Retreat, WomanCare Pregnancy Centre, Timberline Ranch, Maple Ridge Christian School, seniors, politicians, etc – go here. 
The Light Magazine will be adding a number of features to each of its Municipalities pages in coming weeks: "They will contain an updated directory, extensive Google maps of all churches, ministries, schools, camps, services, etc, along with local events and articles."
On a personal note, I (Flyn Ritchie), am happy to see Peter back in print. He has just joined Steve Almond and The Light team "to better connect with and serve churches and communities."
Peter, Steve and I all worked together for Christian Info Society at various times. In some ways, this monthly series on Metro Vancouver / Fraser Valley municipalities will pick up on a similar series Peter did for BC Christian News in 2008 – 2009. (You can find some of them by googling 'snapshot of the church Peter Biggs; here are three links: Maple Ridge / Pitt Meadows, Vancouver, Abbotsford).