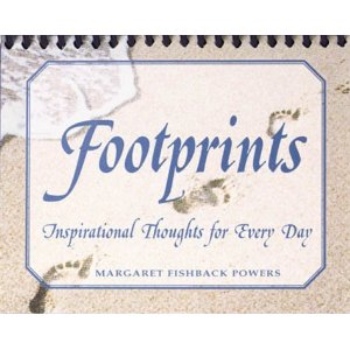 Footprints in the Sand ("I love you and will never leave you . . . When you saw only one set of footprints, It was then that I carried you.") will be 50 years old next fall, and HarperCollinsCanada is on the lookout for stories from people who have found inspiration from the poem for an upcoming book.
HarperCollins wants to recognize the impact of 'Footprints in the Sand' by asking the public "How has this poem inspired you?" They would like people to "submit a story that tells how the poem helped during times of difficulty, or an experience that relates to the poem's words or message. Those chosen will be published in the Footprints: 50th Anniversary Treasury Book next year.
In terms of content, HarperCollins wants "only original, true stories, generally told in the first person. No fiction. The story should involve a personal experience."
To read the poem and for more information on guidelines and how to take part, go to: http://savvyreader.wix.com/footprintsubmission or contact publicist Laura Wallar at [email protected].
The poem, beloved by many, was written by Margaret Fishbank Powers – though several others have claimed to be the
author
. HarperCollins and Zondervan (owned by HarperColllins) have now printed
several books
and Bibles based on the poem.
Over the years, Powers has made her home in the Metro Vancouver area, though she and her husband Paul Powers often travelled in his evangelistic ministry.