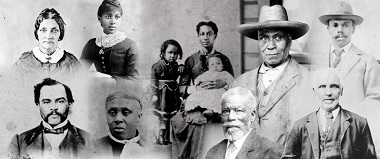 The BC Black History Awareness Society has hosted a Black History Month program each February for 25 years.
This year, with support from Digital Museums Canada, they have developed an exhibit featuring stories, pictures and videos. British Columbia's Black Pioneers "tells the story of the 800 educated and skilled Black men and women who immigrated to the Colony of British Columbia in 1858."
Here is part of the introduction to the exhibition:
Their story is unlike any other story in Canada. As the Fraser Gold Rush was heightening, the British desperately needed settlers and they needed them quickly, settlers who could help to cement Victoria, the capital of the Colony of Vancouver Island, as a British administrative, business and mining hub, thwarting any attempts by the Americans to assert territorial authority.
This exhibit reveals how a group of about 800 Black immigrants, invited to settle here by Governor James Douglas, helped to stabilize British colonial communities and keep this area of Western Canada from American hands. At the time of this migration, the province of British Columbia, as we know it today was made up of the Colony of Vancouver Island and the Colony of British Columbia. James Douglas was the Governor of both colonies.
After their arrival, Douglas' involvement and support largely waned, leaving the Black pioneers to rely on their own industry, character and ingenuity to make a life for themselves and their families.
These Pioneers were educated and skilled, became community leaders, business leaders, ministers, school board trustees and teachers. In the course of making a life in the area, the Black pioneers were an important part of the development of civic society and commerce.
Go here for the main page of the exhibit.
Charles and Nancy Alexander
Here is a portion of one of 20 stories of individuals, families and communities.
More than 400 descendants of Charles and Nancy have been documented. Both Charles and Nancy were born in St. Louis Missouri as free blacks; they  married in Springfield, Illinois on December 25, 1849. Charles was a carpenter who built and ran a grist mill in St. Louis.
In the spring of 1857 they decided to leave Missouri and travel west to the gold fields of California by way of the Oregon Trail.
Charles worked in the gold fields but was not very successful. On July 1, 1858, Charles and Nancy boarded the ship Oregon to Fort Victoria.
Charles headed for the Fraser River gold mines, was successful, and the family then established a home and farm in South Saanich.
Charles helped to build the first school in South Saanich and was a trustee; and in 1862, Charles initiated and assisted in the building of the first Shady Creek Church and was one of its first preachers.
Go here for the full story, including a video interview with a direct descendent of the Alexanders, filmed in  at what is now Central Saanich United Church, a replica of the church built by Charles and other members of the Black community.
Vancouver focus
British Columbia's Black Pioneers devotes a page to the many Black settlers – usually overlooked – who have built our province. Referring to our community, they write:
In the Vancouver area specifically the contributions of 20th century pioneers are commemorated:
Emery Barnes Park
John Braithwaite Community Centre
Joe Fortes Memorial Fountain
Barbara Howard Plaza
Harry Jerome Statue in Stanley Park
Pullman-Porter Street named for the Brotherhood of Sleeping Car Porters.
Go here for more.
Black History Month events
Here are five BC Black History Awareness Society online events to recognize and celebrate the achievements and contributions of historical and contemporary people of African descent.
February 7: Professor Handel Kashope Wright, keynote speaker
February 17: Symposium on Black migration patterns
February 20: 'The Fifth Element' exploring Hip Hop
February 21: Ross Bay Cemetery Tour
February 26: Celebrate the genius of Oscar Peterson
Go here for more detail.