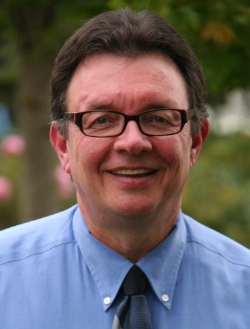 I love cities. New York, London, Mumbai, Berlin, Singapore, Hong Kong – it doesn't matter. Plop me in the middle of millions of people in a downtown core and I am a happy camper. The fact that I am working again in the downtown of Vancouver is so exciting.
Walking from the SkyTrain up to my work office each day I am exhilarated by all the life in the people around me. Thousands scurry about to their offices. Men and women servicing these offices also make their deliveries and pickups around me. Sitting on the sidewalks I pass several 'regular' homeless types – I say that only because I am not certain they are homeless in that they are so regular in their spots that I think of them more like having a job. Then I meet new homeless and see new business types each day who are new to me and to the downtown.
Hundreds of thousands of stories
The other day, Darrell Johnson and I went for coffee to a favourite 'hide-out' we have found. On our walk there we saw a well dressed man on the street looking around. After our coffee, he was still there.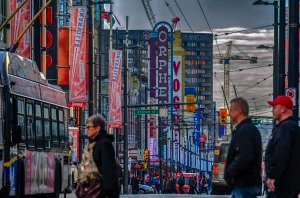 "Just give me a minute," Darrell said as he walked towards the man. "We noticed you a while back and do not recognize you in the community. Can I ask what you are doing?"
The man smiled and told us he was paparazzi – a photographer trying to capture a picture of a famous person to sell to the tabloids or magazines. We did notice his massive lens on the Nikon camera he was carrying. Not a normal Vancouver tourist camera – in fact most just use smartphones now.
"Who are you watching for today?" I asked.
"Ninety percent of the Hollywood stars doing filming here stay at this hotel. Today I am waiting to get a shot of George Clooney. He is staying here while shooting Tomorrowland."
I should introduce him to my colleague Mark Laughlin at First as Mark seems to know where every celebrity is in the city. In fact his office is filled with photos of Mark and a collage of famous people who have visited our city.
We ended up having an enjoyable conversation with this man in the city. He went on to tell us his job is one where everyone hates him but that he loves it and does it more as a hobby than a profession.
Mr Paparazzi is just one of hundreds of thousands of stories. It is in this city that we of the church live. It is our environment and an in-your-face portrait of the world itself. I love the city because it is a symbol of the world and an amalgamator of people from around the globe. God loves people – and with our density, there is a lot of his love here.
Seek the welfare of the city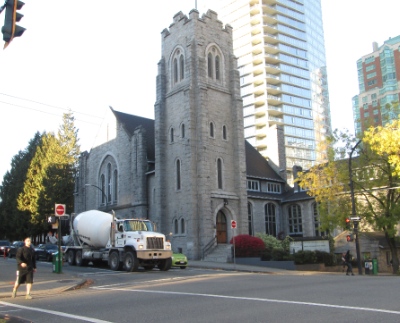 Our church takes seriously the words found Jeremiah 29:7: "But seek the welfare of the city where I have sent you into exile, and pray to the Lord on its behalf, for in its welfare you will find your welfare."  
These words were spoken to Israel when its people were sent as exiles into Babylon (the city) as captives. We as the church are captives in the city. Normally prisoners are trying to escape – but the prophet Jeremiah passes along the instruction of God to move in, build houses, live in them, raise a family there. Don't flee the city, get involved.
Cities by their very nature are about captivity. Young adults move downtown to experience freedom, but within two weeks a deep sense of loneliness sets in and they get captured by their work and other pursuits to fill this longing for relationship. When men and women in the city begin to feel captive – they too seek escape in frenetic activity or unhealthy pursuits.
These are the very people we are told to live with, and to seek the overall welfare of the city. This verse does not insinuate that we are to convert the city – but to pray for the welfare of the city on its behalf.
If we can bring the shalom of Jesus into the city, see it prosper and be strengthened it will certainly weaken and break the powers that hold its dwellers captive in anti-redemptive ways. By our prayers the very meaning and quality of the city could change, be overhauled, transformed, reorganized, reworked and renewed.
This is why we need the people of the church to be at the heart of the city praying for its well-being. Just writing this makes me want to be out on the streets downtown.
Carson Pue is the executive director at First Baptist Church right smack in the heart of downtown Vancouver. He describes the church this way: "Congregating in this historic stone building in the very heart of the downtown is a community. We are young, old and in-between, rich, poor, employed and retraining, multicultural, families and singles, Bible scholars, seekers. All of us share a heart for the city."
This piece is reposted by permission from Carson's blog.