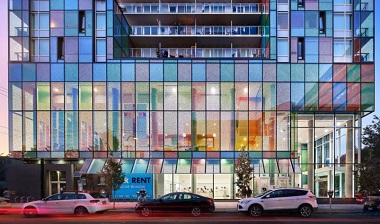 For the current issue of InCommon, Jonathan Bird, church relations specialist for Union Gospel Mission, interviewed Dave Harder.
Jonathan Bird: Dave, before moving to Ottawa and founding Parish Properties, you were co-pastoring a congregation here in Vancouver. Did that experience contribute to you launching Parish Properties?
Dave Harder: In a roundabout way, yes. The inciting incident in terms of my shift was in Vancouver, where I was part of a more charismatic, performance-driven Sunday expression of church, where you're trying to make the thing happen from Sunday to Sunday.
I got very burnt out in that experience – pretty severely burnout, actually – of really wrestling through church as performance, related to my own identity as a Type A driven personality, but also (wrestling through) what that was in terms of the expression of a faith community.
At the same time, I was researching what other expressions of church were out there. I got connected with the Parish Collective [an international movement for recovering alternatives to the consumer/commuter church], which is really about, "What if neighbourhood became the organizing parameter, not Sundays?" – as opposed to this hyper-charismatic expression, the performance-driven narrative that I was in. You're always trying to grow Sunday: let's get more people building that system versus "What if we actually took seriously this belief of loving neighbour, and this way of being in the neighbourhood, where I'm a character in the community?"
There's this ecosystem of love and care, and the church is a part of that ecosystem rather than trying to be everything. How do we then connect with and partner with those in our community, our neighbourhood?
So I took a sabbatical, and during that time I invested deeply in my neighbourhood and began to get to know my neighbours, because I had time. I wasn't so driven by the next Sunday, that I actually had space and time to just be present with those in my community.
One really impactful story starts with my son – a toddler walks at a different pace. He would just take forever to get anywhere, noticing every ant and twig and flower.
But he would also notice the homeless gentleman on the corner. And every time we'd walk by, this guy would call my son his "little dude" and, because he was sitting on the ground, he'd see Kellan eye to eye.
After one interaction, we walked away and Kellan asked, "Daddy, does he ever get french fries? Where does he live?" He just had all these questions. I would walk by this fellow every day and not notice. But he was a character in my neighbourhood.
These stories began to make me think there's a different way of being the church. After that sabbatical, I couldn't go back to church as it was. I resigned and moved to Ottawa to plant a neighbourhood-engaged church, one more present in its community.
I resigned from that three years ago, to help churches live into their neighbourhood, which is really my heart and passion. I'm a neighbourhood guy. I love the space that neighbourhood creates as a way of being the church and asking questions like, 'What are the dreams of God in my community, and how do I better serve those?'
I think the kingdom comes into a context and a place. I think it's how Jesus lived and walked and breathed. He centred those on the margins, living in such a way that was community- and neighborhood-focused.
As I was helping to launch Parish Collective in Canada, I was consulting with churches around pivoting to a place-based way of being the church, finding that their primary struggle was their building.
We've got deferred maintenance, an aging congregation, low volunteerism – every ounce of energy we have is going into maintaining this building. So how dare you come in and tell us that there's a new model, and that it's about loving our neighbourhood? We just don't have energy or time to even consider what that is.
That was where Parish Properties emerged, because they didn't see their space as an asset. They saw it as a liability, a noose around their neck that was actually hindering them from living into the dreams they had as a congregation.
So that started me down this path of meeting with developers and architects and planners and community organizers to find out what it looks like where a narrative is not just 'sell the property,' because that's really primarily what we're seeing in the Canadian context, where denominations are planning to sell thousands of churches in the next three to five years. And these had been community assets forever.
What if the neighbourhood actually could join in and begin to animate this space from a neighbourly perspective, not just you trying to maintain this cavernous space for a Sunday morning worship service, where it seats 700 people but you have 30 showing up? So I think we can better innovate the space, if we have community partners and a community engagement process. So that's where Parish Properties emerged from.
Jonathan: One of the first things that an architect will ask when a potential project is brought forward by a client – after they ask for the site's address, zoning and square footage of the lot – is, "What's the program for the space?" So church buildings are constructed to provide a physical environment for the being of the church, like skin and bones for the body of Christ.
From that perspective, what are some examples of the most creative, fruitful uses of a church you've seen so far? I'm thinking particularly of church buildings that are still used for worshipping.
Dave: Yes, yes, yes. And that was always, always a part of it. But when you look at how much the building is used in a given week, it is so limited. And the portion of the building actually used can be put into a very small space.
Some of the more creative stuff that I've seen is at a church in Ottawa. They're going through a super creative, innovative process in the ways in which they're engaging people to look at their space more holistically:
Yes, we're a worshipping community, but what if our kitchen was used as an incubating space for immigrant families in the neighbourhood to start a business?
What if we had some retail space that local social entrepreneurs could lease at lower than market rates, but was still getting revenue for the church while providing a good in the community?
What if, in our reinvention of the space, the architects could create a more multi-purpose space that could be used during the week for many different things from the neighbourhood, whether that's birthday parties or the community centre model, where the community is coming in and animating the space that is also then used for worship on a Sunday?
What about affordable housing, mixed use housing? We have a housing crisis. Why do we need a parking lot for 150 cars? What if we began to reimagine what housing could look like so that we aren't secluded in our units and homes, but where we mingle and connect because we've included a public square and community gardens so that relationships are naturally formed by the built environment?
When you walk by an old church, it's not designed as a space of welcome. The windows are small, it's brick and it's cold. So how do we turn that into a space of welcome where the neighbourhood feels that they're able to participate in what that space is?
This comment is from InCommon, created by UGM's church relations team. The current issue also features:
an article by Tim Dickau: 'From church parking lot to affordable housing community: the story of Co:Here'
a 'Better Housing Solutions Lab Series' podcast
a link to 'Beyond Housing to Homefulness: A Symposium'
Here is some more background and a link to sign up:
There is a wealth of resources to share with each other which can inspire and equip us as we join in on God's work of bringing Shalom in our neighbourhoods.
In this bi-monthly community news we will feature:
encouraging stories and interviews,
thought-provoking articles,
helpful resources, and
opportunities to be connected to the Common Good work in your neighbourhood
Please join us as we hear and share about what God is doing to transform communities – one life at a time – in the Metro Vancouver and Fraser Valley areas.
To sign up, please click here to subscribe to InCommon.
I will be re-posting content from InCommon every two months.