As we are emerging from the pandemic in BC, at least for the time being, other parts of the world are not faring so well. The World Health Organization (WHO) reported the largest single-day increase June 21, with 183,000 new coronavirus cases.
India was in third place, a troubling development for a nation which has already forced millions of poor workers back to their villages. Strict lockdown measures were put in place which took no account of crowded accommodations or lack of resources.
Some Christians in India are having a particularly hard time, as they are in many nations around the world. For example, a June 12 Open Doors article pointed out:
For Christians, the situation is worse because they often are ignored when aid is distributed. While the government and non-governmental organizations are trying to help people by distributing food aid, Christians often are bypassed . . .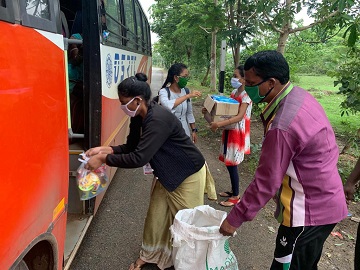 Following is a story – the kind we hear too seldom in North America – of Christians going out of their way to help others.
Thanks to Phil and Lorna Johnston of Outreach Canada for alerting me to the story; they have had ministry links with Remo Paul, featured in the article, over the years.
By the time the second lockdown ended in early May, migrant daily wagers had lost all sources of income. With no food to eat, no place to stay, and no hope for any work, migrants headed back to their homes.
There was great criss-crossing of waves of migrant labourers who started from different metropolitan areas and other big cities to go back to their villages and small towns in Orissa, Chhattisgarh, Jharkhand, Uttar Pradesh and Bihar.
Three buses started from Goa [on the southwest coast of India], taking migrants to Orissa and Jharkhand [in eastern India]. The passengers traveled over 48 hours without eating until they found a small stall serving free food in Malkangiri, Orissa.
It is surprising to know that they could not get a place to eat on a 1,100 kilometre stretch. Apparently, they had stopped at a village earlier to buy food, but the villagers chased them off because of the stigma of infection. So when they saw this stall distributing free food, they all brightened up. One of them said, "Sir, if you even cook leaves and give, we will eat."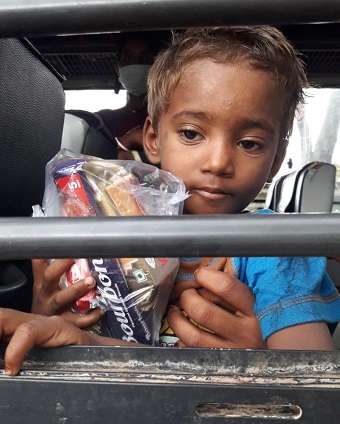 Not many people travel via Malkangiri to reach other parts of Orissa or beyond. Malkangiri is a tribal region at the southern tip of Orissa.
One day Ragland Remo Paul of Reaching Hand Society (RHS) noticed a few buses with Tamil Nadu registration numbers passing through Malkangiri with migrants on board.
He asked the local tehsildar (government revenue officer) for permission to serve food for the passing migrants. The tehsildar said that the journalist association was already providing food so they could not do so.
Remo reached out to the journalist association if he could help them. The association had managed to do it for five days and could not carry it further due to a lack of volunteers. They asked if RHS could take this up. Remo willingly accepted.
It was May 24; RHS had no money for this task except for the salaries for the month-end. Remo and his wife Susan spoke with the staff, asking what they should do. Everyone in the team said, let us trust God and use the salaries.
Remo withdrew all the money and began serving food. Fourteen RHS volunteers, men and women, served 16,500 meals in the last three weeks. Rain or shine, they did not stop. Women volunteered from 8 am to 5 pm, while men stayed till 10 pm.
The Orissa government had done a decent job of transporting migrants who reached the border. So whenever RHS volunteers got a precise number from the border check-post, they would prepare hot meals. Otherwise, they served them with bread, biscuits, ORS drink, water, etc. They even gave sanitary napkins to women. The smiles on the faces of the children when given chocolates was priceless, say the volunteers.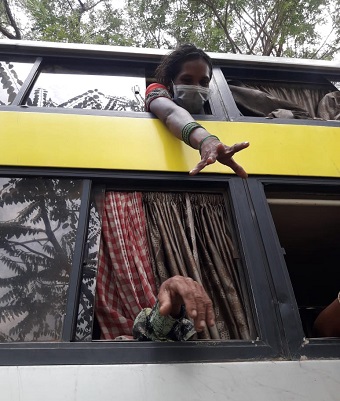 Others began to notice. Three small local churches came forward and served food for five days. Most of the church volunteers were teenagers. They cooked hot meals on the road and served the travelers. They shared excitedly their poor local churches could raise money among themselves and accomplished the task.
Remo mentioned a group of six migrants, including one woman and her one year old child. They walked for three days taking turns to carry the child from Telangana to the Orissa border. Thankfully, they could board an Orissa government bus provided to take them to their village. It was indeed a privilege to serve these exhausted migrants with a meal, he said..
RHS began this work in faith with all that they had; God honoured their faith and provided funds from friends to pay the salaries on time and serve more people.
They want to serve until the last family returns. Serving a meal may look very trivial in this massive crisis, but they did it with love, giving dignity to those despised by many.
Remo said, "Serving the meals is the easiest part. Working for the long-term livelihood of the returned families is an enormous task before them."
India needs more such "angry" people who can stand for the poor with courage, integrity, humility and wisdom without ever losing the gentleness, the mercy, the grace and the compassion that comes from our Lord. May God guide them as they continue serving the poor of our country!
Mark Raja is a product designer, systems thinker, creative catalyst, amateur writer, father and husband; his comment first appeared on the Loving the Migrant Worker blog June 22. All photos from Remo Paul.
The Loving the Migrant Worker movement is a network of volunteers and NGOs across more than 50 cities in India serving daily wagers and migrant workers who are on the move.